« Ted Cruz Takes The Lead in Iowa
|
Main
|
Wow: Rafia Farook, Mother of Terrorist Killer Syed Farook, Is Member of Hardline Islamic Society »
December 07, 2015
GENERAL QUARTERS GENERAL QUARTERS MAN YOUR BATTLE STATIONS
Seventy four years ago today the Imperial Japanese Navy launched a devastating attack on our bases in Hawaii. They hoped it would be a death blow.
They were wrong.
Seven months later we turned the tide of the war at Midway. It would take 3 more bloody years of fighting, but they were beaten. They just didn't know it.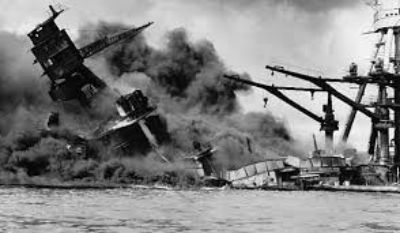 Earlier this year I met a local veteran who was a sailor aboard the USS California during this fight. He told me he joined the Navy instead of the Army so "I could ride instead of walk and the bastards bombed my ride out from under me."
Heh. "the bastards". Old man still has him some gumption, God bless him and all who served.
By the way, the twitter feed from @USSArizona is pretty good today.

posted by Dave In Texas at
02:00 PM
|
Access Comments