« Full Court Press On Today's Coordinated Leftist Meme
|
Main
|
Morning Thread (12-3-2015) »
December 02, 2015
Overnight Open Thread (12-2-2015)
Absent any ties to terrorist organizations or even any peaceful political movements, some in the pro-abortion Left are now tying the shooter's actions to "hateful rhetoric" and "smear campaigns" against Planned Parenthood that allegedly creates an "environment" that "breeds acts of violence." This is sheer nonsense. If angry political rhetoric bred violence, America would look something like Syria - awash in genocidal conflict. For sheer viciousness the robust debates between politicians and activists often pale in comparison to the "flame wars" on Twitter and Facebook, where arguments quickly become deeply personal. America's political culture is thoughtful in parts, but it's also a shouting culture, and anyone who's looking for angry or extremist rhetoric can find it. It's everywhere.

-- David French
But this has me imagining a scene: Hillary: No living man can defeat me! Carly: [Laughs] But no living man am I!

-- Glenn Reynolds
I knew a comedian who had a spreadsheet on which he had every line from his act intended to get any sort of reaction from an audience listed in the left hand column. He'd tape record every show, then spend part of the next day listening to the entire act, pausing the recording after every reaction and scoring that reaction on the spreadsheet on a scale from one to ten. If a line fell below a certain percentage, it was cut from the act.

Ric and I both agreed that it was an insane plan, which would rob our friend's act of its soul. I should point out that our friend is still a comedian. Ric and I are not.
The best ideas always come from unsafe spaces.

-- Tim Blair
This Seems Important: Cameroon Army Kills 100 From Boko Haram, Frees 900 Hostages
Gavin McInnes On Gotye's "Somebody That I Used To Know" Along With Tough Talk For Millennial Dudes
The Clinton Way of Dealing With Refugees
Hillary Clinton has joined Barack Obama in accusing Republican of betraying American values for raising legitimate security concerns about admitted Syrian refugees, declaring last week that "slamming the door on refugees isn't who we are."

Funny, because when her husband was president, he "slammed the door" on refugees - the cell door at Guantanamo Bay.

In the early 1990s, tens of thousands of refugees fled Haiti and sought refuge in the United States following the military coup that overthrew President Jean Bertrand Aristide. They did not include Islamist terrorists, but many posed another perceived threat: They had HIV. Instead of admitting them into the United States, President Bill Clinton ordered the Haitian refugees be held at Guantanamo, and then repatriated back to Haiti.

During the 1992 election Clinton criticized President George H.W. Bush's practice of repatriating Haitian refugees as "cruel" and "immoral," and promised to end the practice. But after winning the presidency, Clinton reversed course, and tried to stop the Haitian exodus by declaring that the refugees would be intercepted and sent back to Haiti. It didn't work, and eventually he decided to house tens of thousands of Haitian refugees in Guantanamo. A federal judge declared Clinton's policy of detaining refugees at Gitmo "outrageous, callous and reprehensible" and criticized him for inflicting on the Haitians "the kind of indefinite detention usually reserved for spies and murderers." After an American-led force restored President Aristide to power in 1994, the Clinton administration told the remaining refugees they had to return home, declaring: "Under no circumstances will any Haitian currently in Guantanamo be admitted to the United States."

Did Bill Clinton "betray our values" in refusing to admit these refugees?
What's infuriating is that people have forgotten or chosen to forget how we dealt with various refugee groups up until just a few years ago before we apparently went Open Borders For All.
Which Colleges Are Actually Diverse?
But, happily, a few excellent schools, though still dominated by progressive academics, employ at least some right-of-center professors across a range of departments in the social sciences and humanities.

Where are these special places? They tend to be located in the South or in Catholic colleges. Among top public universities, the University of Virginia, Texas A&M, and the University of Texas are unusually diverse. Emory University is among the most diverse elite private institutions.
West Virginia Is The State Obama Hates The Most
If Obama had the power to simply have a state and its people disappeared, I'm pretty sure that WV would be number one or two on it.
The devastation goes well beyond coal mining. The War on Coal affects the aluminum industry, which requires cheap electricity. The state now leads the nation in unemployment, and has the nation's lowest labor participation rate in the nation. Under Obama, West Virginia has more adults 16 and over not working than it has working. It is the only state in the nation where non-working adults outnumber the workers.

Obama hates West Virginia. Just why, I do not know. Perhaps it is racial. He attended that church of hate run by Jeremiah Wright, his mentor to whom he dedicated his second autobiography, "The Audacity Of Hope."

By the way, 51 billion tons of coal gives the state a supply of 340 years to 510 years of coal, based on mining 100 million to 150 million tons a year. The "post coal economy" is something for people in the 24th century to figure out.
Meanwhile a financially struggling WV college drives out the few remaining conservatives and turns up its nose at non-Leftist donations.
Revealed: The 1972 Munich Terrorists Actually Castrated One of the Israeli Athletes
Did the JFK Assassination Kill America?
Or at least the love of America by the Left. Well since they couldn't admit that a Communist loser had killed JFK, somebody had to be at fault. And that somebody was America as a whole.
The Bottom Line: There Were No Publicly Celebrating Muslims in New Jersey on 9/11
Private 'Dollar Vans' vs. NYC Public Transit
The most successful vans service transit-rich corridors, like Brooklyn's Flatbush and Utica Avenues, both of which are well served by the bus-indicating that residents still want more options. While the vans attract passengers like Green, who would normally ride the bus, they operate more like hybrid bus-taxis. They make more precise stops, for one thing. They operate more frequently, guarantee riders a seat, cost less than the bus, and get passengers where they need to go more quickly. (They can improvise routes in response to heavy traffic or accidents, thus reducing delays.) "The vans are actually faster than the bus. That's really the reason why I take them," said Dionelli Bowen, as he waited for a van at Utica and Eastern Parkway. "It's faster and cheaper than the bus," Green agrees. And because there are no strict operating rules or schedules to adhere to, drivers have the latitude to accommodate passengers' specific needs, such as waiting 30 seconds while a mother drops off her child at day care or deviating off the main route to drop elderly passengers in front of their apartment buildings.
So of course they must be regulated/strangled:
"Every time someone doesn't swipe onto the bus and takes a van instead, that bus route is at risk of losing service, and that's bad for our neighborhoods," says New York City Council member I. Daneek Miller. A former bus driver and labor leader, Miller has pushed the Taxi and Limousine Commission to hold the vans accountable to existing regulations. The TLC regulates nearly 100,000 vehicles with an enforcement team of only 186 agents.
Related: NYC Councilman Suggests Plan to Cull Out Weaker Bicyclists
The Soviet Union's Secret Space Cannon
Only known to have been fired once in space it required counter-thrust to keep its recoil from moving the space station.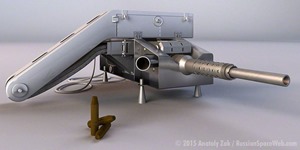 Great Moments in Commie Planning: When China Wiped Out the Common Sparrow And Nearly Starved Itself
In 1958, China wanted its sparrow population dead. As part of dear leader Mao Zedong's Four Pests campaign for improved public health, the Chinese would exterminate all mosquitoes, flies, rats and the tweeting sparrows so beloved of London's Cockneys.

Mao had made his selection. Panda bears, worms and even the dreaded moth would be allowed to thrive. His murderous hatred of sparrows held sway. The people would be mobilised for the huge cull on an enemy of the common good.
And the Chinese did nearly wipe out all the sparrows. Except that - oops - it turned out that the sparrows also ate most of the insects that ate crops....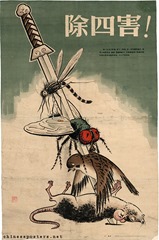 George Lucas: Still A Douche, Still Trying to Retcon His Own Work
Lucas says Han shooting first in the Mos Eisley cantina - which is what happened in the original edit of 1977's debut Star Wars film - ran against the character's principles. "Han Solo was going to marry Leia, and you look back and say, 'Should he be a cold-blooded killer?'" Lucas asks. "Because I was thinking mythologically - should he be a cowboy, should he be John Wayne? And I said, 'Yeah, he should be John Wayne.' And when you're John Wayne, you don't shoot people [first] - you let them have the first shot. It's a mythological reality that we hope our society pays attention to."

...Fans have long maintained that Lucas was just flat-out wrong on this one. The shooting established Ford's character as somebody not to be messed with, and in the scene it's pretty clear that Greedo is going to kill Han regardless ("Over my dead body" / "That's the idea"). So Han waiting for Greedo to take a shot at him while at point blank range doesn't make any sense.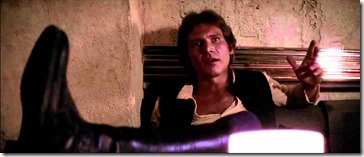 What was Found (and still edible) inside a 150 year-old Mississippi Sunken Steamboat
Amazingly much of the clothing was well preserved. And points out how stylish the well-dressed Kansan of the 1850s could be.
The Bears: Promiscuous, Horny, And Willing to Kill For Sex
But not typically human rapists...unless provoked.
The Group knows your sins but doesn't care.
Tonight's post brought to you by what can't global warming do: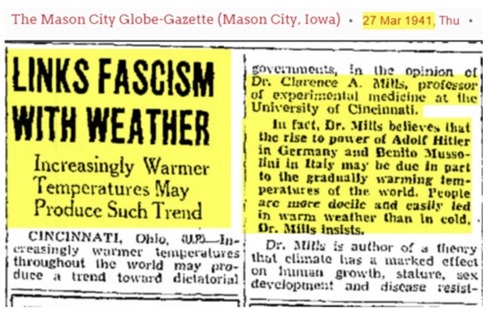 Notice: Posted by implicit permission of AceCorp LLC. No ONT parking in the back lot until further notice. Last call for AoSHQ Premium secret santa.

posted by Maetenloch at
10:54 PM
|
Access Comments