« Provisional ONT
|
Main
|
Morning Thread (11-25-2015) »
November 24, 2015
Overnight Open Thread (11-24-2015)
The most powerful tool we have to fight ISIL is to say that we're not afraid. To not elevate them and to somehow buy into their fantasy that they're doing something important.

-- President Mom Jeans the day before the State Department issued a world-wide travel advisory for Americans due to ISIL terrorism
For Democrats, I think there's a sense of responsibility here. You know, President Obama waxed self-righteous about the Republican bill and the Republican behavior, but he's made a series of cold and, to me, amoral decisions over the past five years to allow this genocide. And maybe they were the right decisions, but they were not moral decisions.

-- David Brooks finally starting to get over those glorious perfectly creased pants
Quote of the Day III - Privilege With a Death Rate Edition
So this November, let's not keep patting the Mo-Bros on the head and tolerating this childish self-involvement-fest disguised as selflessness and the propagation online and in the media of the inherent importance of North American men and their problems.

...There are a lot of people in the world who would trade your slight risk of prostate cancer for their serious risk of being raped, being killed, starving to death, or dying of preventable diseases. Prostate cancer is a hallmark of privilege. Deal with it.

-- Alex Manley complaining about Movember and raising money to fight prostate cancer
The point of life is to never have an unpleasant emotional response. To anything. Note I didn't say that the point is to avoid them. That suggests personal responsibility, when the onus ought to be on everyone else: offense of any kind cannot be made. What's more the definition of offense is the sole possession of the offended. To take offense is to proclaim virtue, to show your highly developed sensibilities, and the point of having these sensibilities is to find a job, or career, or office, or blog, or tumblr, or some other platform where you can ensure that offense is never given. (If one gets a job doing this, it will be by appointment, not election.) The person will pass from the bubble of college to the bubble of social enforcement, keen on perfecting the world. And for the rest of his or her or xer professional life, they'll be shouting BE QUIET to a calm, rational adult who is too terrified to say "you're a terrible child who understands nothing. Go to your room."

These people will produce nothing. They will create no great art, write no symphonies, conjure no novels that speak across the decades, sculpt nothing of beauty. The world outside the bubble is irredeemable. It cannot, of course, be remade all at once, but tomorrow's a new day. Rome wasn't wrecked in a day.

-- James Lileks
Mollie Hemingway: 16 Of The Worst Ways To Respond To ISIS' Paris Attack
And the Left is determined to execute all of them. Read the whole thing.
I think future historians will come to see 2012 as the year the wheels fell off the war on terror.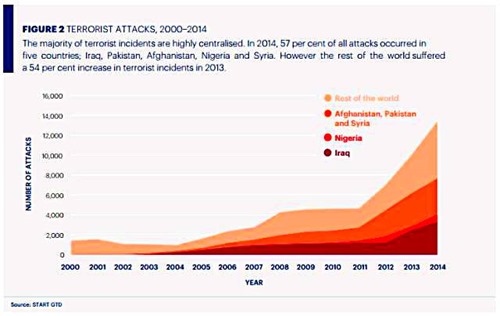 Sorry for all the pre-Thanksgiving Eve bummering. So here is HappyCat to make it better. And to prepare you for The Bummering Phase II.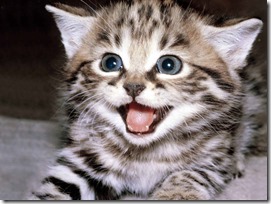 Journalists had another question: If oil is vitally important to the Islamic State, why didn't the U.S. hit the tanker trucks long ago, given that the American anti-ISIS operation began in September 2014?

"If it's so important to cut off the oil shipments, the critical revenue source for ISIS, why did it take so long to take out 116 oil tanker trucks?" a reporter asked.

Warren explained that American officials were deeply worried about harming the truck drivers, who were working for the Islamic State but might not be ISIS themselves. U.S. officials settled on a plan to drop leaflets on the trucks about 45 minutes before the raid, warning the drivers that an attack was coming, while U.S. pilots flew low passes over the area. Planning all that took time.
You Will Live in Interesting Times
Just like the old gypsy woman said!
Watching events unfold along the Turkish border this morning, you can't help but wonder if real flag officers are having similar thoughts.  Within a matter of minutes, a Turkish F-16 shot down a Russian SU-24 Fencer after it entered the country's airspace, and ignored 10 warnings to turn back.  The two-man crew ejected from the jet, but were shot as they descended in their parachutes by Turkish rebels operating along the border.    

Then, the Russians dispatched a search-and-rescue (SAR) helicopter to pick up the downed airmen.  But members of the Free Syrian Army--a rebel group backed by the U.S.--shot down the chopper, reportedly using an American-made TOW missile.  At least one member of the helicopter crew was killed.
The Good News: It turns Out That Some French Restaurant Diners Managed to Shoot And Kill Two Terrorists During the Paris Attacks
The Bad News: They Were Illegally Armed Members of a Columbian Drug Cartel
But on the other hand you do have this.
The ISIS Ladies Auxiliary: You Can Check Out Anytime You Want But You Can Never Leave
Why Boeing Should Send Russia a Gift Basket
It's all insider graft-y fun and games until a Russian sub actually pops up in the harbor.
Why Do Baseball Players Have a More Effective Union Than Football Players?
Paul Mirengoff has a theory:
However, I have a more general theory: baseball players are more ornery than football players (and, for that matter, basketball players).

Football and basketball stars become heroes at an early age. They are worshiped in high school (and sometimes before), courted extravagantly by college recruiters, pampered in college, and then (if they're good enough) placed directly into the luxurious life of the big leagues. (To be fair, though,a great many come from poor or lower middle class backgrounds.)

Baseball players are less celebrated in high school and college (if they attend). And they almost always enter the profession via the minor leagues, where they typically spend several years (quite possibly five or more if they become professionals right out of high school).

The minor leagues are a grinding, humbling experience. The pay is low, the towns lack glamor, and the bus rides are long, tedious, and not very comfortable.

Thus, my theory goes, when baseball players finally make it, they have a fortitude that their more spoiled counterparts in football and basketball lack. That's why they are more likely to hang tough in negotiations, as they did most famously during the 1994 labor dispute when the baseball season was lost.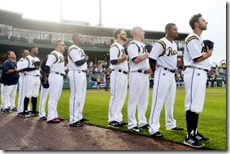 Le Shock: It Turns Out That Stereotypes Are Pretty Accurate
There are many different ways to test for the accuracy of stereotypes, because there are many different types or aspects of accuracy.  However, one type is quite simple -- the correspondence of stereotype beliefs with criteria.  If I believe 60% of adult women are over 5' 4" tall, and 56% voted for the Democrat in the last Presidential election, and that 35% of all adult women have college degrees, how well do my beliefs correspond to the actual probabilities?  One can do this sort of thing for many different types of groups.

And lots of scientists have.  And you know what they found?  That stereotype accuracy -- the correspondence of stereotype beliefs with criteria -- is one of the largest relationships in all of social psychology.  The correlations of stereotypes with criteria range from .4 to over .9, and average almost .8 for cultural stereotypes (the correlation of beliefs that are widely shared with criteria) and.5 for personal stereotypes (the correlation of one individual's stereotypes with criteria, averaged over lots of individuals).  The average effect in social psychology is about .20.  Stereotypes are more valid than most social psychological hypotheses.
CMP 1911s: Now Closer Than Ever
They probably won't be cheap or plentiful but they're coming.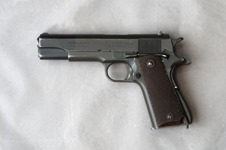 So Adele Shows Up to an Adele Impersonator Contest in Disguise
And the perfect punch line would be that she came in second. But in this case there was no contest. The best part is the look on the other contestants' faces when 'Jenny' finally starts to sing.
What It's Like to Fly on North Korea's One-Star Airline
It's Finally Out: The 2016 NYC Taxi Drivers Pin-Up Calendar!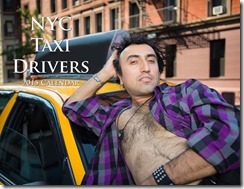 How About Some Sexy Panties For Your Old Lady For Xmas?
But how do you pick something out that she's going to like and gets your motor going? Well, let me help you with that, chuckles. Etsy store Bullet and Bee has a four set of Golden Girls panties. Each pair has a picture of either Bea Arthur, Estelle Getty, Rue McClanahan or Betty White. But they don't just have pictures of the four sexy ladies on them. Each one is a different style. The Bea Arthur is high rise, Estelle Getty's is high wasted, the Betty White is sheer, and the Rue McClanahan is crotchless. Let that sink in.

You can buy the whole set for $160 or each one for $38-$52. That's a bargain for that much sexiness!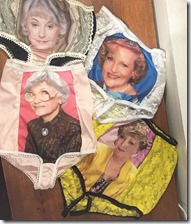 The Yahoo group is for closers only.
Teh Tweet!
Tonight's post brought to you by busted: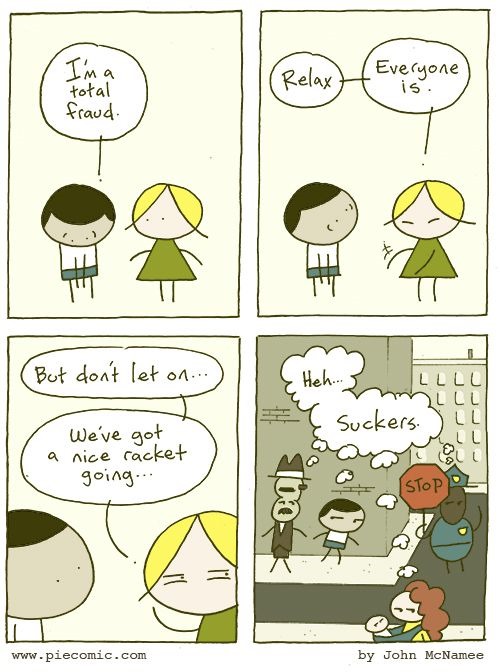 Notice: Posted by authority of AceCorp LLC. Current ewok status: uninterested. Caution: ONT may cause drowsiness, nausea, dizziness, or blurred vision. Do not operate heavy machinery unless you're feeling it.

posted by Maetenloch at
11:21 PM
|
Access Comments