« Football Sunday in America! - [Niedermeyer's Dead Horse]
|
Main
|
Football Thread: Late Game Edition [CBD] »
November 08, 2015
Food Thread: Frying: It's Not Done In The Oven [CBD]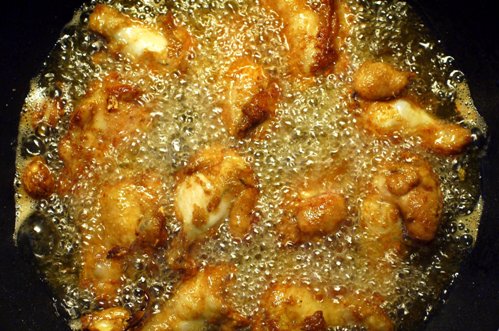 Yes...I too have been suckered by those wonderful sounding recipes that proclaim "Oven-Fried Chicken!" Or, "Baked Crisp Fish!"
Bullshit.
It is a scam, perpetrated on America by well-funded opponents of Big Cooking Oil. There is simply no remotely easy way to get food crispy and crunchy and delectable without cooking fat.
I make fish tacos occasionally, mostly because it's easy and tastes good and I can pretend that because it is fish, the four tacos I eat are not going to add to my rapidly expanding waistline. Most of the recipes I glance at for inspiration for condiments call for baking the fish. That's lovely. It's simple, isn't messy, and apparently the unfortunate fact that the fish is tasteless is okay with these chefs. And for the most part....it is. The stuff on top of the fish is what adds flavor. Chopped jalapenos and avocado and chipotle sour cream and cilantro and cole slaw and baby corn and chopped red onion and......
Anyway, cod was on sale and I was out of ideas for dinner. I cut the cod into chunks and tossed them into a bowl, waiting for the muses to visit me with inspiration; how to season the fish so it actually tasted like something? In a panic, I decided to pan-fry it, but without the delay of battering each piece. I tossed the chunks with some flour, added a whipped egg to the bowl and tossed them around, then dipped three or four pieces at a time into seasoned bread crumbs and into a hot pan with a couple of big glugs of corn oil. I kept going until the pan was full but not crowded. I flipped them once, then put them in a hot oven and started the next batch. One of the obvious advantages of cooking in oil is the wonderful heat transfer. Stuff cooks faster! Start to finish? 10 minutes.
And hot crispy fried cod tastes better than baked cod. Yes...you knew that already, but it doesn't hurt to be reminded of it every now and then.
******
Never-Fail Biscuits?
Possibly, but the recipe calls for self-rising flour, which I have never used. It also produces a dough that is scooped rather than folded, so it can't possibly be authentic. Except that drop biscuits are authentic. Oh hell, I'm confused.
******
Bourbon taste tests
are of limited value, mostly because the best bourbon in the world is the one YOU like the best, not the one the writers like. If the tasters are rigorous and are consistent with their descriptive vocabulary, then you can use their descriptions of a bourbon (or wine or grape jelly or....) you know as the basis to expand your horizons. But mostly they are fun to read.
I am going to look for "W.L. Weller Special Reserve." Anyone ever taste it?

******
I have a go-to recipe for molten chocolate cakes that is easy and fantastic. But this one, although not nearly as simple, is tempting.
Molten Peanut-Butter Mini Cakes
is not my idea of a great dessert, but it sounds strange and mystifying and alluring. I think I'll try it, but definitely not when I absolutely positively need a great dessert. The chef is no slouch, and she's Southern, which is always a good thing to see on a chef's resumé.
******
I have posted this recipe before, but it is so easy and good, and everything is available year 'round, so take this as an advisory to eat your vegetables.
Ratatouille
Ingredients



1/4 cup olive oil, plus more as needed

1 1/2 cups small diced onion

1 teaspoon minced garlic

2 cups medium diced eggplant,

1/2 teaspoon fresh thyme leaves

1 cup diced yellow bell peppers

1 cup diced red bell peppers

1 1/2 cup diced zucchini squash

1 1/2 cup diced yellow squash

1 1/2 cups peeled, seeded and chopped tomatoes, or one can of good chopped tomatoes

1 tablespoon thinly sliced fresh basil leaves

1 tablespoon chopped fresh parsley leaves

Salt and freshly ground black pepper

Directions
Set a large 12-inch sauté pan over medium heat and add the olive oil. Once hot, add the onions and garlic to the pan. Cook the onions, stirring occasionally, until they are wilted and lightly caramelized, about 5 to 7 minutes.
Add the eggplant and thyme to the pan and continue to cook, stirring occasionally, until the eggplant is partially cooked, about 5-7 minutes. Add more oil as needed.
Add the yellow and red peppers, zucchini, and squash and continue to cook for an additional 5-7 minutes.
Add the tomatoes, basil, parsley, and salt and pepper, to taste, and cook for a final 5-7 minutes.
Stir well to blend and serve either hot or at room temperature.

posted by Open Blogger at
04:00 PM
|
Access Comments