« Emergency ONT
|
Main
|
Morning Thread (11-6-2015) »
November 05, 2015
Overnight Open Thread (11-5-2015)
What's with all this Emergency ONT shit? Why I haven't missed a scheduled ONT in over 7 years of operation I'll have you know.
One-party autocracy certainly has its drawbacks. But when it is led by a reasonably enlightened group of people, as China is today, it can also have great advantages. That one party can just impose the politically difficult but critically important policies needed to move a society forward in the 21st century. It is not an accident that China is committed to overtaking us in electric cars, solar power, energy efficiency, batteries, nuclear power and wind power.

-- Tom Friedman in 2009
Quote of the Day II - Oops Edition
The New York Times yesterday reported China has been burning up to 17 per cent more coal a year than the government previously disclosed. Considering the vast scale of China's annual coal consumption, this is an absolutely gigantic correction.
Yet this small Chinese accounting 'error' is equivalent to most of the coal the US burns annually. Also a reminder that one-party autocratic states routinely lie and cheat.
What matters, rather, is the strength of the longing. Modern liberalism is best understood as a movement of would-be believers in search of true faith. For much of the 20th century it was faith in History, especially in its Marxist interpretation. Now it's faith in the environment. Each is a comprehensive belief system, an instruction sheet on how to live, eat and reproduce, a story of how man fell and how he might be redeemed, a tale of impending crisis that's also a moral crucible.

In short, a religion without God.

-- Bret Stephens
The book's perfunctory pieties about Reagan's greatness are inundated by its flood of regurgitated slanders about his supposed lassitude and manipulability. This book is nonsensical history and execrable citizenship, and should come with a warning: "Caution - you are about to enter a no-facts zone."

-- George Will basically calling Bill O'Reilly a liar over his book, 'Killing Reagan'
The photo at right comes from the "Hitler" menswear store in Gaza. I don't know whether Hitler himself is running it. If you know your P G Wodehouse, you'll recall that his Fascist leader, Sir Roderick Spode, ran a ladies' lingerie boutique on the side. So it's entirely possible that the Führer has been running a men's clothing chain in Gaza since the bottom dropped out of the dictating business.

At any rate, you 'll see that the mannequins are not just stylishly dressed but appealingly accoutred with sharp knives. Because when you go Jew-killing, you want both to look sharp and stab sharp.

-- Mark Steyn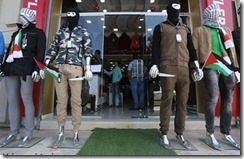 Kathleen Kane: Burn it all to the ground. All of it. Purify Pennsylvania with fire. https://t.co/DPYfsRFxci

- Popehat (@Popehat) November 5, 2015
ACCEPT YOUR DESTINY, KATHLEEN KANE. BRING THE WINNOWING TIME UNTO THE LAND. FOR YOU ARE THE HARVESTER OF THE LORD, AND GOD WILL KNOW HIS OWN.

-- Moe Lane
Sweden: All European Nations Must Take in the Refugees We Invited
Denmark to Sweden: Fuck You
Okay they were a bit more polite than that but not by a whole lot.
"Sweden has long taken an unreasonably large responsibility in comparison with other countries in the EU, and now we are in a very tight position. It is time that other countries now take responsibility and therefore the government requests the redistribution of refugees from Sweden," [Sweden's Prime Minister Stefan Löfven] said.

But Löfven will get no help from Denmark, Danish Foreign Minister Kristian Jensen said on Thursday.

"Every country has chosen its own course within the refugee area. They have chosen theirs and now they must deal with it as they'd wish," Jensen told TV2 News.

"We know that there are some countries that are looking to Denmark and we know that Sweden has also looked to Denmark to find inspiration. That is probably the best help we can give them," Jensen said.
Here the inspiration they're referring to is the Danish hard-line approach to keeping the migrants from entering and settling in Denmark. The Danes may be prone to all the usual scandi vices but they're not stupid. And they're very much into being Danish and making sure that Denmark stays Danish in the future.
ESR: From Kafkatrap to Honeytrap
The short version is: if you are any kind of open-source leader or senior figure who is male, do not be alone with any female, ever, at a technical conference. Try to avoid even being alone, ever, because there is a chance that a "women in tech" advocacy group is going to try to collect your scalp.

..."They have made multiple runs at him." Just let the implications of that sink in for a bit. If my source is to be believed (and I have found him both well-informed and completely trustworthy in the past) this was not a series of misunderstandings, it was a deliberately planned and persistent campaign to frame Linus and feed him to an outrage mob.

I have to see it as an an attempt to smear and de-legitimize the Linux community (and, by extension, the entire open-source community) in order to render it politically pliable.
The comments at ESR's site are also depressingly on-point, noting that ministers and executives have been following this policy for years for similar reasons and that we're now well on our way to becoming a Russian dash-cam society where everything must be routinely recorded in order defend against false accusations.
Russians Getting Frisky in Orbit
An American firm, Intelsat, is the largest operator of communications satellites (75 at the moment) in the world and fears some of its satellites are being targeted by the Russians for a possible attack on Western communications satellites. All this came about in early 2015 when it was noted that a Russian military satellite was being moved into orbits very close (as in ten kilometers) of two Intelsat satellites. These incidents, which took place over a period of five months were reported to the U.S. Department of Defense which revealed that it had noted two other Russian military satellites carrying out similar maneuvers, but not as close to American satellites. All of these maneuvers were representative of what an attack satellite would do when preparing to damage or destroy other satellites. When the Department of Defense asked the Russians what was going on they received no answer. This is ironic because a lot of Intelsat satellites were placed in orbit by Russian rockets.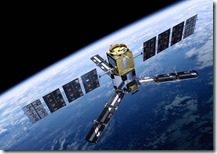 The New Worst Person in World - Destroy, Destroy, Destroy!
Okay stealing candy put out for kids is pretty low even on the modified pond scum scale. But the problem here is that the social media outrage mob only has a single penalty for all crimes: complete and utter personal destruction. And I'm not quite sure that Fat Bunny Candy-Stealer quite deserves that given all the father-rapers and shameless moperists who go unpunished every day in our society.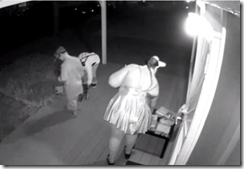 Gov. Jerry Brown (D-CA) Used State Agencies to Check Family Ranch For Evil Gaia-Killing Oil
I'm sure it was just so that the toxic pollutant could be safely removed and disposed of in a carbon-neutral way.
Gizmodo Doubles Down on Their Ted Cruz Gun Safety Attack
Claiming that Ted Cruz was totes pointing his gun at people. Except that in their 'smoking gun' animated gif you can actually see through the visibly unloaded empty chamber and barrel and it never swept over anyone in the background (not that it would be a violation if it had given that the gun was so clearly unloaded and disabled).
Clearly unable to see past his hatred of the Senator to admit he was wrong, and that he didn't actually understand Cooper's rules or that carrying an break-action shotgun (whether an over/under like Cruz was carrying, a side-by-side, or a single-shot) with the action open and the chamber empty is 100% safe, Siler instead retreated into a defensive and snarky temper tantrum.

It was almost cute. Almost. But Wes Siler purports to be an adult male, and should take responsibility for manning up and admitting he was wrong.

It's both sad and pathetic that he will not.

Equally in need of manning up is Kaili Joy Gray, the caustic editor of Wonkette, who went on an even longer and more clueless Cruz-hating binge filled with such vigor that you can all but see the froth flying from her soy latte -stained gums.

Amusingly, the comments section to the article is filled with comments from embarrassed readers correcting Gray over and over again, apparently to no avail.
Not Your Daddy's Parabellum: FBI Returning to 9mm for Service Round
Why Were the Star and Pound Symbols Originally Added to Phone Keypads?
The original Touch-Tone phones (not simply phones with buttons) were introduced to the American public in November 1963. The first phones only had 10 buttons, the numbers 1 through 0. See a picture of this first push button phone here: http://www.thocp.net/companies/att/att_company.htm. (See "1963.") The specs, however, called for a five pointed "star" key and a "diamond" key, along with four other keys labeled A though D. The star and diamond were replaced with the asterisk and pound sign when one of the Bell System engineers decided the two extra keys on the dial should have characters drawn from the ASCII character set. Calling the asterisk "star" was easy enough, but naming the other key was more of a challenge. "Octatherp" was proposed but wisely rejected in favor of "pound."

...It took a while before anyone came up with something the general public could do with the keys. Remember the Picturephone, touted as the next great thing in telephones? The pound key was to have been used as a prefix for those calls, so a Picturephone user would know when to turn the screen on.

...After deregulation of Ma Bell in 1984, the new phone companies got wise to the extra keys and started using them to allow customers to control features on their phone systems, such as cancelling call waiting and call forwarding.

The letter keys (A, B, C, and D) are still in use today, but only for specialized applications. Technicians use them for network troubleshooting and applications, as do amateur radio operators for special controls on their systems. Those keys are available on several of my amateur radio units, and they get some use controlling several radio repeaters in my hometown.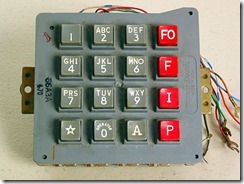 Safety Tip For the Morons: Lamb Sacrifices May Be Less Effective Than You Think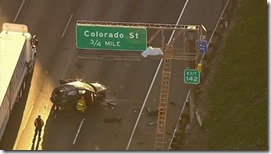 WWII Battle of Navarone Giant Playset!
I have distinct memories as a kid of carefully evaluating and pondering this very toy in the JC Penny catalog while making up my Christmas 'dream-list'. I even remember playing with it at some point but I'm pretty sure it must have been at a friend's house.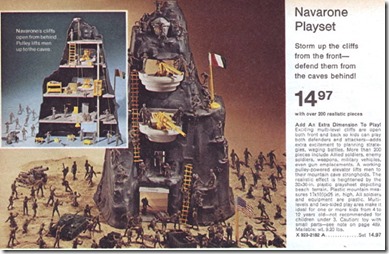 Yahoo group. That is all.
Come on be a smartie and join the yahoo group party! For the children. Why do you hate children?
And my lo-fi Twitter spew.
Tonight's post brought to you by eat a dick kale: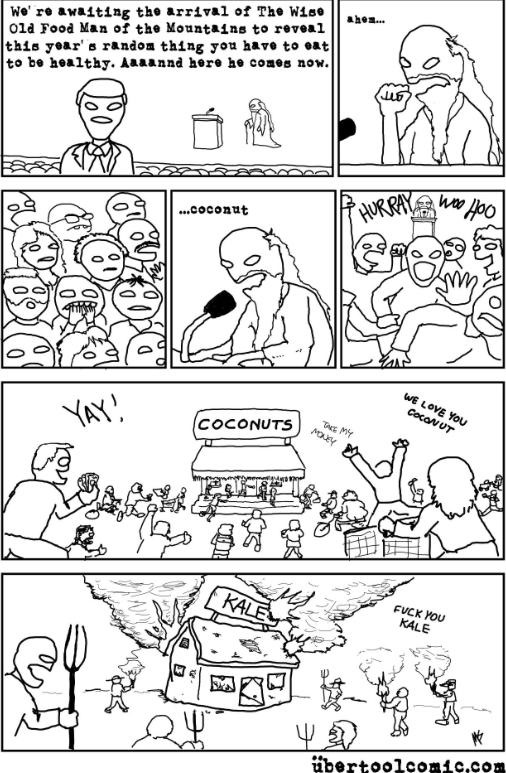 Notice: Posted by the power of AceCorp LLC. Note that the long bows and mannequins are for display only. Do not taunt happy-fun ball. He knows where you spend your evenings. And your little Eulalie secret.

posted by Maetenloch at
11:23 PM
|
Access Comments