« The Ferguson Effect: Black Professor Claims Mistreatment By Police For "Walking While Black;" Dashcam Video Proves Completely Proper and Friendly Encounter
|
Main
|
Morning Thread (11-5-2015) »
November 04, 2015
Overnight Open Thread (11-4-2015)
Crazy old people are our entire source of polling information.

-- P. J. O'Rourke
The next time some academics tell you how important "diversity" is, ask how many Republicans there are in their sociology department.

-- Thomas Sowell
It's clear that in his final days in office, the president is making it a priority to give leniency to criminals.

He announced other hug-a-thug policies Monday at his "criminal justice reform" speech in Newark, N.J., where Democratic Sen. Cory Booker joined him on the stage. He's pushing bills not only to permanently prohibit the government and its contractors from asking job applicants about criminal histories in questionnaires but also to further slash sentences for crack dealers. They include:

. Removing criminal background checks on Section 8 housing.

. Giving Pell grants to incarcerated inmates.

. Granting SBA loans to parolees.

. Capping all in-state and interstate prison phone rates for inmates and their contacts on the outside.
[I'm actually okay with the last item since insanely priced prison phone services do take advantage of literally captive customers]
Related: Hillary: Former Presidents Won't Have to Declare Their Criminal History For Employment
Related: Why Liberals Identify with Criminals
Headline of the Day: German Church Removes Symbols of Christianity to Make Migrants 'Comfortable'
"There is a self-hatred in the West that can be considered only as something pathological. The West attempts in a praiseworthy manner to open itself completely to the comprehension of external values, but it no longer loves itself; it now only sees what is despicable and destructive in its own history, while it is no longer able to perceive what is great and pure there."

-- Pope Benedict XVI
Initially, there was plenty of resistance. As one food bank director told Canice Prendergast, an economist advising Feeding America, "I am a socialist. That's why I run a food bank. I don't believe in markets. I'm not saying I won't listen, but I am against this." But the Chicago economists managed to design a market that worked even for participants who did not believe in it. Within half a year of the auction system being introduced, 97 percent of food banks won at least one load, and the amount of food allocated from Feeding America's headquarters rose by over 35 percent, to the delight of volunteers and donors.

-- From a story on how a free market system using a currency called 'shares' is used to efficiently and fairly distribute donated food to food banks across the country
Every time I get to feeling sorry about taxi drivers and their Uber-disrupted industry, I take a ride in a Sydney taxi.

This instantly cures me of any sadness and instead makes me think that Uber drivers are not only justified in destroying the taxi business, but that Uber drivers should also be allowed to throw taxi drivers out of their houses and sell their children into slavery. A back-to-back comparison this weekend was especially illuminating.

City to Lane Cove, via taxi. Car: a grindy old Ford Falcon. Driver: a man who spoke no language known to humankind, and who immediately became lost. No functioning GPS was available. The driver appeared unfamiliar with the concept of "north".

Lane Cove to city, via Uber. Car: a smooth Chrysler 300C. Driver: a well-spoken young man who happily cranked up the radio when a favourite song came on. Directions were not an issue.

-- Tim Blair
Gavin McInnes on How Adolescent Babysitters Now Rule Our Society
Long ago, Bill Hicks stood back and asked, 'When did we start listening to prepubescent white girls?' If only he could see us today. Where feminist bloggers with blue hair are invited to the United Nations to discuss mean comments on the Internet and video games.
And for the first time since the Salem Witch trials have the power once again to destroy you.
VW's Emissions Scandal Spreads to Gas-Powered Cars
I suspect that eventually it will come out that every car company is cheating in some way on emissions tests.
Brown University Student Makes Out With a Girl at a Party, Has His Life Destroyed
This might be the most egregious miscarriage of campus kangaroo court justice I have seen to date. Despite exonerating texts from the girl, Facebook photos, and witness accounts the university expelled him from campus in a mockery of due process. It's so bad that he's now suing both the university and the girl - and has a decent chance of winning. 
Gizmodo: OMFG Ted Cruz Is Totally Unsafe Carrying This Deadly Shotgun!!!!
Can spot all the gun-safety violations in this photo of Ted Cruz carrying a shotgun after a pheasant hunt? [Answer below]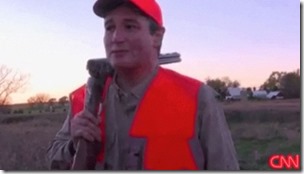 But then just because Gizmodo found a list of gun safety rules on the web doesn't mean that they can actually understand them. Bob Owens points out that by Jeff Cooper's own description of the four basic rules of gun safety Cruz is perfectly in compliance. And Gizmodo is literally too dumb to know what they don't know.
Why is SteynOnline.com Blacklisted on United's In-Flight WiFi?
Some readers have asked whether I ever heard back from United. Yes. Two days later, they sent a Tweet claiming my site was blocked only because of "excessive bandwidth" - due to my cat video, presumably, which hadn't yet been posted. In any case, that doesn't explain why anyone attempting to access SteynOnline is automatically redirected to a United Airways page marked in the URL bar as "unitedwifi.com/global/errors/site-blacklist" with a warning about "inappropriate" content. Most people in the blacklist business aren't upfront enough to label it a "blacklist", but United does and very publicly.

They asked us to DM them, so we did, and three days later they have yet to reply.

I should add that I'm very touched by the United Airways pilots who've written to me to say how personally embarrassed they are by their company's hostility to free speech. One United captain came to a speech I gave and waited very patiently afterwards to apologize for his airline's behavior.
Note that United also blocks FoxNews stories.
23 Year Old Intersectional Feminist is 'So F-king Exhausted' With the World's Bullshit
this is what sexism does - it makes it impossible to win if you're a girl, or a woman, it makes your entire existance an uphill battle. and truth be told, i am getting so f-king tired. i am 23, a quarter of my life behind me, and i am already tired of educating men twice my age about what is right and appropriate. i am tired of the stares that say i am over-reacting, the replies to calm down, the polite smiles that are meant to knock me down a few pegs. i am tired of explaining to men that sexism is not this one incident, it is my entire life, my every single day. i am 23 and i am so f-king exhausted.
I'm afraid it's gonna be a long hard lonely life for you, baby.
The Cycle Is Now Complete: Amazon To Open Up Brick-and-Mortar Bookstores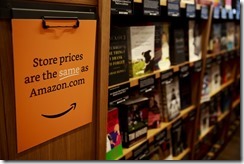 Theory: Jar Jar Binks was a trained Force user, knowing Sith collaborator, and will play a central role in The Force Awakens
As we all know, one of Lucas' big deals with the prequels was that they were intended to "rhyme" and mirror the original trilogy in terms of general narrative themes. So there should have been a seemingly innocent creature found on the side of the road that later reveals itself as a major player. We do have a creature that this seems to describe precisely... Jar Jar... but of course he never develops into a "master" anything.

Here's what I think happened: I think that Jar Jar was initially intended to be the prequel (and Dark Side) equivalent of Yoda. Just as Yoda has his "big reveal" when we learn that his tottering, geriatric goofball persona is just a mask, Jar Jar was intended to have a big reveal in Episode II or III where we learn that he's not really a naive dope, but rather a master puppeteer Sith in league with (or perhaps in charge of) Palpatine.

However, GL chickened out. The fan reaction to Jar Jar was so vitriolic that this aspect of the trilogy was abandoned. Just too risky... if Jar Jar is truly that off-putting, it's potentially ruinous to the Star Wars legacy to imply that he's the ultimate bad guy of the entire saga. So pretend he was just a failed attempt at comic relief instead.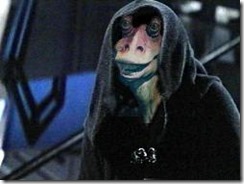 Is Every Story of Razor Blades/Needles in Halloween Candy a Hoax?
Yes. As far as I know there's never been an authenticated case of a stranger putting one in any candy handed out.
Japanese 'Men's Delusion Curry' Comes with Simulated Girlfriend DVD
Rocket News 24 reports that the newly-released Men's Delusion Curry-Orange Flavor comes with a DVD of the lovely model Mao Harada. You can call her Haradan. She'll gladly chat with you over curry during the story, which has 3 chapters:

1. The Younger Girlfriend
2. The Older Girl Who Lives Next Door and is Sort of Risqué
3. Haradan Made a Home-Cooked Meal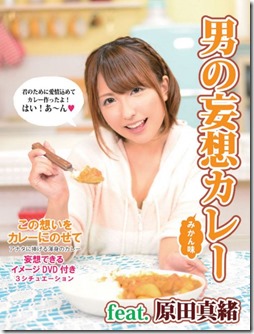 News You Can Use: How To Transport a Million Dollars in Cash
And yes there are legit non-criminal reasons for doing so. So be sure to Google and memorize these before you start your trip.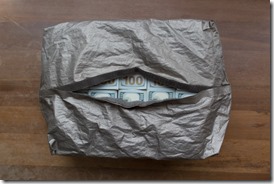 The Group knows your sins but doesn't care.
Tonight's post brought to you by the Sagrada Familia: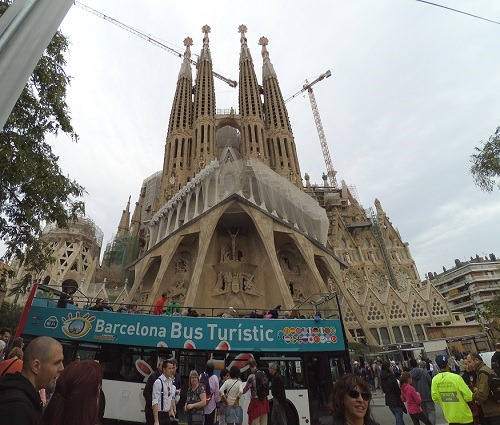 Notice: Posted by surprise motherfuckers. Now hand over yer wallets so the ewok can keep his premium cable channels.

posted by Maetenloch at
11:28 PM
|
Access Comments