« Open Thread
|
Main
|
Morning Thread (11-3-2015) »
November 02, 2015
Overnight Open Thread (11-2-2015)
Unfortunately, Putin, like other modern autocrats, had, and still has, an advantage the Soviet leadership could never have dreamed of: deep economic and political engagement with the free world.  Decades of trade have created tremendous wealth that dictatorships like Russia and China have used to build sophisticated authoritarian infrastructures inside the country and to apply pressure in foreign policy.  The naive idea was that the free world would use economic and social ties to gradually liberalize authoritarian states.  in practice, the authoritarian states have abused this access and economic interdependency to spread their corruption and fuel repression at home.

-- Gary Kasparov in Winter Is Coming: Why Vladimir Putin and the Enemies of the Free World Must be Stopped
Citizens of all the tiny countries that lie between the Middle East and Germany were witnessing a migration far too big for Germany to handle. They knew Germany would eventually realize this, too. Once Germany lost its nerve, the huge human chain of testosterone and poverty would be stuck where it was. And if your country was smaller than Germany -- Austria, for instance, is a tenth Germany's size -- you could wind up in a situation where the majority of fighting-age men in your country were foreigners with a grievance.

-- Christopher Caldwell in What Merkel Wrought
We can now add Halloween parties to the list of things we can't do because we live in a diverse society

...Far from being a bonus, diversity looms as a pagan god that demands the constant sacrifice of everything we hold dear. In exchange for a few benefits-exotic restaurants, I guess? - it compels society give up its traditions, its sacred rights, and even its basic decency. The terms of the Faustian bargain are never spoken aloud of course because no one would ever accept it if they were. Diversity's salesmen will tell us that there is much to gain and nothing to lose though experience should tell us that they're lying. It first demands that we give up the small stuff, things that seem insignificant when considered in isolation, such as silly high school musicals. What's the big deal if we ditch West Side Story for the sake of racial harmony? But it doesn't stop there because diversity's hunger is never sated. A precedent has been set and will inevitably be followed from there on out.

-- Benny Huang
He was a shrewd and insightful man, but also very stylish and cool. I didn't know him well, except for a few tipples after hours on various sailings of the National Review cruise. But, after the 2010 midterms, he and Howard Dean and I took part in a big event in Calgary discussing the US election results for a Canadian audience. A very crumpled Dean and I arrived first and were chit-chatting on the sidewalk about this and that when a car pulled up and Fred Thompson got out wearing the best cut suit I've ever seen on a political panelist - an immaculately tailored chalk-white pinstripe; he looked sharp, like he was about to whack Sean Connery in The Untouchables. It was all the more amazing given that his speakers' agency had flown him some hellish multi-stop route from Nashville to Tennessee - via Presque-Isle and Yellowknife, or some such. What followed was a fun discussion. You can view the first part of the evening here, and then click through to the rest.

-- Mark Steyn on Fred Thompson
First off, let's dispense with the childish notion that Alderaan was, as rebel spy and intergalactic insurrectionist Princess Leia has argued, a purely civilian target. There is literally no reason to believe her claim that "Alderaan is peaceful, we have no weapons." She had previously lied about not only the diplomatic nature of the mission she was on when she was captured but also about the location of the stolen Death Star plans. It's also worth noting that she would go on to lie about the location of a military target for the Death Star to target moments before Alderaan was destroyed.

We have further reason to disbelieve Princess Liar when we consider that her adopted father, Bail Organa, was one of the original members of the rebellion, conferring with Obi-Wan Kenobi and Yoda in an effort to undermine the democratically elected Chancellor Palpatine shortly after his ascension. Alderaan was less likely a peaceful planet than a financial and intellectual hub of the rebellion, whose leaders, as we've seen, are totally untrustworthy negotiating partners - a hive of scum and villainy no less wretched than Mos Eisley, but on a planetary scale.

-- Sonny Bunch explaining how the destruction of Alderaan is defensible under Just War theory
German Village of 102 to Get 750 Refugees
SUMTE, Germany - This bucolic, one-street settlement of handsome redbrick farmhouses may for the moment have many more cows than people, but next week it will become one of the fastest growing places in Europe. Not that anyone in Sumte is very excited about it.

In early October, the district government informed Sumte's mayor, Christian Fabel, by email that his village of 102 people just over the border in what was once Communist East Germany would take in 1,000 asylum seekers.

His wife, the mayor said, assured him it must be a hoax. "It certainly can't be true" that such a small, isolated place would be asked to accommodate nearly 10 times as many migrants as it had residents, she told him. "She thought it was a joke," he said.
The only person happy about the situation is the lone neo-Nazi on the city council who's convinced that it will finally bring the villagers around to his point of view.
And Rick Moran points out that Merkel's careless generosity will likely end German tolerance:
It's amazing that Merkel never imagined that when you throw open the doors to your country, people beyond counting will want to come in. Nothing has been prepared for the crush of humanity that took Merkel up on her generosity. There is no shelter, no allowance for schooling for children, no plan to employ those who can work. Her ultimate goal - to change the demographic decline of her country so that more workers can support the rapidly growing number of retirees - could not justify the chaos and massive dislocations her refugee policy has wrought.

Meanwhile, the good people of Sumte - no doubt tolerant and broadminded - are about to be buried in an onslaught of Muslims who will be a supermajority in the tiny town. What are the chances of German law, German traditions, and German life being maintained in the face of people who want to change all that to suit their own preferences?

Before too long, I suspect the residents of Sumte won't be so tolerant and broadminded.
Oh And It Turns Out that the Refugees Aren't Really Refugees
A largely Muslim charity recently reviewed the work its people had been doing to relieve the misery and squalor on the Sangatte refugee camp in Calais. A worker with the Human Relief Foundation visited the notorious 'Jungle' encampment and concluded, with some alarm, that 97 per cent were economic migrants rather than refugees. Further, they were almost exclusively fit young men who were not fleeing danger at all and were not in the least desperate.

An executive added: 'I thought they had a valid reason [to be there]. They do not have a valid reason.' The charity immediately curtailed its relief efforts. But present these facts to those who simply scream 'Let them in!' and 'We must do more!' and it makes not the slightest difference to their point of view; it washes over them without leaving so much as a trace.
And Mark Steyn Explains Why All The Refugees Are '17'
Fences Are Going Up All Over Europe
Austria, a strong critic of fences built to cope with Europe's migrant influx, on Wednesday announced it is joining other nations that have either already erected border barriers or are planning to do so. Austrian Interior Minister Johanna Mikl-Leitner insisted the move was aimed solely at bringing order to the unrelenting influx of people entering the country, telling parliament there were no plans "to build a fence around Austria."

Still the project is a major shift for the country, which has preached the sanctity of unimpeded internal EU borders since the migrant crisis intensified earlier this year, and Mikl-Leitner herself used the world "fence" in earlier comments announcing construction plans at the border.

...Slovenia, the main entry point into Austria, also said it was ready to build a fence, while Hungary has been championing the success of its razor-wire border fences with Serbia and Croatia and plans another one with Romania. Greece already erected a barbed wire fence three years ago on a section of its border with Turkey not separated by a river. Bulgaria also has fenced off parts of its boundary to Turkey, while some Baltic states plan to erect fences on border segments with Russia.

But all of these existing or planned fences are either on outer EU borders or between two EU countries where one is not yet part of the Schengen Agreement meant to ensure the free movement of persons. The Austria-Slovenia border is part of the agreement, however, and any barriers erected on it would be closely watched for possible violations.
Camp of the Saints watch: And here is a photo of the human river of migrants snaking its way through Slovenia towards Austria.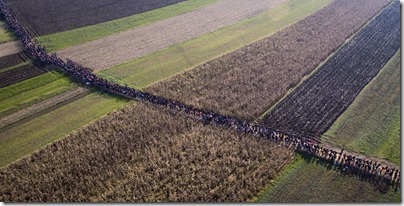 The Map That Shows How Large Europe's Refugee Crisis Really Is
Follow the link to see the animated version.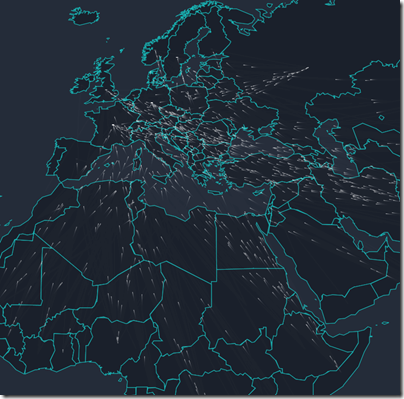 The Anonymous Twitter Account: There Are 4 GOP Senators Who Are Members of the KKK
But even Anonymous is disavowing this accusation. And Alex Griswold of Mediaite points out how flimsy the evidence for these accusations are: if a senator's email address appeared in any database hacked from a KKK site, it could only mean that they must in fact be members somehow.
This is exactly the sort of situation to pull out Occam's Razor. Which of these two possibilities really seems more likely:

Four separate individuals managed to conceal their membership in a white supremacist organization for decades from watchdog groups and the government alike, surviving dozens of primary and general elections alike without even a whiff of their extremely radical views ever being raised by anyone. Every one of these individuals lead extremely productive lives, attend elite universities, and two even become a U.S. Attorney and an ambassador to a major U.S. ally. But in an extremely sloppy move, they all sign up for KKK websites using emails that can easily be traced back to them.
Some kid on the Internet lied.
Given a time machine would you go back and kill baby Hitler? Well that's been what all the internet people have musing on in the last week.
If you time-traveled, killed baby Hitler, then returned, you'd be reviled for using the best invention ever to kill an unknown Austrian baby

- brad plumer (@bradplumer) October 23, 2015
Why don't they ever ask if you'd *kidnap* Baby Hitler? You've got a time machine. You could drop him off with a caveman family or something.

- Jesse Walker (@notjessewalker) October 23, 2015
Definitive proof that you cannot kill Baby Hitler without creating time travel-destroying paradox. https://t.co/Smxavqo4mC

- Ben Domenech (@bdomenech) October 23, 2015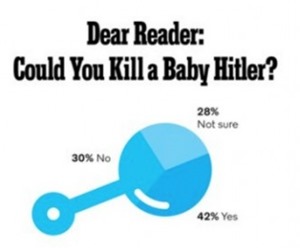 But as Instapundit points out there's a huge gender gap when it comes to Baby Hitler with men far more willing to go back in time and kill baby Hitler:
"Women were more likely to fall into the deontology camp and agonize for a long time over a decision, while men were somewhat more likely to lean toward utilitarianism and make a quick decision, the researchers found. That leads to a gender difference in making a moral decision, they say, with a stronger emotional aversion to harmful action being seen among women."

You know, I felt better about the 19th Amendment before I knew that women, given a choice, would let Hitler live.
'NPR Voice' Has Taken Over the Airwaves
Ugh. I hate NPR voice. It's the main reason I can't listen to even non-political NPR programs. And while its roots according to the article may have come from lack of professional training, today it's just as affected and artificial as what it was a reaction to. Whenever I hear it, this is what I see in my head: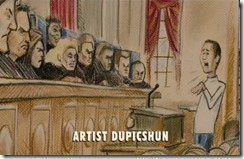 Why You're Going to Be Seeing a Lot of Horror Movies Out of Hollywood
Short answer: They're very profitable.
There were 28 horror movies out of the 202 we analyzed from the past 15 years that made back more than 10 times their budget. There were only six romantic comedies out of 180 and only four action movies that pulled off the same return on investment.

Why is this?

Namely, horror movies are relatively cheap to make - the genre doesn't demand that a big-name star get hacked to pieces and will accept any replacement-level ingenue as a lead - and they have the opportunity to explode in popularity. The ur-example of this is "The Blair Witch Project" (1999), which pretty much kicked off the contemporary era of make-it-cheap-and-hope-for-the-best horror movies. It was followed a decade later by the first "Paranormal Activity" (2009), which to this day is one of the single most successful films ever based on return on investment.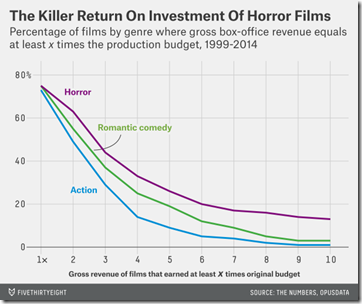 10 Famous People Who Vanished Without a Trace
The Yahoo AoSHQ group - it's got electrolytes and shit.
And my twitter thang.
Tonight's post brought to you by Hilary staying focused on the important stuff: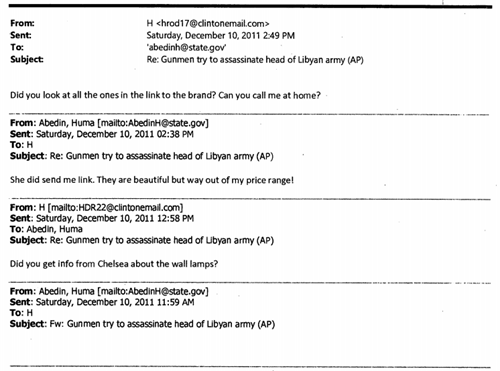 Notice: Posted by imprimatur of AceCorp LLC. Stay frosty and give to the ewok.

posted by Maetenloch at
11:23 PM
|
Access Comments