« Happy Hilloween
|
Main
|
RNC to NBC: You're Fired »
October 30, 2015
Jeb Memo: Current Poll News Doesn't Matter, Because Voters Have A.D.D.
I think there's a lot of truth there. Still, probably won't help him to say, and when you're knocking voters (even if the knock has truth to it) it's a sign you're failing.
Like you needed more signs.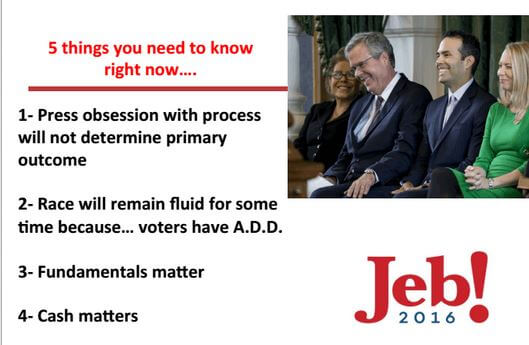 Jeb actually distributed this memo to "select" reporters, hoping to influence their coverage, so I guess he was okay with this getting out there.
Bush's top lieutenants convened with donors in sopping wet Houston on Monday to calm their fears and retrench for the unforgiving haul ahead.

After the confab, Bush's team distributed a 45-page PowerPoint presentation to select reporters, summarizing an optimistic view of the race, touting the Republican candidate's cash and organization, and assuring supporters that early polls are rarely indicative of ultimate success.

But in that leak to select media, the campaign purposely left out more than half of what was furnished behind closed doors.

The full presentation, obtained exclusively by U.S. News, spans 112 pages and includes a trove of new details, including Bush's internal polling, his vote goal in Iowa and his advertising plan for January.
Of course, it includes further attacks on Marco Rubio.
While the slides released to the press highlight Bush's Sunshine State endorsements and Rubio's lack of experience, another page for donor edification gets dirtier.

It's titled "Marco Is A Risky Bet," and it bullet-points Rubio's "misuse of state party credit cards, taxpayer funds and ties to scandal-tarred former Congressman David Rivera."

When Rubio was a state lawmaker, he used the state party credit card for personal expenses, a decision he later called a mistake. In 2005, he and Rivera jointly purchased a home that later faced foreclosure.

Another bullet point says Rubio's "closeness with Norman Braman, who doubles as personal benefactor[,] raises major ethical questions."

Braman, a billionaire auto dealer, is expected to pour $10 million into Rubio's White House endeavor, The New York Times reports. He's also paid Rubio's wife to oversee his charitable work.

The Bush team also mocks Rubio's "tomorrow versus yesterday" argument as one that would be "widely ridiculed by media" should he run against the first potential female president.

The most cryptic slight is left for last: "Those who have looked into Marco's background in the past have been concerned with what they have found."

A Bush aide says that line refers to concerns Mitt Romney's team unearthed when they vetted Rubio for vice president in 2012.
Romney's people immediately disputed that.
From Politico:
[I]n an email to POLITICO, Beth Myers, a longtime Romney political adviser who in 2012 oversaw his vice presidential search, pushed back on the assertion.

"As the senior Romney advisor who handled VP vetting and had access to all the vetting documents, I can say that Senator Rubio 'passed' our vetting and we found nothing that disqualified him from serving as VP," wrote Myers, who counts herself a Bush supporter. "The Bush aide referred to in this article is simply wrong."
So I guess the fact that Beth Myers is a "Bush supporter" should put this question to bed... except, are Bush supporters still really Bush supporters?
Rubio is contacting Bush donors, and the Rubio camp claims they're getting positive vibes.
According to one of the people, the Rubio camp is finding open minds, some anger over Bush going negative; some Bush bundlers are saying they need a "decent interval"; Rubio camp is casting the discussions as base-touching rather than "grave-dancing" and know it's a "delicate courtship"
For more like that -- on the immense fallout from Jeb's performance, and widespread claims that he is absolutely finish -- see AllahPundit's quotes of the day, which read like eulogies for someone no one much liked.
Generally, people in the media and commentariat overreact to things, and hype things, because that's what they're paid to do. People don't read political "analysts" because they want a sober reflection on what happened; they read they to get a hysterical overreaction, because hysterical overreactions are fun to read. Like a digest of a soap opera.
Most of the time I'd look at the Quotes of the Day predicting Jeb's demise and say "Well then that's not right, if all these imbecile agree."
But they may be right here. When stupid, hysterical people all say the same stupid, hysterical thing, it still creates a fact on the ground that stupid, hysterical people believe this. And these stupid, hysterical people are media writers, so their stupid, hysterical claims are read by other people (many of whom are stupid and hysterical).
My point is, even if I thought these idiots were wrong as a starting matter (and I'm not sure they are), they may wind up vindicating themselves and making themselves right by simply declaring Bush dead so frequently that the two words become roughly synonymous.
Maybe Bush really is done. Maybe that debate performance -- another bad one, listless and, if I may say, Low-T -- wasn't as cataclysmic as the hysterics are saying, but the fact that they're all saying it (they are cowards and are only comfortable expressing pungent, hard-hitting commentary that everyone else already believes and has already written) may make it turn out to be true.
Maybe... Drew's longstanding prediction that Jeb would win is wrong.
I certainly see Drew shifting his attacks to the New Half-Built Death Star (Marco Rubio).

posted by Ace at
12:33 PM
|
Access Comments