« Hillary Clinton: Chris Stevens, That Comedian, Was Probably Making a Big Joke When He Pondered Purchasing Barricades From the Deserted British Embassy
|
Main
|
Thank You For Your Service: Department of Justice Wraps Up "Investigation" of IRS, Will Not Press Charges Against Incandescantly Corrupt Lois Lerner »
October 23, 2015
Huge Ranch -- Two Thirds the Size of Rhode Island, and Spanning Six Texas Counties -- Is For Sale
The asking price was, get this, $725 Million, yes, almost three quarters of a billion dollars.
A geographer says the vast stretch of land is "almost half the size of Hillary's rotten cow vagina."
Bids have come in from all over, and one of the brokers says several of them are "well worthy of serious attention."
The Waggoner ranch might have a new owner.
[The broker] declined to go into detail but said that bids had come from both Americans and overseas buyers able to stump up the $15m earnest money deposit. From 700 initial inquiries, about 50 people toured the ranch and a dozen or so emerged as genuine contenders.

"There are several that I would categorise as entrepreneurial. I think it/s been a very robust response. Some people are more interested in the farming operation, some people are more interested in the cattle and horses, some are more interested in the oil, and green energy operations. We've really got a great cross-section of types of buyers," Uechtritz said.

...

Waggoner offers animals, cultivated land, buildings, equipment, the possibility of setting up wind and solar farms, and the chance to increase the oil production that is already taking place there via more than 1,000 wells.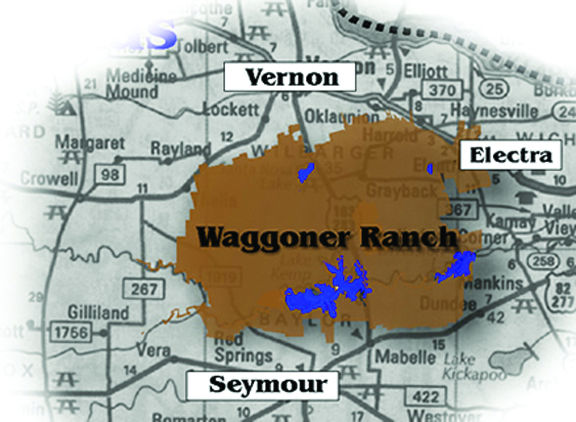 If you buy now, you get the lakes for free
A helicopter pilot, a "sky cowboy," notes the range of employment on the expanse:
"It's like a big community on its own. You've got tanker [drivers], welders, plumbers, all the way through to the farming section, the cowboy section, the oil section," he said.
The ranch is not the biggest in the world. The King ranch is bigger than it is (and it's also in Texas), and there's apparently a ranch in Australia that "dwarfs" it.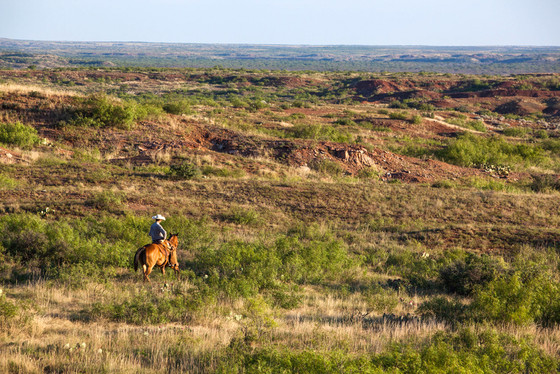 Damn neighbors are playing their TV loud again

Thanks to D.
Does It Come With the Oil? Maybe not as much of the oil as the article suggests. Jollyroger (who has a small stake in some of the King ranch wells) explains:
Well, the article mentioned that the Wagoners were reserving 25%. It depends how much interest they had to begin with. You may be getting as much as 75%, or much less. Then on top of that, I'd assume the leases (apparently there are 40 lessees or so) are probably older leases and only provide 1/8 or so. (that means that the owner would only get 1 out of every eight barrels, and any buyer would get only 75% of that tops) I'd also guess that they have those leases tied up long term so not much chance of a big bonus payment to pay down the note.

posted by Ace at
02:39 PM
|
Access Comments