« Open Thread
|
Main
|
New Star Wars Trailer Stirs Nostalgia, Racial Grievance »
October 20, 2015
Biden Contradicts Clinton Claim on Bin Ladin Raid, Rewrites His Own History of Advice On That Raid As Well
During the debate, Hillary Clinton claimed that she told Obama to go get bin Ladin.
Biden says no, she didn't: He says only two people gave firm advice on the raid, and neither was Hillary Clinton.
Biden said that only two advisers -- then-CIA Director Leon Panetta and Defense Secretary Robert Gates -- gave definitive answers on whether Obama should carry out the raid, contradicting Clinton's claim she fully backed the mission.

"Panetta said go, Bob Gates said don't go," Biden said during a panel discussion with former Vice President Walter Mondale at George Washington University.
Biden also contradicted Biden's previous account of advice given on the raid. Previously, Biden himself says he warned Obama not to execute the raid. This was when Biden was trying to puff up Obama, claiming that Obama was tough and strong like bull. His idea of how to make Obama seem to tough was to say that Obama went against the advice of Super Genius Joe Biden.
"Mr. President, my suggestion is, don't go," Biden told lawmakers, according to The New York Times. "We have to do two more things to see if he's there."
But now he finds that bit of history inconvenient, especially with Hilary claiming she advised in favor of the raid. So Biden offers up this unconvincing, convoluted new tale:
The vice president disputed claims he opposed the mission. He said he privately supported the raid, but while in a room with other advisers, recommended that Obama wait to verify whether bin Laden was actually in the Abottabad, Pakistan, compound before launching the strike.

Biden said he only advised Obama to go when the two were alone to avoid boxing the president in on a decision.
He also takes a not-so-subtle shot at Hillary by musing that Republicans are not his enemy, unlike some people he could name, and that he has Republican friends.
Meanwhile... A source close to Biden says "I think it's fair to say something will break this week."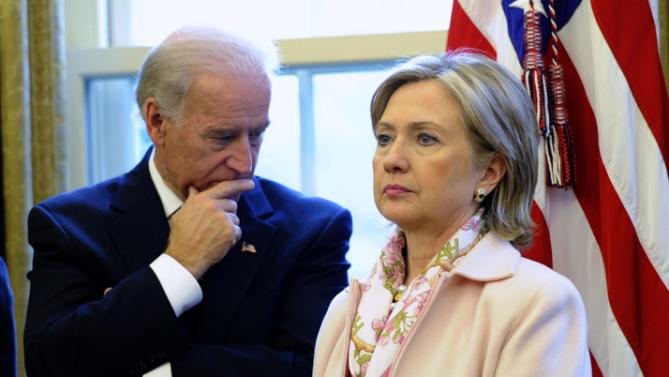 Do you smell that...? That's the smell of fear,
and Axe Body Spray

posted by Ace at
12:47 PM
|
Access Comments