« Football Sunday in America! - [Niedermeyer's Dead Horse]
|
Main
|
Football Thread: Late Game Edition Week Six [CBD] »
October 18, 2015
Food Thread: Stuff We Would Rather Not Eat [CBD]
So, Buzzfeed's clickbait of the day, Here's What Actually Happens When You Eat Horrifying Vintage Recipes, is an amusing idea. Make vintage (well, the writers are children, so vintage means the 1960s) recipes and actually taste them. In reality the article is a vehicle for the writers to take pictures of each other in vintage clothing and make ghastly faces.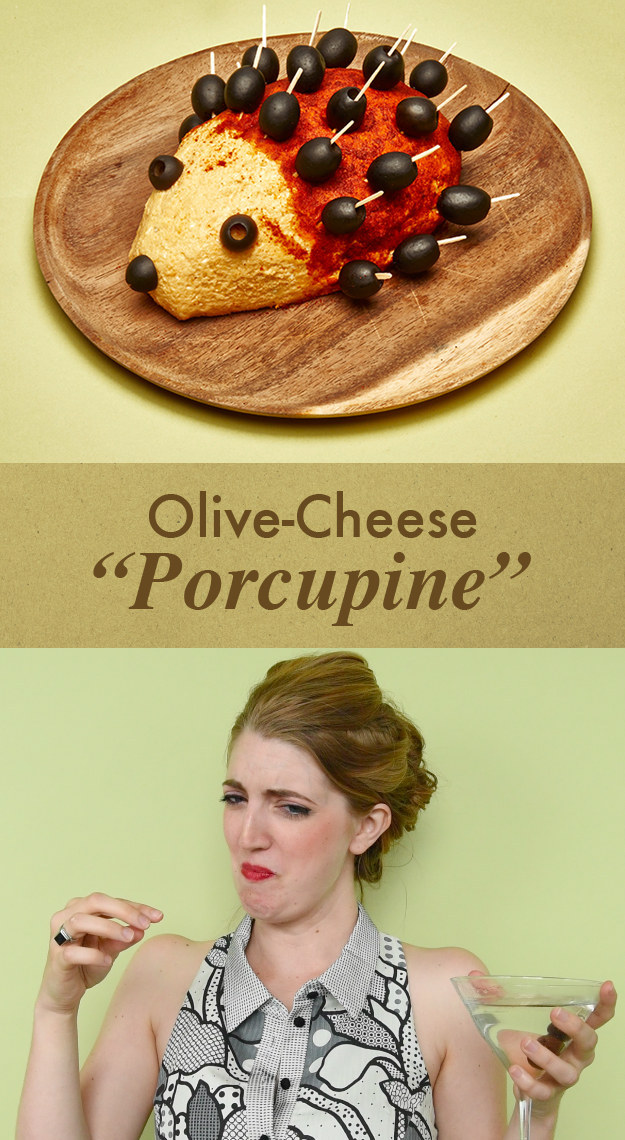 But...it did make me think about what makes a bad dish!
Obviously when the ingredients include things like monkey hand....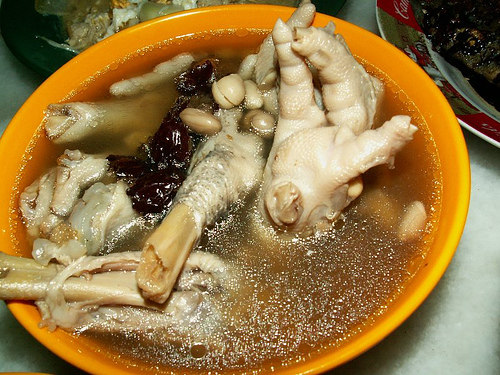 Or insects...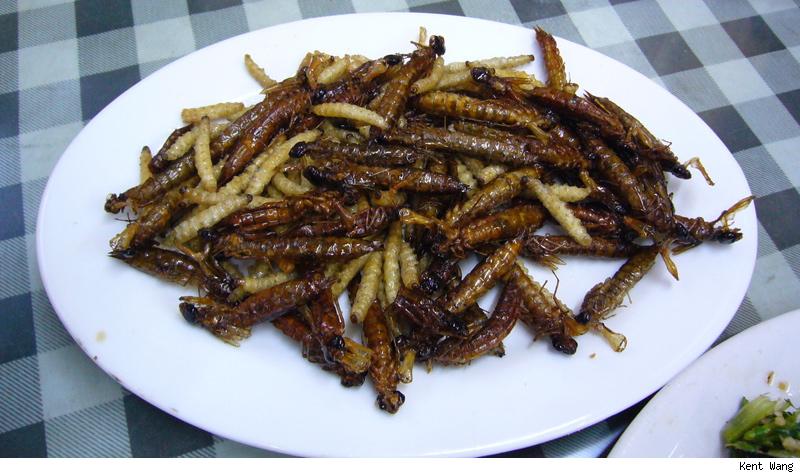 It's easy to recoil in horror and make up a bullshit excuse to your hosts about how the babysitter called and that both brats are puking, or the neighbor called that the smoke alarms are sounding.
But what about those recipes made from everyday ingredients that just don't work very well? Jello and Lutherans are a meme around here, and there must be dozens of outwardly normal but profoundly awful foods out there.
I'll start....Kasha Varnishkes is an Eastern European Jewish dish made from buckwheat groats, onions and bowtie pasta. It has a weird smell, and the buckwheat has an odd texture that goes poorly with pasta. Just weird. And gross.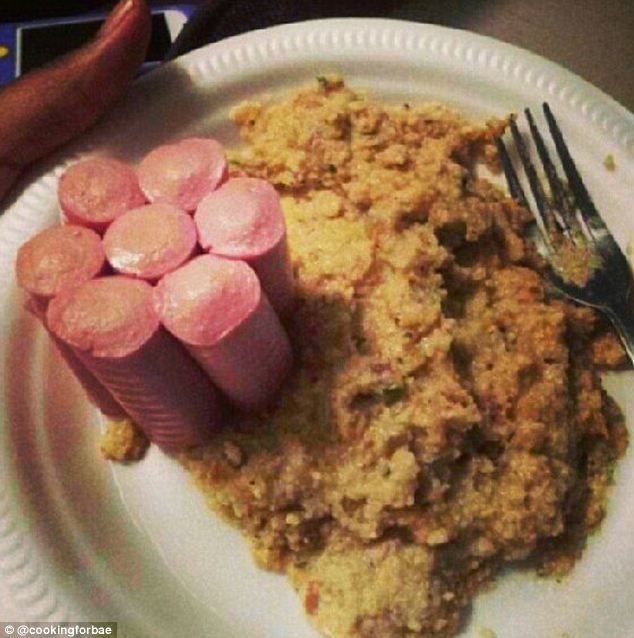 I have no idea what this is...maybe dog food with hotdogs?
******
And since we are on the topic of unappetizing things, here's an interesting paean to viruses....those unheralded causes of many, many human diseases, including some significant food-borne ones.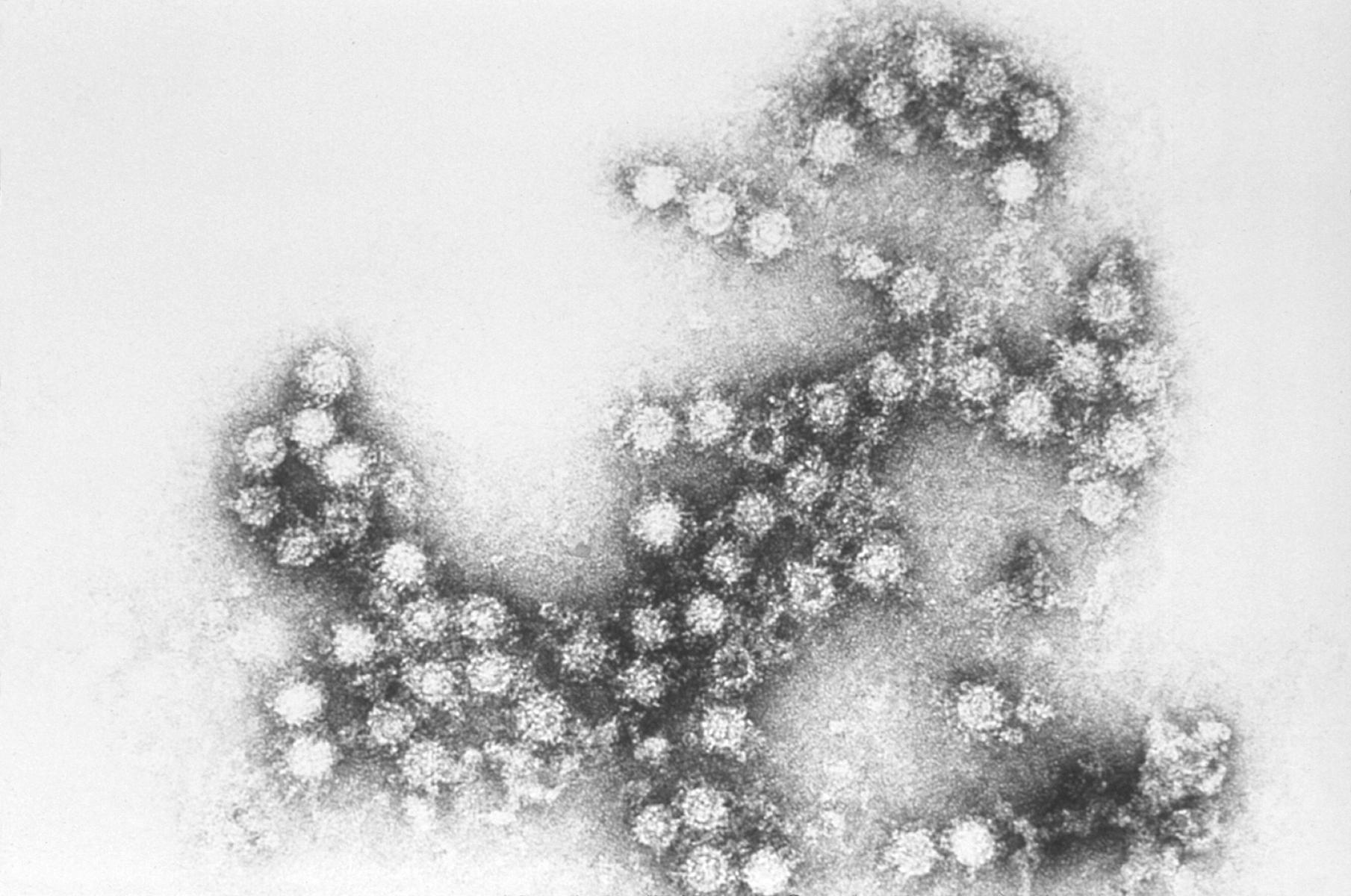 Viruses: Simply Amazing
is worth a read just for a simple overview of what viruses really are. And maybe the next time your doctor tries to give you an antibiotic for some obviously viral condition, you can lecture him about how uncontrolled antibiotic use is a growing problem and will eventually create super bugs that are resistant to all antibiotics!
******
And speaking of dishes that just don't work...Here is one from Mark Bittman of the NY Times. It's just a sloppy mess, with no particular texture or flavor. I had high hopes for it, because potatoes and pasta and bacon! Alas, it was not to be.
Pasta With Potatoes
This dish is best when the pasta is cooked until it is fat, juice-laden and quite soft, so there's no need to seize the ideal al dente moment. Nor is there any need to worry about the ''correct'' pasta shape; pasta with potatoes is good with several different shapes, in varying quantities, preferably broken.
2 tablespoons olive oil
1/2 cup minced pancetta or bacon, optional
3 or 4 potatoes, about 1 1/2 pounds, peeled and cut into bite-size chunks
1 tablespoon chopped garlic
3 or 4 small dried hot red chiles, or to taste (or substitute 1 teaspoon red pepper flakes)
1 28-ounce can whole plum tomatoes, not drained
1 1/2 pounds assorted dried pasta
Salt and freshly ground black pepper to taste
1. Put several cups of water in a pot on stove, and keep it at a simmer. Place olive oil in a large saucepan, and turn heat to medium. If you're using pancetta or bacon, add it to the oil and cook, stirring occasionally, until it becomes slightly crisp, about 10 minutes. (If you are omitting the meat, proceed to the next step.)
2. Add potatoes, garlic and chiles and raise the heat to medium-high. Cook, stirring occasionally, until potatoes begin to brown all over, about 10 minutes.
3. Add tomatoes and their juice, along with 2 cups of the simmering water, and bring to a boil. Turn heat down to medium-low, and cook uncovered, stirring occasionally to break up the tomatoes and prevent sticking.
4. While potato mixture is cooking, break long dried pasta, like spaghetti, into several lengths; place cut pasta, like ziti, in a bag, and break it up with the back of a pot or a hammer. After potato mixture has simmered for about 10 minutes, add pasta and plenty of salt and pepper to pot. Simmer, stirring and adding the simmering water as necessary; mixture should remain thick and stewy, never dry.
5. When potatoes are tender and pasta quite tender -- this will take 20 minutes or more -- the dish is done. (It may be covered and refrigerated for a day or two, or put in a closed container and frozen for several weeks; it's likely that you will need to add more liquid when you reheat.) Check the seasoning, and add some crushed red pepper flakes, black pepper or salt if needed. Serve hot, in bowls.

posted by Open Blogger at
04:00 PM
|
Access Comments