« Astros v. Royals
|
Main
|
Morning Thread (10-15-2015) »
October 14, 2015
Overnight Thread - Dog's Breakfast Edition [Weirddave]
OK pretty babies, welcome to the hump day ONT. I'm your host, the one and only Weirddave, let's get this party started with some sex, drugs and rock and roll!
Sex
Starting with sex, why don't we see what's happening with the grandaddy of the free sex movement, Playboy magazine. Man, I remember as a young man, just entering puberty, on the cusp of maturity, how much sneaking a peek at the random Playboy rocked my world. Beautiful women, in tasteful poses but naked!. I wasn't quite sure what it really meant, but I wanted more of that, please. Wait, what's this?
For Playboy Magazine, Nudity Is So Passé
So now Playboy has decided that it will no longer feature pictures of nude women. Good decision Playboy, who wants to look at icky ole' nude women anyhow? Now I suppose instead of pretending to read the articles while surreptitiously ogling tits, men can pretend to read the articles while not surreptitiously ogling anything and feel all superior about transcending their baser nature. I smell SJW feminism.
Yea, Playboy'll be out of business in 3 years, tops. Pretension without tits is a losing proposition.
Drugs
So much for sex. How about drugs?
Did any of y'all see this story a week or so ago?
Man who said he "smoked too much weed" found surrounded by junk food in his room
An Austintown man called 911 on Friday to report that he was "too high on weed." Upon arriving at the man's home, officers were directed to an upstairs bedroom by the caller's grandfather.  As they got upstairs they could hear "groaning from a room at the end of the hall." According to a report from the Austintown Police Department, as they got to the room they saw the following: the 22-year-old caller, laying on the floor in a fetal position, surrounded by "a plethora of Doritos, Pepperidge Farm Goldfish and Chips Ahoy cookies."
Poor fellow. We really shouldn't * snicker* be laughing * SNORT * at his misfortune * BWAHAHAHAHAHA! * . Surrounded by snack food!
No, actually we should, and now the tape of the 911 call has been released.
See, if you're going to do drugs, it should be a casual thing, something that simply enhances the enjoyment of the moment you're in, like, I dunno, watching a baseball game or something:
You know, in a way I admire this lady's sangfroid. Just watching the 'Stros, doing some blow, what's the big deal bro?
On another level I am horrified beyond belief at how casual she is in the middle of a crowd.
UPDATE: The woman in the video has come forward claiming that it was nasal spray.

Rock and Roll
Well, sex was a bust (story of my life), drugs were a waste of time (story of too many people's lives), how about rock and roll? We need some kick ass rock and roll to redeem the ONT. I can think of nothing better than this song:
Now THAT is rock and roll. Tell me you didn't play air drums while listening to that, I dare you. I drive a car with a stick shift for a reason, it's fun, and I confess that when this song comes on the radio I automatically drop down a gear and punch the gas, even in traffic. That's rock and/or roll, baby!
Hmmm. This ONT doesn't seem to be going quite as planned. Sex turned out to be the opposite, drugs were a downer, and even though rock and roll redeemed the segment, it still doesn't feel "right".
We're conservatives, maybe "sex, drugs and rock and roll " was the wrong approach. We value tradition like the family and marriage. Lets try this:

Something Old
For my money, this is the greatest flash animation of all time. Some unknown someone, back in the 1990s, married the new technology of flash animation with their favorite song. They just weren't quite sure what the words to their favorite song were. The result was magnificent. "Heaven is defined a moose".
Epic.
I mentioned to my wife that this is damn near 20 years old now. She told me to shut up and hit me with a purple moose.
All I can say is "Eat these licks".
Something New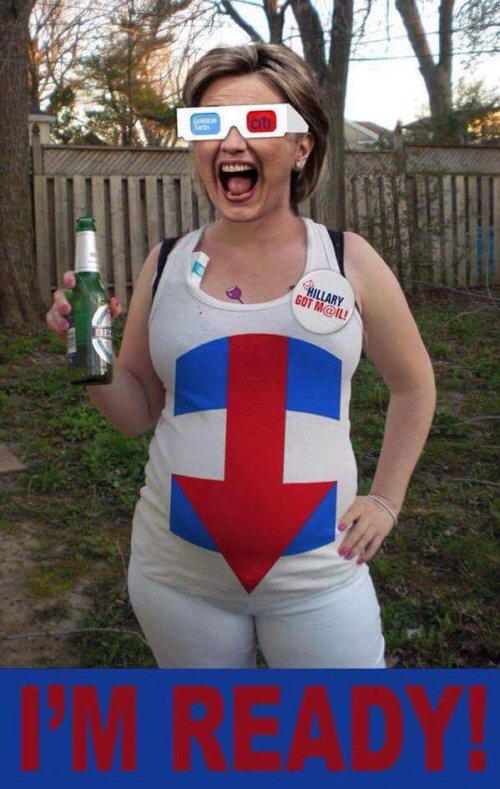 OMG! MY EYES TASTE LIKE BURNING!
Something Borrowed
Everything online is borrowed. That picture above, for example. I borrowed it from @BlackIrishI  on Twitter. To make up for it (The horror! The horror!), how about this piece of advice, borrowed from Buzzfeed:
Something Blue
Here's a fun little bit of trivia! The following image appears if you do a GIS for "something blue"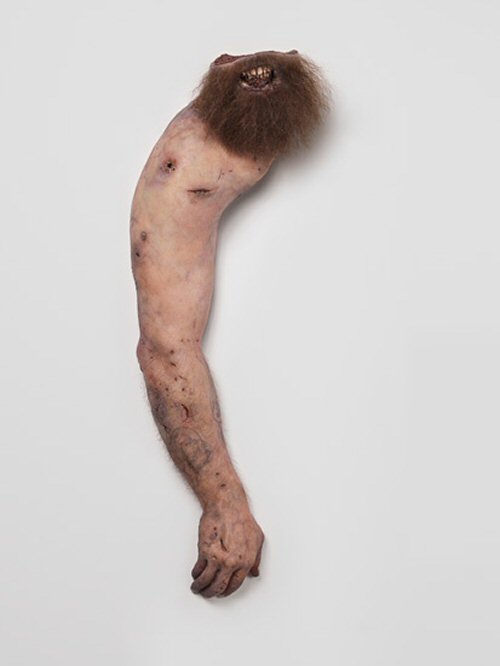 Why? I dunno. This appears to be a sculpture by someone named Matthew Day Jackson entitled Hand to Mouth (after Nauman) . It is made of silicone, pigment, polyurethane, acrylic and human hair.
Shut up, it's "art"
Well, I suppose if the Morons are feeling charitable, they'll call my ONT "quirky". Screw it, lets just talk a little about politics and call it a night.
Graphic Video Shows Israeli Citizen Using His Gun To Stop A Terrorist Attack
The video is not "graphic" in the sense that it shows blood and gore or anything like that, it's street cam footage of a Palestinian driving his car into a bus stop, then getting out and hacking at people with a cleaver. Please note the armed response from the Israeli citizen. I timed it, it takes 8 seconds from the time the driver's side door opens until an armed bystander is confronting the terrorist with a gun, shooting him. I honestly can't conceive of ANY response faster than that, and yet a 60 year old Rabbi was still murdered. How in the hell can a society protect itself from carnage like this? A lib once tried to argue with me that there was no difference between Israel and the terrorists. I can think of one big difference right off the top of my head:


Ben Shapiro vs Davis Brooks
It's not even a contest. Brooks is an establishment hack (Here's an interesting exercise. Reread his Bobos in Paradise(available through the Ace of Spades HQ Amazon store here) now that he has firmly established himself as a GOPe lackey and you'll realize how much he admires the DC/NYC/LA credentialed "smart set" and how the rest of us peons should just leave running the country to our betters. Betters like David Brooks, for example) who thinks a perfectly creased pant qualifies one for the presidency.
Shapiro eviscerates him. Here's the pull quote:
Here is Brooks' deeply arrogant description of his own brand of conservatism:


By traditional definitions, conservatism stands for intellectual humility, a belief in steady, incremental change, a preference for reform rather than revolution, a respect for hierarchy, precedence, balance and order, and a tone of voice that is prudent, measured and responsible. Conservatives of this disposition can be dull, but they know how to nurture and run institutions. They also see the nation as one organic whole. Citizens may fall into different classes and political factions, but they are still joined by chains of affection that command ultimate loyalty and love.


There's only one problem: this is absolute horseshit. Traditional conservatism stands for principles, not just tactics. Conservatism prefers intellectual humility not because conservatives should politely demur in the face of civilization-destroying leftism, but because lack of intellectual humility leads to tyranny. Conservatism believes in incremental change only when the status quo is decent. It does not prefer incrementalism in rolling back the evils of radical leftism. The idiotic notion that establishment Republicans have done a wonderful job "nurturing and running institutions" has been disproved by years of useless establishment Republican governance. And as to the notion that the nation is "one organic whole…joined by chains of affection," Brooks is living in a nation that no longer exists. He ought to listen to Barack Obama or Hillary Clinton talk once in a while.
Read the whole thing. Shapiro is talking about something that Bill Whittle mentions in this video: The Class of 2015: Book Burners Afraid of Matches
Conservatives aren't saying that Obama or Hillary or Sanders is going to be the next Hitler or Stalin or Mao. The idea of any of them turning into a genocidal murderer is laughable. What we are so concerned about is that they are assembling the machinery of an authoritarian government – bolt by bolt, girder by girder – that will inevitably produce the next Stalin or Mao or Hitler. It always has in the past.
We'd rather that didn't come to pass, thank you very much.
Finally, lets end on a brighter note:
Fifty-Six to Four: The Tears of a Sportsman

Great story about lessons learned and youth hockey. It's kind of dusty in here, someone must be cutting onions or something. Allergies. Smoke. Something.
Today's ONT brought to you by backing up.
View post on imgur.com
Good night, and have a pleasant tomorrow!

posted by Open Blogger at
10:30 PM
|
Access Comments