« Open Thread
|
Main
|
Morning Thread (10-9-2015) »
October 08, 2015
Overnight Open Thread (10-8-2015)
A bit of housekeeping: I'm off to Europe for two weeks - Barcelona, Dusseldorf, Amsterdam, plus wherever else my whim, wallet and corporate overlords take me. (I would have included a jaunt to Moscow and St. Petersburg too except that it turns out that Russia really, really does not want visitors and makes getting a visa expensive and difficult just like in the good old Intourist days.) So anyway not to worry - you'll be in the good hands of the usual bunch of last minute AoS non-credentialed subs.
"Your salary is a way to quantify what you're worth. If men are being paid a lot more for doing the same thing, it feels shitty."

She also brought up the difference in wages between her and "Iron Man" co-star Robert Downey Jr.

"Look, nobody is worth the money that Robert Downey Jr. is worth," she says. "But if I told you the disparity, you would probably be surprised."

-- Noted economist Gwyneth Paltrow
Boy, there really are a lot of constitutionally illiterate pieces on the Second Amendment from academics lately. Here's a hint: There's a huge literature on this stuff. The Second Amendment wasn't badly drafted or unclear, it was drafted by smart men who knew exactly what they were trying to say; you just don't want to hear that. Your cocktail-party "insights" on the Second Amendment are neither interesting nor correct. This is Dunning-Krueger scholarship at its worst.

-- Glenn Reynolds
Putin understands this all too well, and much of his UN speech was pitched directly at the consciences of these men and women. It was impossible not to chuckle at the strongman's chutzpah when, nearing his conclusion, Putin explained his hope to partner with other nations on an "issue that shall affect the future of the entire humankind"-climate change. In his recent 60 Minutes interview with Charlie Rose, Putin parried a question about the rule of law in Russia by invoking American race relations-a tried and true rhetorical gambit of the Soviet era

...Putin understands American liberals better than most of them understand themselves, and light-years better than they understand him. This is among the reasons their assessment of his motivations is so misleading and incomplete. By presenting his actions as essentially reasonable and defensive in nature, by continuing, humiliation after humiliation, to hope that Putin will one day be their partner, they fail to focus their analysis on the dark core of his beliefs, which are ironically the very traits they believe compromise American conservatism: toxic nationalism and neo-imperialism.

He's not trying that hard to hide it.

-- Aaron MacLean
Whenever I've written about these issues, I get a lot of e-mails from guys scoffing, "Oh, right, Steyn. Like you'd be taking a bullet. You'd be pissing your little girlie panties," etc. Well, maybe I would. But as the Toronto blogger Kathy Shaidle put it:

'When we say 'we don't know what we'd do under the same circumstances', we make cowardice the default position.'

I prefer the word passivity - a terrible, corrosive passivity. Even if I'm wetting my panties, it's better to have the social norm of the Titanic and fail to live up to it than to have the social norm of the Polytechnique and sink with it.

-- Mark Steyn
Quote of the Day IV - A New Evil Edition
What do the acolytes of the State want to ban this week? Which bootlace eyelet will they lubricate with eager spittle? Oh, the usual stuff. Fun. Your fun. Vox writer Dylan Matthews twittered his demands, and they're quite ordinary - except for one new requirement. See if you can spot it.

-- James Lileks
Have We Finally Reached Peak #Problematic?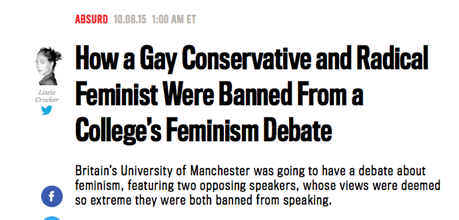 To the Left All Human Lives Are Equal But Some Lives Are Less Equal Than Others
There an argument going around among leftists that if pro-life people were really pro-life they'd be calling for guns to be banned instead of being all worked up over abortion. But as Bookworm points out there is an order of magnitude difference between the two:
Number of abortions performed in 2011 in the United States:  1,100,000

Number of homicides using guns in 2011 in the United States:  8,583
Also note that abortion is an act while guns are only a means to carry out an act. To make these comparable you'd have to call for a ban on scalpels, surgical vacuums and other medical instruments used in abortions. But then they'd argue that these are also used in to save lives too. Exactly. Just like guns are.
Vox's Matthew Yglesias Loves That Hillary Is a Shameless, Law Breaking, Dictator-in-Waiting
And no I'm not exaggerating - he basically comes right out and says this.
From her adventures in cattle trading to chairing a policymaking committee in her husband's White House to running for Senate in a state she'd never lived in to her effort to use superdelegates to overturn 2008 primary results to her email servers, [Hillary] Clinton is clearly more comfortable than the average person with violating norms and operating in legal gray areas.

...Committed Democrats and liberal-leaning interest groups are facing a reality in which any policy gains they achieve are going to come through the profligate use of executive authority, and Clinton is almost uniquely suited to deliver the goods. More than almost anyone else around, she knows where the levers of power lie, and she is comfortable pulling them, procedural niceties be damned.

...She truly is the perfect leader for America's moment of permanent constitutional crisis: a person who cares more about results than process, who cares more about winning the battle than being well-liked, and a person who believes in asking what she can get away with rather than what would look best.
WeaponsMan on Who Spree Killers Are And Where They Get Their Guns
Read the whole thing.
Theodore Dalrymple: A Bien Pensant Pope
Dalrymple is not a fan of Pope Francis. And I do think he has Francis' number here.
After all, fundamental relationships do not call themselves into question: someone must do it in the name of some doctrine, some belief, or other. The Pope's resort to the passive mood is indicative of his moral cowardice in confronting the opponents of what the Church believes in. Those opponents he knows to be militant and aggressive, and to confront them openly, in so many words, would lead to his fall in the popularity polls. Therefore he evades the issue with vague and oily declamation. It is one thing to be peace-loving and conciliatory, it is another to surrender by means of avoidance of the issue.

...At every point, the Pope evaded specifics and resorted to unctuous generalities. No one ever courted unpopularity by denouncing injustice, but many risked much by being specific about what they considered, rightly or wrongly, unjust.

The Pope was against poverty in the way the preacher in the famous Coolidge anecdote was against sin. But while no secularist will speak up for poverty, the religious attitude has traditionally been more nuanced. Moreover, when the Pope spoke of 'the unjust structures' that exist 'even in the developed world,' he was presumably referring to the arrangements that lead to economic inequality. By doing so he was first making a fetish of wealth (for why else would inequality in itself be bad?) and second he was exciting one of the seven deadly sins, envy (the concentration on what others have irrespective of whether one has enough oneself). Of course, inequality may be unjust, but is not itself evidence of injustice. Evidence that it is so must be adduced independently, and this the Pope failed to do, preferring to court popularity while rocking no boats.

In short, the Pope was playing to a gallery and to a constituency, while wanting to be liked by everybody. There was nothing of timelessness in what he said but only of the temporal, the contingent, the fashionably platitudinous. He is not a shepherd, but one of the sheep.
CDR Salamander: The Russian Navy Breaks the Seal
This was only a matter of time, and we should realize that they just started down a path we first travelled in our first combat use of land attack cruise missiles; 1991.

...The SS-N-30A is, in many ways, a superior weapon - and more flexible weapon - than our TLAM. This should not be shocking. We have been complacently living off the hard work of the 1970s for awhile.

This actions by the Russians is significant, but in this way. We were hesitant in using our TLAM, but when we finally did, we became rather fond of it.

The Russians have broken the seal on its use, and I think they will like it. Why not? For the last quarter century the USN has set a global norm on the use of this one-way armed drone. We have no room at all to argue against it use. None.

Expect more use from Russia of this weapon.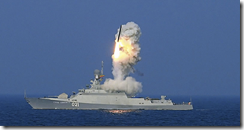 Also: Putin's De Facto No-Fly Zone Over Syria and Related Territories
A Pack of Lone Wolves Shooting Up Gun-Free Australia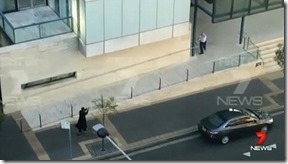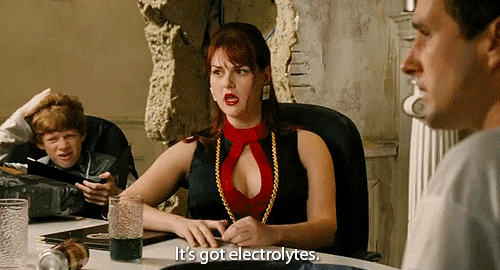 Mark Steyn comments:
It's weird. The "denier" is in command of the facts, whereas the president of an organization specifically devoted to the subject appears to know nothing about it, but instead keeps drooling over and over about "the 97 per cent consensus".
By the way, that "97 per cent" nonsense is taken apart on page 295 of my book. It means 75 out of 77 more or less hand-picked scientists. So the "97 per cent consensus" is in fact a smaller number of scientists than the more than 120 I cite in my book, all of whom cheerfully put the boot in to Big Climate's poster child, the hockey stick.
Medical Progress: The Placebo Effect Now Stronger Than Ever
The Wisdom of Friday and Gannon
Yahoo group. That is all.
Come on be a smartie and join the yahoo group party! For the children. Why do you hate children?
And my lo-fi Twitter spew.
Tonight's post brought to you by Mom there are some people at the door who want to talk to you: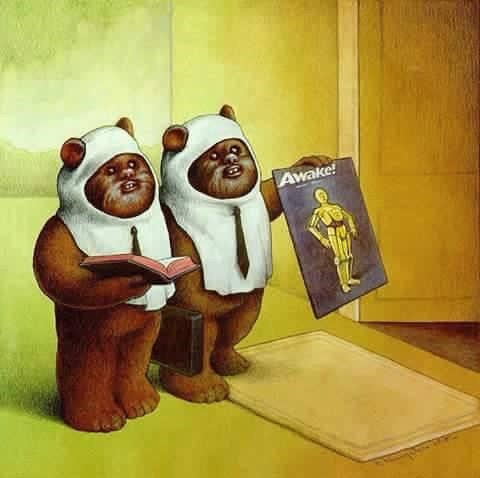 Notice: Posted by permission of AceCorp LLC. Note that the mannequins are for display only. Do NOT taunt disgruntled happy-fun ball. Sayonara bitchez!

posted by Maetenloch at
11:19 PM
|
Access Comments