« Football Sunday in America! - [Niedermeyer's Dead Horse]
|
Main
|
The BBC: Hating Jews Since 1922 [CBD] »
October 04, 2015
Food Thread: Bacon...It's Not Just For Dessert [CBD]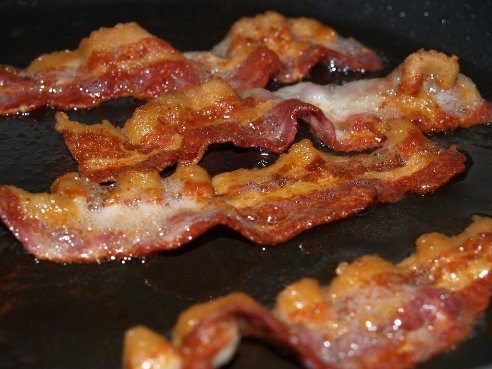 Bacon-wrapped anything is good. Even dates, not my favorite food, are edible when nestled inside a strip of luscious, fatty crispy pig belly. Not great....just edible. For God's sake, dates are a fruit, or a vegetable, or something.
But some foods need more cooking than others, so how do you wrap them in bacon and get crispy, or at least cooked bacon at the end? This ain't rocket surgery; just precook the bacon to the point just before it gets crispy, so it's pliable enough to wrap around scallops or bunches of asparagus or filet mignon or hot dogs or whatever. Just let it cool a bit before you pick it up, otherwise you will singe your fingers (like I did last night).
Bacon is a meme around here...maybe even the urmeme. But it is a great addition to food as a subtle flavoring. I often chop up a few ounces of bacon and render it for the fat to cook vegetables for a mirepoix (The Trinity in Cajun-speak) or to add a bit of smokiness and richness to pretty much anything. I have a great minestrone recipe (I have posted it here before) in which I use bacon as a base. Those crunchy little bits left after the fat renders are not a bad thing either!
And the variety of bacon available to us is fantastic. It ranges from Italian pancetta...which is really just the simplest bacon; cured but not smoked....to heavily smoked and spice versions.
Yes, this is exactly who you think it is.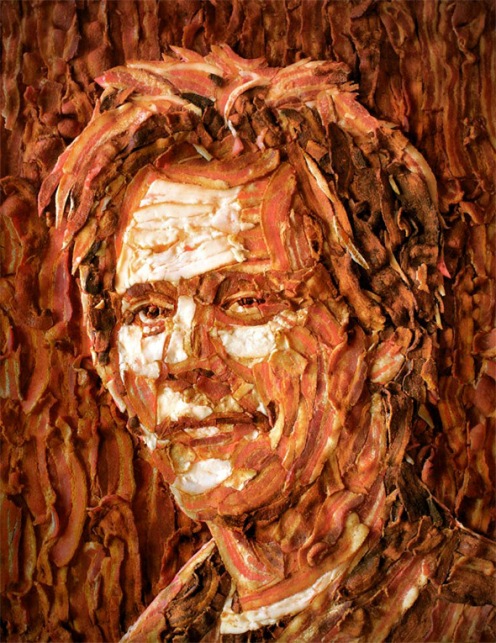 ******
******
This is a fascinating study in exactly how stupid people can be. The sentiment is obvious: hunger -- realistically, starvation -- is a significant global issue. But as usual, the Leftist playbook requires all issues to be politicized, with the ultimate goal of pushing the body politic to the left. Unfortunately that also pushes the solutions to the left, which makes them impossible.
Just what the hell does that mean? Hunger is an issue of justice? That's leftist blather. Justice has nothing to do with it. If it did, then a judge's decision or simply passing a law outlawing hunger would go a long way to feeding the world. Let's get the U.S. Supreme Court involved! Maybe a unanimous decision that hunger is illegal according to the Constitution would miraculously fill the bellies of those starving North Koreans and West Africans.
Oh, and charity is a necessary component of a civilized society, but as we have observed since the Great Society, it is imperative that it be temporary, otherwise we get that nasty little unintended consequence of more hunger and more poverty. But once again, the Leftist playbook calls for charity as an end unto itself, as a function of government, and most of all as a tool to pacify and control the masses.
Here are the facts: The world has the capacity to produce enough food to feed everyone. But political considerations have dwarfed the efforts of the hungry to feed themselves. Collectivization is the most obvious error, followed by that peculiar brand of authoritarianism unique to Africa. But just look at the catastrophe that is the Central Valley of California to see how political decisions driven by progressive politics can overwhelm a thriving agricultural area.

******
Oh....it's National Taco Day. Go crazy.
******
ENGLISH CRUMPETS
Crumpets are great, with a weird but pleasing texture. They are also stupidly expensive. And, luckily, fairly easy and fun to make.
Ingredients:


3 T. warm water

1 pkg. yeast

1 tsp. sugar

1/2 C. milk

4 T. butter, divided

1/2 tsp. salt

1 1/2 C. flour

1 egg
Directions:
Combine water, yeast and sugar. Let stand until bubbly, about 5 minutes.
Heat milk, 1 tablespoon of the butter and salt in a saucepan over low heat just until warm. Add to yeast mixture.
Add 1 cup flour to yeast mixture and beat until smooth, about 2 minutes on medium speed of mixer. Beat in egg.
Add remaining flour and beat until smooth.
Cover batter with plastic wrap and let rise in a warm place until doubled in bulk, about 1 hour.
Stir down batter and let rest for 5 minutes.
Meanwhile, melt remaining butter in a saucepan over low heat. Skim off foam and discard milky solids from bottom of saucepan. Brush bottom of a skillet with melted butter. Brush insides of four crumpet rings or 3-inch round cookie cutters with butter and place rings in skillet.
Heat skillet over medium heat. Spoon about 2 tablespoons batter into each ring. Cook until batter begins to bubble on top and is lightly browned on bottom, about 2 minutes. Remove rings.
Turn English Crumpets over. Cook until lightly browned on bottom and done in centers. Can be served warm or split and toasted before serving.


posted by Open Blogger at
04:00 PM
|
Access Comments