« Chuck Berry: Rock Reviewer [CBD]
|
Main
|
EMT 09/27/15 [krakatoa] »
September 26, 2015
Overnight Open Thread (26 Sep 2015)
Ruminations on the 2016 election.

there's no Reagan on the horizon and the current ruling elite is not going to be swayed by appeals to God and country.

The current crop is a different sort of ruling class. Their only allegiances are to their class and the global financial elite that supports them. It's why both parties rallied around the Iran deal, for example. Global players like Boeing, Halliburton and their bankers had pending deals with Iran. National security and long standing loyalties to allies in the region simply did not matter.
Operation Wandering Soul
I hadn't heard of this one. These creepy recordings were used by the U.S. to terrorize Vietnamese soldiers. I don't know. I think the SERE school recordings were spookier.
Ban Everything
Our youngest generation are going to be a bunch of pussies. Seattle-area school bans the game of 'tag'.
Female Rangers
Not surprising. Female rangers were given special treatment sources say. Maybe in combat, the enemy will allow them do overs too.
Climate Change Science
Lasers
The Air Force wants to put lasers on its gunships. Heck, I want to put lasers on everything. Even sharks.
Miracle-Gro
Dynatron
Here's Dynatron's new album if you like that retrosynth sound. A little darker than their previous full album.

Lying
Needing to pee might make you a better liar.

Subjects that had a full bladder told more complex lies more convincingly and comfortably. It was harder for observers to realize the subject was lying; they only correctly identified a lie 30 percent of the time as opposed to a 70 percent success rate for the truth.
This result adds evidence to something called the inhibitory spillover effect. If you are already using one type of self-control, it's easier to be self-controlled at other things.
The GOPe
No, they still don't get it. Furious Boehner allies lash out.
F-22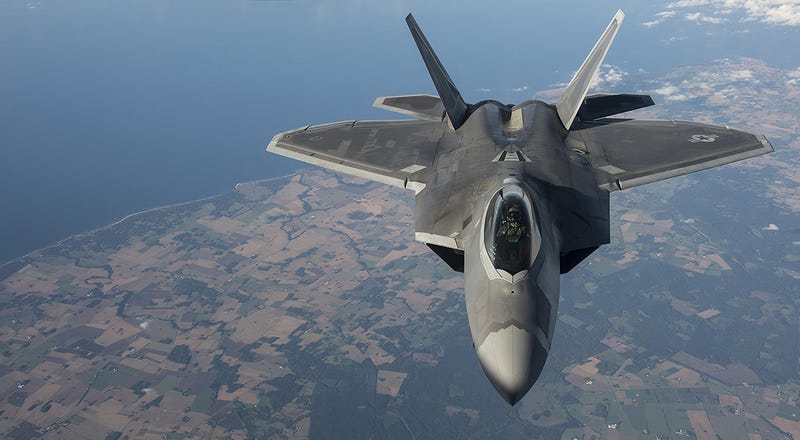 Was it a mistake to kill the F-22 program? Short answer? Yes.
Killing A Spider
If you're gonna kill a spider, don't do it like this numbnut. Michigan motorist sets car, gas pump on fire trying to kill a spider with a cigarette lighter.
Cat Video
Tonight's ONT brought to you by the biggest guns in history:
Notice: Posted by permission of AceCorp LLC. Please e-mail overnight open thread tips to maet or CDR M. Otherwise send tips to Ace.

posted by CDR M at
09:57 PM
|
Access Comments