« Fox News: Obama Might Catch Backfire for Ahmad-the-Gentle-Clockmaker Story
|
Main
|
Top Headlines Comments »
September 23, 2015
Overnight Open Thread (9-23-2015)
I increasingly think the Democrat/Muslim union has to do with old-fashioned relativism. Democrats don't actually believe that women's rights and gay rights apply to everyone; white people: sure. Arabs? Well, who am I to judge? And Muslims know this.

When Robby George is just dumbfounded as to why all these Muslims support the party of abortion on demand and gay marriage, the answer seems pretty clear to me: They're supporting the party of abortion on demand and gay marriage for infidels. In Dearborn, it doesn't matter one whit what Tony Kennedy says about the Sweet Mystery of Life. Ms. DeBoer has the right to get married to another woman; but if Fatimah thinks she does, too, then her cousin Ahmed will disabuse her of that idea very quickly.

-- Galley Friend X in Jonathon Last's Why do liberals love Islam?
I spend a fair amount of time in Europe, where there is no Cuban embargo, and thus you can buy all the Cuban cigars you want. I've had some, but for the most part I've given them up. The Dominicans and Nicaraguans are much better cigars nowadays. The great Cuban cigar makers brought tobacco seed with them when they fled Castro's tyranny, and over the course of the past half-century they have gotten better and better. More important, they have good quality control, whereas the Cubans don't.

-- Michael Ledeen
It's impossible to get decent Chinese takeout in China, Cuban cigars are rationed in Cuba, and that's all you need to know about communism.

-- PJ O'Rourke
Here are young women with more opportunities, more liberties than almost any women in history and at that moment we tell them they're short-changed silenced victims of a patriarchy? It's defeatist and demoralising.

-- Christina Hoff Summers
If I were in charge of that school I'd round up every student that signed that petition and force them to go to a seminar titled "Attending College and Being an Adult: Sometimes Learning Means Being Exposed to Ideas You Don't Like." That seems like a more productive use of the university's time than deciding which ideas are too dangerous for the ears of their precious, whiny, crybaby wards.

-- Sonny Bunch on Wesleyan University students demanding that the school paper 'provide a safe space' for readers
It really fills out the picture, doesn't it? Whitey Bulger: killer, gangster, informant, cat lover, and doting boyfriend to a woman who loves inspirational throw pillows. He contains multitudes.

-- Filmdrunk on Black Mass
If the world were perfect, it wouldn't be.

If you can't imitate him, don't copy him.

Ninety percent of this game is half-mental.

We made too many wrong mistakes.

You can observe a lot by watching.

It ain't over 'til it's over.

-- various Yogi Berra (RIP) quotes over the years
The Poor Rely on Fast Food the Least
New data, released by the Centers for Disease Control, show that America's love for fast food is surprisingly income blind. Well-off kids, poor kids, and all those in between tend to get about the same percentage of their calories from fast food, according to a survey of more than 5,000 people. More precisely, though, it's the poorest kids that tend to get the smallest share of their daily energy intake from Big Macs, Whoppers, Chicken McNuggets, and french fries.
So who to blame now for the pudgy proletariat?
You're Now Free To Use 'Happy Birthday' Again
And Mark Steyn points out the harm that Warner Chappell's dubious copyright on the song has done over the years:
The Clayton F Summy Company became Birch Tree Music, and Birch Tree Music was bought by Warner Chappell, the world's biggest music publisher and thus in a position to take their copyrights very seriously. If you want to use "Happy Birthday" in a movie or TV show, they'll charge you many thousands of dollars for the privilege, which is why it hardly ever happens: the world's most performed song is a routine feature of the cultural landscape yet all but entirely absent from our film and television catalogues. See for yourself - the next time there's a birthday scene in the movie, watch for the cake, the candles, the wishes, but wait in vain for the "Happy Birthday" singalong. And, if they do sing it, it'll be just an excerpt. There's a party scene in The Rocky Horror Show in which someone calls out "Start to sing 'Happy Birthday' but don't finish it", and (doubtless on legal advice) Dr Frank N Furter cuts off the caterwauling after one line. That's also why the more nervous restauranteurs insist the wait staff serenade their customers with limp pseudo-funky birthday greetings, just in case the Ascap enforcement squad is on the prowl. Warner Chappell make several million dollars a year in royalties from "Happy Birthday" and they've no desire to see that wither away: When it comes to happy birthdays, it's better to receive than to give.
Danish Intelligence Agency: Terrorists Not Among Refugees
And they know this how exactly?
To 'Fix' Your VW, It Must Be Broken First
"So if the government is making VW recall your car and your fuel economy and performance will take a hit because of it, why not just ignore the recall notice in your mailbox? People ignore recalls all the time, even when they're to fix critical safety issues. A 2011 GAO report found just 65 percent of recalled cars are repaired. The man can't compel you to get it fixed. Except here, maybe he can. These Volkswagens are a public health threat and exuberantly break federal law. It's not crazy to think state agencies or NHTSA would flag them, and refuse to issue a new registration, or let them pass a smog test, unless proof of a fix is offered."
Democratic Elites Don't Seem to Care Much About Equality
When you know that you're are a wonderful, caring human being why bother actually being charitable - that's the government's job.
Selfies Killed More People Than Sharks Last Year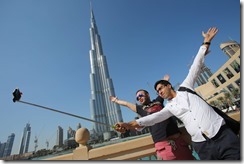 The Shadow Hanging Over Fantasy Sports
The fantasy leagues say they can operate in ways that traditional betting sites can't thanks to an exclusion written into the 2006 Unlawful Internet Gaming Enforcement Act. The author of that act, former Iowa congressman Jim Leach, told ThinkProgress earlier this year that the industry lobbied him to make an exception for fantasy sports. He went along, he says, because he expected fantasy sports' role in the gaming world would be "de minimus." No one, Leach explained, imagined fantasy betting would evolve into what it's become today.
Salma Hayek: Not Just a Pretty Economist
She's also a Tweettivist on not drinking the poo water.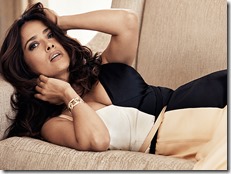 And having your own private jet on call.
On the night of February 1, 1976, Elvis Presley took his private jet from Graceland to Denver and back in one night because he was craving an 8,000 calorie sandwich made from a hollowed out loaf filled with an entire jar of peanut butter, one jar of jelly, and a pound of bacon. Not your average snack, priced at $50, this is the story of how the Fool's Gold Loaf became the Elvis Presley of sandwiches, King of the PB&Js...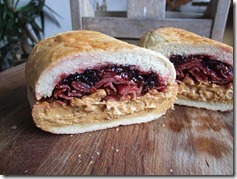 The Group knows your sins but doesn't care.
Tonight's post brought to you by CHARGE!: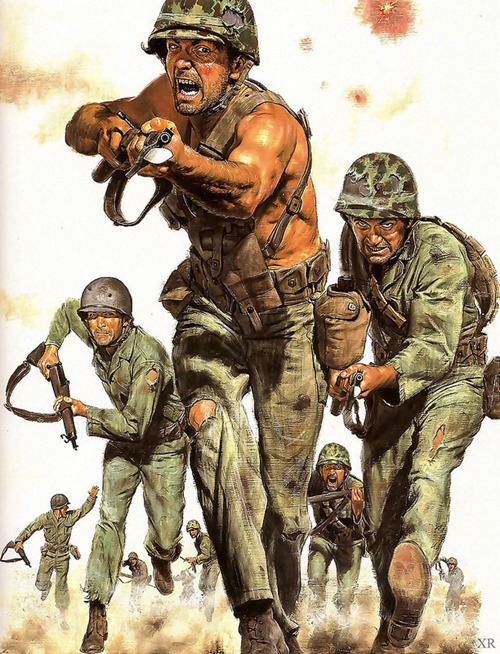 Notice: Posted under authority of AceCorp LLC. Please e-mail overnight open thread tips to those who care. Otherwise send tips to Ace. The AoSHQ Premium pre-ONT green room is now open again.

posted by Maetenloch at
11:16 PM
|
Access Comments