« Football Sunday in America! - [Niedermeyer's Dead Horse]
|
Main
|
Football Thread: Late Game Edition [CBD] »
September 27, 2015
Food Thread: Keep It Simple Stupid [CBD]
Sometimes complexity is a good thing. There are food writers who specialize in simplifying recipes to the point of absurdity, and then claiming that the food is just as good as the more involved original recipes or techniques. Every once and awhile they are correct, but in general, complexity -- really just multi-step and multi-ingredient cooking -- is grounded in the only thing that matters: taste. Layers of flavor are often more interesting and pleasing to the palate than the equivalent simple dish. Not always, obviously; a great steak cooked on the grill with salt is pretty damned close to the Platonic Ideal of food.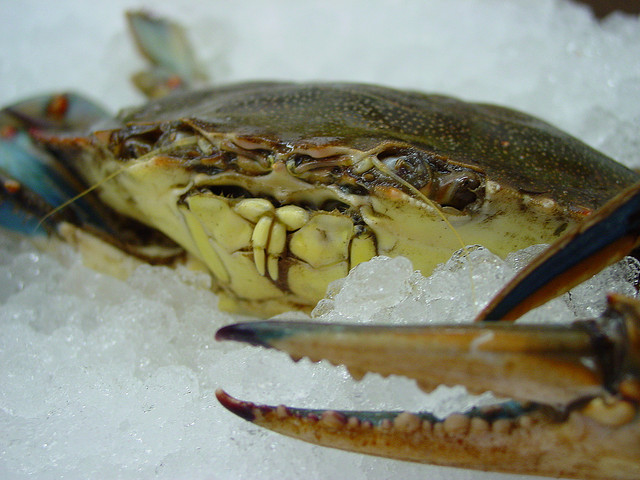 And soft-shells are another. I popped for two yesterday...probably the last of the season, but they looked so good that the temporary pain of selling my left kidney to pay for them was worth it.
Non-stick pan on medium-high, a tablespoon of butter, and cook on one side until golden. Then flip, cook a few more minutes, and voila! Done. Total time: about five minutes. Total ingredients: two.
*******
Not Your Mom's Food Storage
is a new blog written by Moronette Elaine C-Q. It's an interesting idea, and expands on what most people do with a few things in their kitchens.
Well, it's an educational blog about making good food from food storage. A lot of people who do long-term food storage treat it as a utilitarian function -- it's all about sustaining life, but not necessarily enjoying it. (You may be able to survive on a steady diet of beans and rice, but... would you really want to?) Just because you're storing food for adversity doesn't mean you can't handle your food like it's a celebration of life. So what I do (or am trying to do) is help elevate food storage cooking from something that merely sustains to something worth celebrating and enjoying.

That said, I'm also about convenience and preserving resources as much as possible. I do a lot of one-pot meals which are fuel and water efficient, but which still have a gourmet touch. There are soups which taste like you must've slaved hours to make, when, in fact, you spent about 20 minutes on. I'm all about freeing people from the drudgery that cooking can sometimes be in order to have more time to spend on the important things in life: family and friends. And of course, there's the peace of mind of knowing that if some emergency strikes, your family's food needs are taken care of. When I have a friend in need, it's wonderful to be able to pull a few jars of meals from my food storage and share them. College students who never really learned to cook, the elderly who live alone, or even people who travel a lot can all benefit from these recipes, too, since they're so simple to prepare. The recipes and cooking techniques I share offer the convenience of boxed products you'd buy at your local grocery store, without all the preservatives, additives, and artificial colors and flavors.

I hope that's a concise enough description!

As for the bit about myself, I've been cooking since I was about eight and love it... but am not such a fan of the prep and cleanup afterwards. Which is why cooking with food storage is such a blessing.
*******
Foraging: Conservationists accuse leading 'wild' food firm of destroying plant habitat
Look, I know that this may be a crazy idea, but is it possible that organized agriculture may have helped us grow from a hunter-gatherer species, and its attendant tiny population, to a tool-using species that controls its environment?
Yes....it's just stupid to think that specialization was a good thing, that everyone foraging for their own food was inefficient.
Nevermind. Forget it.

*******
Food & Wine
has a beautifully photographed fall cocktail segment. Unfortunately most of the drinks sound awful. And the site kept crashing my browser, so be warned. To be fair, the first one, a "Stonewall," sounds okay. I hope it isn't a reference to the bar in Greenwich Village, but I wouldn't be surprised if it was.
*******
I think I may have posted this recipe before.
Yes, senility rests lightly on me.
Caramelized Onion Potato Tart
Ingredients


1 large onion, sliced thin.

Extra-virgin olive oil.

Kosher salt and freshly ground black pepper.

4-5 large Yukon Gold potatoes, washed.

2 to 3 tablespoons butter, broken into small pieces.

1/2 cup grated Gruyere cheese.

Chopped fresh parsley for garnish

parchment paper cut into large circle to fit saute pan.

Directions
Preheat oven to 350 degrees F.
Set a large (non-stick is best) skillet over medium heat and add 4 tablespoons of olive oil. Add sliced onions and cook over medium heat until they are tender and brown all over (10-20 minutes).
Using a mandolin (or sharp knife), finely slice the potatoes into rounds (you can place them in a bowl with a wet towel over the top to stop them from going brown while you work). Place the potatoes into a bowl and season with salt and pepper. When ready, drain the potatoes, add the onions and toss to combine without breaking potatoes.
Add some extra-virgin olive oil to the pan and add the potato and onion mixture to the pan, making sure the potatoes are flat and the onions are evenly distributed. Top with the diced butter.
Cover the potatoes with the parchment paper and press down. Drizzle some extra-virgin olive oil over the top so it doesn't burn and brush it across the paper.
Place the pan over a medium-high flame and cook for 5 minutes, until the bottom is crisped a bit.
Place the pan into the oven on the top rack and bake for about 45 minutes.
When done remove from oven and if necessary run a knife around the edge to separate from the pan. Place a large plate on top of the saute pan and flip. Remove the saute pan. Sprinkle with Gruyere and parsley.
Allow to cool slightly before cutting into slices.

posted by Open Blogger at
04:00 PM
|
Access Comments