« Football! Late Game Thread [CBD]
|
Main
|
Top Headline Comments »
September 20, 2015
Overnight Open Thread (9-20-2015)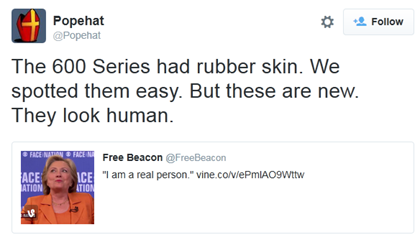 From the video, I take it that Madam Hillary has now been coached to smile through the apocalypse. Hillary 5.0 is the new, newly "relatable" Hillary - if you can ignore the incredibly grating tone of voice. That is going to require further work. In the meantime, just turn down the sound.

-- Scott Johnson on Hillary's appearance on CNN's Situation Room with Wolf Blitzer
Allow me to suggest a radical new mindset for my generation as it confronts the issues of nuclear disarmament, Russian and Chinese aggression, and nuclear proliferation: extreme humility. Instead of "boldly" proclaiming the need to raise awareness, let's utilize our generation's greatest asset-access to data-and truly understand the issues before trying to solve anything. Instead of proposing "fresh ideas" for their own sake, let's recognize that we are not the first generation to deal with these issues and probably will not be the last. Instead of studiously avoiding specifics or hard choices, let's face a messy reality and not simplify an increasingly complex world to bumper-sticker activism.

-- Matthew R. Costlow in the Bulletin of the Atomic Scientists
By yesterday morning, though, it was clear that Mom wasn't getting better, so off she went to the hospital. Given her fall history, even though Mom doesn't appear to have fallen again in the last two weeks, she got a CAT scan, which showed massive fluid intrusion into the brain. The choices given to me were immediate brain surgery or wait for her to die, with death occurring within one to twenty-four hours. My mother, although she is a deeply negative person, has a ferocious will to live, plus good organ health, so it was a no-brainer for me to authorize the surgery.

I don't care that Mom's old. She's someone who values her life and I'm only grateful that her insurance is such that I was able to make the decision for her. It would have been awful if the decision rested in the hands of some DC or Sacramento bureaucrat who sees only my Mom's age and health problems, rather than her vitality and lust for life.

...The ICU nurse asked Mom a question she asks all her patients over 90, which what the patient believes is the secret to such a long life. Mom answered "I want to live."

The nurse, thinking Mom had misheard, started to repeat her question. I politely stopped her.

"What Mom was saying is that the secret to her long life is that she WANTS to live."

"Ah," said the nurse. "I get it. Will power."

-- Bookworm on her mom's recent brain surgery
Sad News: Mary Katherine Ham's Husband Killed in Bicycle Accident
GoFundMe info here.
What Happens When You Ban Trophy Hunting?
Nothing good. For either the animals or the local people.
SANKUYO, Botswana - Lions have been coming out of the surrounding bush, prowling around homes and a small health clinic, to snatch goats and donkeys from the heart of this village on the edge of one of Africa's great inland deltas. Elephants, too, are becoming frequent, unwelcome visitors, gobbling up the beans, maize and watermelons that took farmers months to grow.

Since Botswana banned trophy hunting two years ago, remote communities like Sankuyo have been at the mercy of growing numbers of wild animals that are hurting livelihoods and driving terrified villagers into their homes at dusk.

The hunting ban has also meant a precipitous drop in income. Over the years, villagers had used money from trophy hunters, mostly Americans, to install toilets and water pipes, build houses for the poorest, and give scholarships to the young and pensions to the old.

...But in the countries where trophy hunting had worked well - Botswana, until the ban; Namibia; and Zimbabwe, until its economy collapsed in the past decade - it had accomplished the twin goals of generating income and protecting wild animals.

"When hunting was introduced, we actually ended up killing less animals," Dr. Child said. "That's the irony."

With hunting now banned, there are growing signs that more wild animals could be killed, experts say. Lions, which used to feast on the meat of elephants left behind by hunters, are increasingly entering villages looking for livestock. In the past two years here in Sankuyo, villagers have killed two lions that wandered into residential areas.
Do Black Lives Matter? Apparently not if they're on the wrong continent.
"We had a lot of complaints from local communities," Ms. Kapata [Zambia's Minister of Tourism] said. "In Africa, a human being is more important than an animal. I don't know about the Western world," she added, echoing a complaint in affected parts of Africa that the West seemed more concerned with the welfare of a lion in Zimbabwe than of Africans themselves.
But remember the most important thing in the world is that well-off Westerners feel good about themselves for protecting beautiful animals no matter what the real world results are.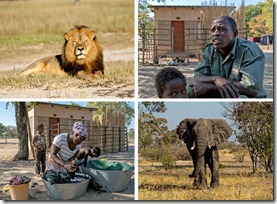 Commentary: I Now Owe My Lion-Slaying Dentist a Sincere Apology
A member of the mob has regrets.
I am an animal-loving fanatic from Bloomington. I was enraged when I found out that my dentist, Walter J. Palmer, had killed Cecil, a popular lion living in a national park in Zimbabwe, with a bow and arrow. I slammed Dr. Palmer on social media. I got a call from a radio station in California. I agreed to an interview. I wanted to rant about trophy hunting. Nothing in this world grieves my soul more than seeing an animal suffer. I wanted to buy Palmer a one-way ticket back to Zimbabwe. And, because I felt so passionately about this, I actually researched the cost and was ready to pay the airfare.

In short, I was part of the angry mob.

But after the initial media feeding frenzy died down, I forgot about Palmer and went about my own selfish life.

Then in mid-August an event rocked my world. Criminal allegations were made against me in connection with a minor traffic incident. As with Palmer's situation, no charges have been filed, but there is an ongoing investigation.

I found out with excruciating firsthand experience that I like the American justice system - innocent until proven guilty. Thank God I live in a country where I trust that the legal system will sort things out. I am not afraid. I believe the law will treat me fairly.

But there is no "fairness" for Palmer.
If you were accused, would you like to face an angry mob? Of course not. Can we please put aside the trial by media and public opinion and death threats? Is it too late to proceed in civilized fashion? I hope not.

I owe Palmer an apology. I initially reacted in anger when I was only focused on the suffering of Cecil. Now I see things differently, and I am sorry.

I spoke to Palmer recently. I simply told him I was glad he was back in practice and that he did not deserve what happened to him. I said a few more things. He really didn't say anything at all. He just hugged me.

It was a brief conversation. I did not talk about trophy hunting, or the awful things I said about him in July. I hope to give him a full apology someday. And I hope that when he hears it, he will forgive me. I am truly sorry.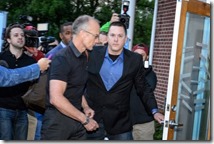 Heh: Hillary *shocked* people still believe Obama-is-a-Muslim claim she started
And not in the good way.
The Best of Hands Take a Dump on the Army
And the turd's name is Eric Fanning. Weaponsman gives us the gory details:
The Army dumped the name and circumstances of the new Secretary of the Army, and he's a doozy. The youthful-looking Secretary-designee, Acting Undersecretary Eric Fanning comes by his youthful looks honestly: he's young (46) and callow, a career midrange bureaucrat without significant executive experience (.pdf), or private-sector experience, although he's been parked in Democratic lobbying firms during Republican administrations. He has never served in the military and has never displayed much respect for those who do and have. They are there to serve him. He has never held a job in the productive economy.

He is also a proponent of the nuclear armament of Iran, also known as the Iran Deal, which should give you an idea of just how he didn't succeed in one of his previous bureaucratic sinecures, Deputy Director of the Commission on the Prevention of Weapons of Mass Destruction Proliferation and Terrorism. He is also a former CBS reporter, in the Dan Rather fabrication days. Hey, but he is an Ivy grad (Dartmouth), where he majored in Not Joining ROTC, and that counts for something.

Why pick him, then? To Send A MessageT, to count a valuable bean among people for whom the military exists to enable bean-counting. Fanning is fabulously gay, and his tasking is to increase the social engineering pressure on the Army to make it more friendly to GLBTQWERTY individuals, and more hostile to those who are not, whilst presiding over the readiness and end-strength declines he's already been managing as Acting Undersecretary. He has said that his highest priorities are to forbid criticism of gay (etc) soldiers and to encourage transgender soldiers.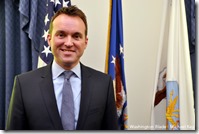 Muslim Threatened To "Slay Infidels" In Church Massacre In Texas; Media Stays Mum
Dennis Prager: Why The Left Loves Change
So why this love of change?

Here are three reasons:

1. Anyone can now be an artist, poet, writer. Without traditional standards, all you have to do is push the envelope.

2. The "new" is inherently exciting. And many people, especially the young, live for excitement.

3. According to just about every poll, people on the Left are less happy than conservatives. And instead of looking within for the source of their unhappiness, they assume the source is outside of themselves. If only things would "change," they convince themselves, they would finally be happy.
Fistfight Erupts over Pacifism in Japan's Parliament
The Diet is about to pass a set of laws which would legally allow Japan to deploy their military self-defense forces overseas. Why? Because China.

Note that this is basically a normalization giving the government the same military privileges that pretty much every other nation enjoys. But as in Germany there's a core element who are aggressively pacifist and not afraid to get violent over it. (thanks to Political Hat)
Also: Japan Loves Women In Cat-Themed Lingerie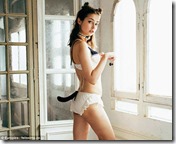 Remembering Captain Benjamin Lewis Salomon
The Japanese were storming through the makeshift battlefront aid station. Captain Benjamin Lewis Salomon -- a dentist who took the medical unit when the regiment's surgeon became a casualty -- had set it up. One crazy Japanese began bayoneting the wounded,

Captain Salomon took a rifle and shot him. Salomon ordered an evacuation.

"I'll hold them off until you get them to safety," he said.

Those were the last words he said. And he kept them. Boy, did he ever. In an act of courage and self-sacrifice rare  even for World War II, Ben Salomon took charge of a machine gun and protected his men -- his battalion -- his regiment -- from a pack of wild, suicidal Japanese soldiers.

Over the next 58 years, the nation wrestled with giving him a Medal of Honor.
Read on to see why.
"We had been walking through piles of dead men when the general gave a sudden start, and then stepped over to the figure of a man who was bent over the barrel of a heavy machine gun. Very quickly, almost before I saw what he was doing, the general took out a knife and cut the Red Cross brassard from Ben Salomon's arm. Then he straightened up and looked around. There were ninety-eight Japanese bodies piled up in front of that gun position. Salomon had killed so many men that he had been forced to move the gun four different times in order to get a clear field of fire. There was something else that we noted, too. There were seventy-six bullet holes in Salomon's body. When we called a doctor over to examine him, we were told that twenty-four of the wounds had been suffered before Salomon died. There were no witnesses, but it wasn't hard to put the story together. One could easily visualize Ben Salomon, wounded and bleeding, trying to drag that gun a few more feet so that he would have a new field of fire. The blood was on the ground, and the marks plainly indicated how hard it must have been for him, especially in that last move,"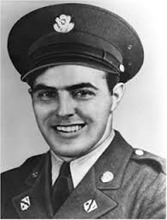 What If Men Are Not Just Women With Penises?
And exposure to testosterone pre-natally and throughout life makes a difference.
"However much we'd like to think of gender as a social construct, science suggests that real differences do exist between female and male brains. The latest evidence: a first-of-its-kind European study that finds that the female brain can be drastically reshaped by treating it with testosterone over time."
Burning Man Threatens to Sue Quiznos For Mocking the Festival
And they mocked it good.
Celebrities Before and After Russia
Apparently everyone has a doppelganger in Russia.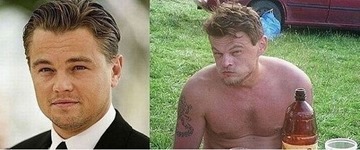 From the Morons:
Bad Book Covers
(also thanks to Hat)
Weekly Commenter Standings
Top 10 commenters:
1 [636 comments] 'mynewhandle' [89.31 posts/day]
2 [535 comments] 'ThunderB'
3 [438 comments] 'Mike Hammer, etc., etc.'
4 [411 comments] 'Lizzy'
5 [404 comments] 'Misanthropic Humanitarian, Model Citizen '
6 [391 comments] 'Mortimer'
7 [381 comments] 'Ricardo Kill'
8 [354 comments] 'Vic-we have no party'
9 [352 comments] 'Nip Sip'
10 [326 comments] 'BackwardsBoy'
Top 10 sockpuppeteers:
1 [104 names] 'Joke Biden' [14.60 unique names/day]
2 [55 names] 'Mike Hammer, etc., etc.'
3 [49 names] 'Mortimer'
4 [47 names] 'Bertram Cabot Jr.'
5 [46 names] 'The Political Hat'
6 [43 names] 'First-Rate Political Hack'
7 [34 names] 'logprof'
8 [34 names] 'Turd Ferguson'
9 [32 names] 'Larry Flynt'
10 [30 names] 'The Political Hat'
The group. Banned on 12 universities.
Where it's at - the Twitter
Tonight's post brought to you by the most awesomest show ever: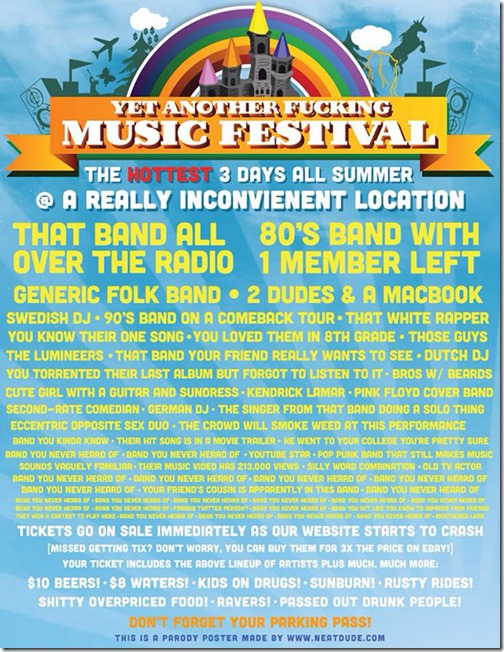 Notice: Posted by permission of AceCorp Ltd. Please e-mail overnight open thread tips to maetenloch at gmail. Otherwise send tips to the ewok. Tonight might be a good time to buy something through the blog's Amazon portal.

posted by Maetenloch at
10:38 PM
|
Access Comments