« Glenn Beck: Hey, If You Opposed Obama But Support Trump, You're a Racist
|
Main
|
Morning Thread (9-16-2015) »
September 15, 2015
Overnight Open Thread (9-15-2015)
Quote of the Day I - Universities With Negative ROI Edition
At Bennington College in Vermont, over 48 percent of former students were earning less than $25,000 per year [ten years after graduation]. A quarter were earning less than $10,600 per year. At Bard College in Annandale-on-Hudson, the median annual earnings were only $35,700. Results at the University of New Mexico were almost exactly the same.

-- From a NYT article on the federal government's new College Scorecard
If any graduates of these colleges paid more than $0 for their degrees, they got taken.
And now the return of Hillary, gliding above the election arena like Rodan the Flying Reptile - caw! caw! Get me outa here! It's not just her, of course. It's the whole disgusting circus parade of identity politics, and PC witch-hunting, and trans-sex drum-beating, and girl-lugging-a-mattress-around-campus idiocy, and blame-it-all-on-Whitey whinging, and drone-strike-du-jour warfare, and out-of-control NSA surveillance monkey business, plus throw in the outrageous scams of "civil forfeiture" under a president who was supposedly a professor of constitutional law - the list of Democratic-sponsored absurdities and turpitudes gives me the vapors...

[Bernie] Sanders functions nicely as a foil to the flying reptile. But the self-labeled socialist has a big problem. The public may be simmering with grievance, but my guess is that they are not especially hot for more redistribution of the national wealth - that is, whatever little remains in the hands of a sore beset former middle class. The absence of any other reputible figure on the Democratic "bench" belies a party now more hollow than a supermarket Easter egg.

-- Enemy of suburbia and all-round social scold James Howard Kunstler's primal scream over the state of the Democratic Party
I have never understood why it is "greed" to want to keep the money you have earned but not greed to want to take somebody else's money.

-- Thomas Sowell
UK Labour Party Goes Full Retard, Elects Radical Leftist Jeremy Corbyn
And he's so far left that even the leftists in the party think he's kind of a radical. To paraphrase Daniel Hannan there's no cause in the world, however vile, that Corbyn won't support so long as it's sufficiently anti-British and anti-American.
Here the Daily Mail gives some of the highlights of Corbyn's views:
Jeremy Corbyn is the most radical Labour leader in the party's history.
The veteran left-winger does not merely advocate a return to 1970s-style socialism, the re-opening of the mines and nationalisation of all public utilities.

Mr Corbyn also opposes Nato, Britain's nuclear deterrent and any controls on immigration.
He refused to support the Falklands War, backed the right of Iraqi insurgents to target British troops and, more recently, has defended Vladimir Putin, ISIS and Palestinian terrorists.

His views are so hard-line he even split with his second wife because she refused to send her child to the failing local state school in his constituency.

Michael Foot, who led the Labour party to its worst post war defeat in 1983, was never so far from public opinion - even supporting Margaret Thostaer's re-taking of the Falkland Islands in 1982.
Not to mention his affection for Hamas and the IRA along with Bin Laden whose killing by the US he described as 'a tragedy'.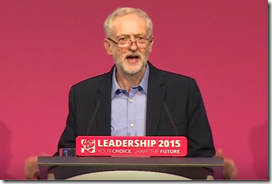 And guess who loves himself some Jeremy Corbyn? Democratic candidate and New Hampshire primary front runner Bernie Sanders that's who.
"At a time of mass income and wealth inequality throughout the world, I am delighted to see that the British Labour Party has elected Jeremy Corbyn as its new leader," Sanders, a Democratic presidential candidate, said in a statement emailed to The Huffington Post Saturday. "We need leadership in every country in the world which tells the billionaire class that they cannot have it all."
John Hinderaker remarks:
Maybe Corbyn represents, more or less, what Bernie Sanders would like to be, given the opportunity.

I don't know whether that is the case or not, but Sanders' "delight" at Jeremy Corbyn's victory should provide fodder for some effective campaign ads. It might be time to remind American voters what "socialism" really means.
Finland Institutes Passport Checks At Remote Lapland Border With Sweden
You know why.
There's Money in Them Thar Refugees!
The annual report in 2013 from a multibillion-dollar London private-equity firm that counts a French pastry baker and a Dutch shoemaker among its holdings touted a new opportunity with "promising organic and acquisitive growth potential."

That investment was the management of refugee camps.

"The margins are very low," said Willy Koch, the retired founder of the Swiss company, ORS Service AG, which runs a camp in Austria that overflowed this summer with migrants who crossed from the Balkans and Hungary. "One of the keys is, certainly, volume."
"Black Lives Matter" Thug Murdered KY State Trooper Who Was Trying to Help Him
A Kentucky State Police trooper wanted to do a favor for the driver he pulled over late at night. It turned out the man was driving with a suspended license, so the lawman was arranging for overnight lodging for the man and his fellow travelers, including two children.

Those plans soon unraveled, with tragic results. During the stop on a rural stretch of interstate, the driver took off. What ensued was a chain of events that led to the deaths of the lawman and the suspect, authorities said.

Trooper Joseph Cameron Ponder, 31, was shot by the suspect during a second stop late Sunday in western Kentucky, Trooper Jay Thomas, a state police spokesman, said Monday.

..."At the initial stop, it was his intent to put them all in a hotel without having to apprehend the driver," Thomas added. "After he initiated the pursuit, I'm sure his mind was changed on that."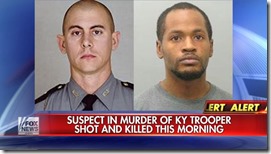 The Pork Behind Marketing Pork
For the unhappy hog farmers, the current problem started with the 1985 Pork Law, when Congress set up the National Pork Board and required all farmers to contribute. Today, hog farmers must hand over 40 cents out of every $100 in revenue from pork sales. The board uses the money, totaling nearly $100 million a year, to conduct research and promote the pork industry, but is not allowed to lobby.
But nature and lobbyists always find a way:
You may recall the slogan, "Pork: The Other White Meat." The slogan hasn't been used for years but the National Pork Board still pays $3 million a year every year for the rights. Why would the Pork Board pay millions for an unused slogan? The key is who they are paying. The slogan is owned by National Pork Producers Council. The NPPC is a lobby group and you won't be surprised to know that it is closely connected with the NPB (having once even shared offices).
How Many Trees Are There On Earth?
We don't know but it turns out that there's a shit load more (order of magnitude) than we previously thought.
Teen Shoots Self With Illegal Gun For Second Time In Three Months
A Darwin Award in progress.
A 16-year-old boy was listed in serious condition at a hospital Monday after accidentally shooting himself in the leg for the second time in three months, according to police.

Officers went to a residence in the 7300 block of East Jasper Street around 3:25 a.m. and found the teen suffering from a single gunshot wound to his left leg.

The victim was conscious, police said, but he was incoherent, and there was a large amount of blood on the bed. Police feared an artery had been pierced, and an officer applied a tourniquet to the teen's leg to stem the bleeding.

The youth  was taken to St. John Medical Center in serious condition.

In a news release, police said the "quick action" of the officer who applied the tourniquet prevented the boy from bleeding to death.

The incident was the second time the teen had accidentally shot himself with a handgun, police said. Officers went to his residence about three months ago and found him with a gunshot wound to the leg. That injury was not life-threatening.
Bruce Jenner Finally Files For a Name and Gender Change
But wants to keep all the details secret because of 'physical threats'. No word if he actually had the surgery or not.
Yelp Now Offering Reviews For Prisons and Jails
Here Bloodsnake 1 of Brooklyn, NY gives Rikers Island one star:
The city of New York suggested I stay on the island for 3 months. Week 1 I witnessed a man get stabbed with a splintered chicken bone, I don't miss the midnight shake downs or stripping naked in front of correctional officers and being forced to spread my ass and squat. I was completely depleted of vitamin D and drank purell hand sanitizer and instant koolaid just to feel something. Would not recommend rikers island.  Miss those duchess honey buns though
But the Austin City jail gets more positive reviews, mainly from the ladies:
Listen.... I learned a lot at summer camp as a child but if you REALLY want to learn skills you can use, you NEED to go to jail. I'll explain:

summer camp: You learn how to tie a knot.
Jail - Learn how, using a razor, toothbrush and a lighter you can make a weapon to either defend yourself my the biker looking for companionship OR to shank a snitch!
WINNER - Jail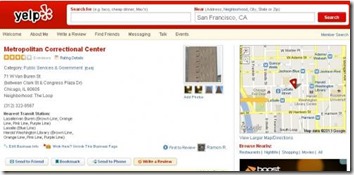 The Yahoo group is for closers only.
Teh Tweet!
Tonight's post brought to you by yes it's clear now: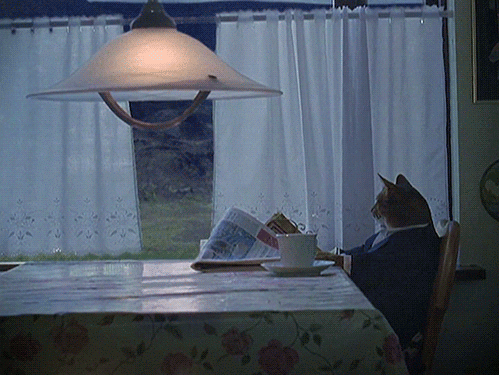 Notice: Posted by permission of AceCorp LLC. Please e-mail especially juicy gossip to maetenloch at gmail. Or to Ace who pretends to not be interested but really can't get enough of that stuff. Be careful: new non-slip urine-proof floor sealant has been applied in the main ONT hall.

posted by Maetenloch at
11:08 PM
|
Access Comments