« Two Days of Football? NFL Sunday [CBD]
|
Main
|
Sunday Night in America: Football! - [Niedermeyer's Dead Horse] »
September 13, 2015
Food Thread: On The Cusp...Summer Or Autumn Food? [CBD]
High summer makes it easy. Grilling, great tomatoes and mozzarella drizzled with fruity olive oil and a splash of balsamic vinegar, fresh, impossibly sweet corn, cold beer.....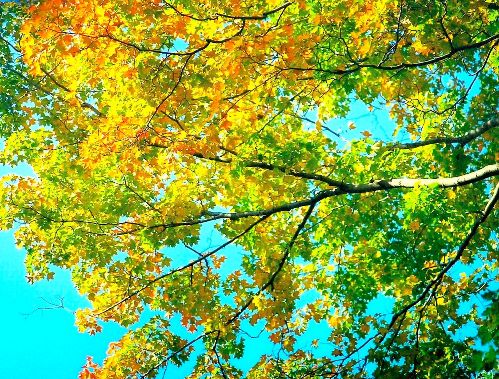 But when the days get shorter and there is the faintest wisp of a cool breeze, and those bright green canopies above the back yard suddenly show a hint of yellow and red; what's a gourmand to do?
I'm not shifting to cold weather foods just yet. Those marvelous braises and stews and winter vegetable dishes are nice, but it seems discordant.
Tomato sauce with the last of the great (er....good) tomatoes makes sense, but I am an iconoclast when it comes to tomato sauce. I like raw tomatoes, or great canned tomatoes, with a bit of salt and pepper, and a pinch of oregano, basil, thyme and sugar if they aren't balanced between tart and sweet.
So....how does The Horde manage the transition?
Here's how the folks at Earthly Delights blog handle it....
Pan Fried Sausages With Dark Beer and Porcini Mushrooms

******
That quick sandwich bread recipe I mentioned last week was a resounding success. It was quick and easy, and the bread is excellent, definitely a cut above commercial sandwich bread.
The recipe however is needlessly complicated. it doesn't need an egg wash, and leaving the mixer paddle in the bowl during the first rise is just stupid. I scaled it up for my slightly larger loaf pan; I added 10%, which worked nicely.
Next time I will bake slightly longer, because the top sank just a bit, and the bread was slightly too soft in the middle. That's a quibble. The recipe is a keeper!

******
This is a nice take on the one-pot meals that most of us love for their simplicity. But a few of the recipes seem problematic. It's a good start, but I would stick to the chicken and shrimp until the technique makes sense.
Sheet Pan Suppers
******
Click on the "shop" tab
for a tour through kitchen gadgets gone wild. No, this isn't pron in the strictest sense, but for kitchen gadget lovers, it's damned close. It was recommended by a Moron, whose name escapes me....sorry.
******
Pretty simple and straightforward recipe for one of the grand foods of America. And you can use the last of the good sweet corn!
Corn, Bacon, and Scallion Grits


1 cup grits

1/2 lb bacon chopped

2 cups fresh corn, cut off the cob

4 1/2 cups water, plus more as needed

1 1/4 tsp. kosher salt

4 Tbs. (1/2 stick) unsalted butter, at room temperature

2/3 cup grated medium-sharp cheddar cheese

2/3 cup grated medium-sharp cheddar cheese

1/3 cup grated Sonoma dry jack or parmesan cheese

1 bunch green onions minced

Freshly ground pepper, to taste

In a pot over medium heat, cook the bacon until just crisp. Drain off bacon fat and reserve. Place bacon on paper towel lined plate.
Add half of the reserved bacon fat to the pot, saute the corn for 5 minutes over medium heat. Add the 4 1/2 cups water, salt and 2 Tbs. of the butter and bring to a boil.
Slowly stream in grits, whisking constantly. Stir for two minutes to avoid lumps. Reduce the heat to low, cover and simmer, stirring occasionally, until tender, 45 to 60 minutes. If the grits become too thick, add more water.
Remove the pot from the heat and stir in the remaining 2 Tbs. butter, cheddar, dry jack, bacon & scallions.

posted by Open Blogger at
04:00 PM
|
Access Comments