« Piggiday post number 3. [krakatoa]
|
Main
|
Morning Thread (9-8-2015) »
September 07, 2015
Overnight Open Thread (9-7-2015) – Living Like a Refugee Edition
And when the thousand years are ended, Satan will be released from his prison, and will go forth and deceive the nations which are in the four corners of the earth, Gog and Magog, and will gather them together for the battle; the number of whom is as the sand of the sea. And they went up over the breadth of the earth and encompassed the camp of the saints, and the beloved city.

-- Revelation 20:7-9 from whence the novel, Camp of the Saints, takes its name
Actually we can't do what we like with [Britain]. We inherited it from our parents and grandparents and we have a duty to hand it on to our children and grandchildren, preferably improved and certainly undamaged. It is one of the heaviest responsibilities we will ever have. We cannot just give it away to complete strangers on an impulse because it makes us feel good about ourselves.

Every one of the posturing notables simpering 'refugees welcome' should be asked if he or she will take a refugee family into his or her home for an indefinite period, and pay for their food, medical treatment and education.

If so, they mean it. If not, they are merely demanding that others pay and make room so that they can experience a self-righteous glow.

-- Peter Hitchens
Berlin has said it expects to receive a record 800,000 asylum seekers this year, more than the entire EU combined in 2014, laying bare the scale of the biggest refugee crisis to face the continent since the second world war.
Moe Lane on the Word of the Day: Völkerwanderung
German word, obviously: Völkerwanderung more or less means 'folk migration.' Admittedly, Iron Age European history is a little outside of my patch, but I do seem to recall that the Roman Empire (and later, its successor states*) had to deal with lots of people moving to where there wasn't a war. Or at least to where the people moving could win a war.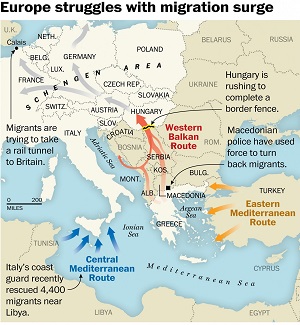 And while Germany and Sweden are welcoming up to 1-2 million refugees with official open-arms, other EU nations are not nearly so enamored with taking them in:
The Netherlands Crack Down on Asylum Seekers
While Germany opened up its doors to make it easier for those arriving at its borders and France criticised Hungary over its new 110-mile razor wire fence, the Dutch government was going in a different direction.

From November, any migrant who refused refugee status or humanitarian protection will be given less than a month before they are deported or told to fend for themselves.

As part of the measures, the government wants to shut down 30 regional "bed, bath and bread" centres where asylum seekers can find shelter, regardless of the status of their application.
Danish Police Stop Refugee March to Sweden
Denmark Starts Publishing Ads in Lebanese Newspapers Warning Asylum Seekers Away
Slovakia Declares That It Will Only Accept Christian Refugees
Hungary Builds 106 Mile Barbed Wire Fence, Threatens to Halt Rail Traffic to Stem Refugee Tide
Bookworm on the Mass Muslim Migration into Europe
Europe is also a reminder to be careful what you wish for, because you might get it. Europe wanted a Judenrein continent. Well, as matters now stand, their malevolent oral and financial attacks on Israel will have succeeded, once and for all, in driving the Jews out. But by empowering the Muslims, their tactics will also drive out the Europeans, whether by turning them into refugees, or through their slaughter, conversion, or enslavement.

But Bookworm, you sound so callous, so hard? What about the children?

What about them? They're pawns and pawns always get sacrificed.

As you know, when the world is upset, and most certainly when non-Judeo-Christian cultures are involved, the children always die. That's a dreadful reality.
And you've probably seen this picture of a Syrian child who drowned with his mother and sibling while trying to make it to Greece.
It's sad but remember that the proximate cause of his death was his parents' deliberate choice to take him on a sea journey in a flimsy boat. Their bad choices killed him - not Europe. And also pretty much everything you've heard about this story from the father is bullshit. They had a safe life in Turkey but decided that they really wanted to live better in Germany or Canada.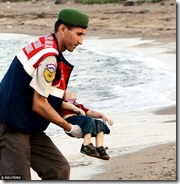 CDR Salamander: The Waves Have Already Started
No, this is new. The migrants are coming in waves 100,000 strong, month by month to already crowded nations under economic stress and beset with welfare state largess.

These nations do not demand new arrivals assimilate, and in a large measure, the new arrivals don't want to. With modern communication and entertainment a satellite dish away, they don't have to break from the home language and culture they are bringing and keeping is the same culture of violence, sectarianism, corruption and dependence that caused the source country's dysfunction in the first place.

Their foreign and often hostile culture, if not checked to manageable numbers and smart policies, will overwhelm their target nations and inside half a century. Those nations as well will fail as their civil society fractures and loses its ability to function as designed for a nation and culture that no longer exists.

...The time for easy solutions is past. The last generation or two threw that opportunity away. Doing nothing is not an option because, eventually, this migration will shift to invasion in the mind of a plurality of each nation's citizens. When that happens, if good political leaders do not act, the people will turn to whatever leader promises actions. That rarely is the better outcome.

No nation is required to commit suicide, and leaders who desire to fundamentally transform their nations should not expect for their population to allow that change to be done against the will of the people - if indeed the people ever decide their national culture is worth defending anymore.
Why the Refugees Are Making a Beeline for Germany and Sweden
Under the rules that govern how Europe handles new arrivals, known as the Dublin Regulation, migrants can be sent back to the first E.U. nation they entered. Because its reception facilities are so bad, the rule does not apply to Greece. And some nations, including Sweden and Germany, have said they will waive the rules for Syrians.

There isn't a uniform benefits system, either, with nations such as Hungary offering little compared with Germany and Sweden. Acceptance rates also vary dramatically. Hungary, for instance, is granting asylum to only a fraction of 1 percent of applicants, according to UNHCR. Germany, meanwhile, has a nearly 40 percent acceptance rate - and almost 90 percent for Syrians.
Swedish Newspaper Outs Anti-Immigration Blogger
'Julia Caesar', an anonymous right-wing blogger who has blasted Swedish journalists for writing an "epoch of lies" about the benefits of immigration, is herself a former reporter for Sweden's biggest broadsheet, Dagens Nyheter, according to a Swedish tabloid.

...On Wednesday, Sweden's Expressen tabloid revealed that the blogger - who has also published three books - is herself a former journalist for Dagens Nyheter (DN), a Swedish newspaper. . . .

"It is clear that it is not an obvious decision to publish the name of somebody who wants to remain anonymous," wrote Expressen's Head of Culture and Deputy Managing Editor at Expressen, Karin Olsson as the newspaper exposed Barbro Jöberger as being behind the far-right blog.

"But given her great influence and role in alternative debates online, we have decided that her name should be made available so that we are able to have an open debate."

"It is reasonable that such an influential opinion maker should be made accountable," she said.
C'est reasonable pour encourager les autres.
Spengler on the The Price of Europe's Fecklessness
At this point the floodgates of European sympathy opened, and Germany declared that it would accept 800,000 fugitives, including many from the world's most brutal war zones. From a security standpoint it is foolhardy in the extreme: 250,000 people have died in Syria's civil war since 2011 because other people killed them, mostly with small arms or improvised explosives (such as the government's notorious "barrel bombs"). Such killing is a labor-intensive affair, and requires the participation of many thousands of killers. It is isn't only that ISIS (and other jihadists) are able to smuggle to Europe as many of their operatives as they care to, as ISIS itself purportedly boasts. The refugee population itself is flush with killers from both sides fleeing the war. The presence of small children does not obviate this; killers have families, too.

The Arab Gulf States accept very few Syrian refugees out of security concerns which are entirely legitimate. Thousands of Syrian migrants fought either with the Assad regime (allied to Iran, the nemesis of the Sunni Gulf States) or ISIS and al-Qaeda (which want to overthrow the Saudi monarchy).

The social pathologies that this brutal and brutalized population bring Europe will change Germany in a predictably nasty way. Even worse, the open door policy will attract an order of magnitude more such refugees, as the Interior Minister of the State of Bavaria, Joachim Herrmann, warned yesterday. To no avail: Germans have spent the past seventy years feeling badly about themselves and are determined to take this opportunity to feel good about themselves.

The refugees have given the Germans the sort of frisson of good feeling that one gets from adopting  a stray puppy. This one redemptive act, they seem to believe, compensates for the country's criminal behavior during the middle of the past century. It is one thing to take in one stray, however, and quite another to find a pack of hungry dogs baying at one's door. At that point one calls the dog-catcher.
Kevin D. Williamson on Labor Day: We Don't Need This Quasi-Canadian, Crypto-Communist Holiday
Supreme Court Takes Case Challenging Forced Paying of Public Sector Union Dues
Army Selects Rarely Used Charge For Bergdahl Court-martial
Military prosecutors have reached into a section of military law seldom used since World War II in the politically fraught case against Army Sgt. Bowe Bergdahl, the soldier held prisoner for years by the Taliban after leaving his post in Afghanistan. Observers wondered for months if Bergdahl would be charged with desertion after the deal brokered by the U.S. to bring him home. He was - but he was also charged with misbehavior before the enemy, a much rarer offense that carries a stiffer potential penalty in this case.
The Yahoo AoSHQ group - it's got electrolytes and shit.
And my twitter thang.
Tonight's post brought to you by the compromise cake: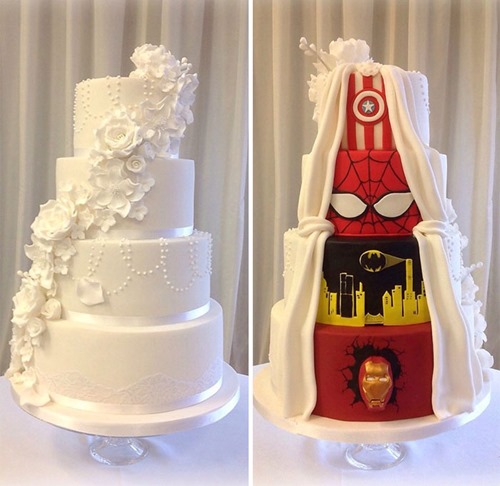 Notice: Posted by permission of AceCorp LLC. Please e-mail overnight open thread tips to maetenloch at gmail. Otherwise send tips to Ace. Porta-potties will now be locked after 1am. You know why.

posted by Maetenloch at
11:12 PM
|
Access Comments