« Early Morning Thread - Labor Day 2015 [krakatoa]
|
Main
|
Labor Day Experimental Insta-Story Free Association Word Jam »
September 07, 2015
Behold the Glory that are My Loins! [krakatoa]
Piggiday post number 2: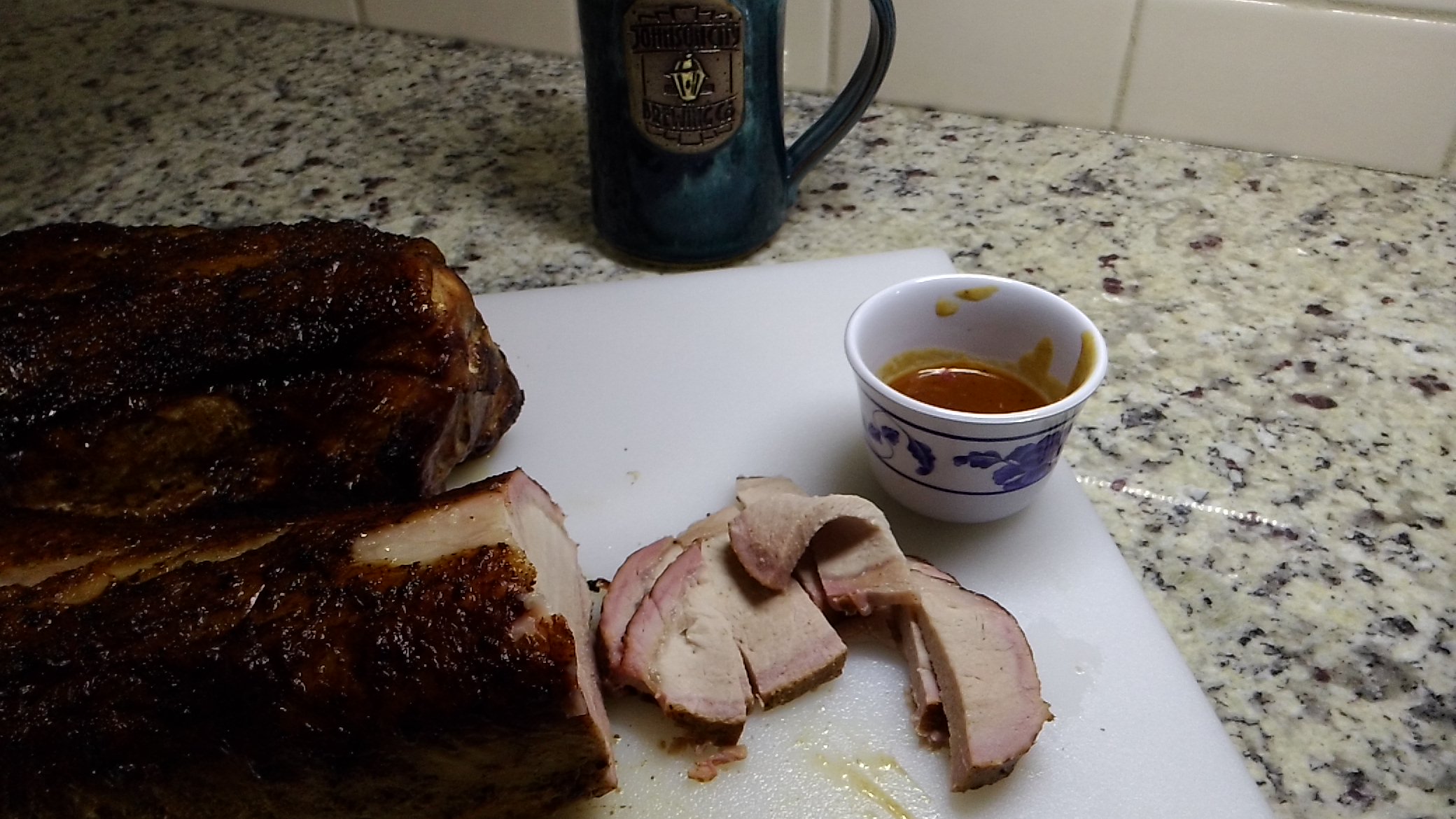 Updated: That's a bit of "Grownup Mustard Sauce" on the side. It's got a lot of ingredients, but this time I made a double batch. I'll freeze half, and leave half in the fridge. A little goes a long way. Easily the best mustard sauce I've ever had -- and don't let the thought of a mustard sauce turn you off. It packs a lot of complex flavor.
Some coworkers clued me in on my new smoker. It's called a Pit Barrel cooker. Made in America, and ready to go out of the box for 300 bucks. Pretty amazing. 5 stars on Amazon. Cooks for 7-8 hours on just 8 pounds of charcoal. Best of all? You cook meat on stainless steel meat hooks. MEAT HOOKS!
I've been cooking using an electric smoker, but without a doubt, the PBC gives a much better result.
Here's the link using Ace's Amazon portal. About all I can suggest is not using their rubs unless you like lots of salt. There are great rub recipes at Amazing Ribs you can try, or just make up your own. I use brown sugar, white sugar, ancho & paprika as my base, and add from there. Although for the loin, I used lemon pepper, garlic, onion powder & a little salt.

UPDATE 2:
egd asks: We need details.

How long? How hot? Did you add fat? Do you have dry loins?

Typically I won't smoke a loin unless it's for canadian bacon. Not enough fat on the loin makes it dry. For pork, I prefer butt. If I don't want to be cooking all day, I smoke a whole (spatchcocked) chicken or pork ribs.
How long? I'd say maybe 3 hours on the PBC. Use a good meat therm to save yourselves a lot of regret. Pull it off at 140 degrees, cover it with foil and a thick towel, and let it rest as it finishes the carry-over cooking... at least 30 minutes. Don't leave a loin in past the low 140s. Trichinosis is pretty much a thing of the past anyway, but it is dead at 140 and nothing is worse the hard loins that won't go down after 30 minutes of rest.
Added no fat or injections. Used a dry rub.


posted by Open Blogger at
12:11 PM
|
Access Comments