« In Case You Were Wondering... - [Niedermeyer's Dead Horse]
|
Main
|
Early Morning Thread - Labor Day 2015 [krakatoa] »
September 06, 2015
Overnight Open Thread (9-6-2015)
First, central banks don't spend $150 billion every three weeks, or about $200 billion a month, to support a currency that is close to appropriately valued.

-- Christopher Balding on the coming Chinese devaluation
I would actually put them all in some kind of camp where they can all drive around in quad bikes, or bicycles, or white vans. I would give them a choice of vehicles to drive around with, give them no porn, they wouldn't be able to fight - we would have wardens, of course! Women who want to see their sons or male loved ones would be able to go and visit, or take them out like a library book, and then bring them back.

-- Feminist Guardian columnist Julie Bindel with a modest proposal for dealing with the man problem
The original Star Trek savagely parodied such Age of Aquarius romanticism in the episode "The Way to Eden," in which the Enterprise encounters a group of space-age hippies searching for a legendary planet where all will be equal, without technology or modernity, living off the land. Almost all of Kirk's crew regard these star-children as deluded, and their longing for prelapsarian harmony does turn out to be a deadly illusion: the Eden planet they find is literally poison - all the trees and even the grass are full of an acid that kills them almost the instant they arrive. Kirk is hardly surprised. All Edens, in his eyes, are illusions, and all illusions are dangerous.

The culminating moment in Next Generation is the 1998 feature film Insurrection... The Enterprise crew is introduced to the Ba'ku people, who live in the kind of agrarian idyll that the space hippies had sought in "The Way to Eden." Although filmed like a Crate & Barrel ad and scored with pastoral melodies, the Ba'kus' village is shockingly primitive. They rake, plough, weed, and blacksmith by hand - not because they don't know better, but because they reject modern devices... The Ba'ku would have nauseated Captain Kirk... Yet the audience is expected to admire this.

What, Kirk would have demanded, could the Federation possibly learn from this village? A village that has chosen not to explore, that has rejected modern agricultural methods, that has given up growth and life in exchange for an absurd fetishizing of manual labour - for the fundamentally childish notion that you "take something" from people when you create tools and techniques that feed the hungry and liberate people to explore the galaxy.

-- Timothy Sandefur in The Politics of Star Trek
Why No Escape is #Problematic...And Therefore Maybe Worth Seeing
Well the plot sounds interesting and it's been getting pretty good reviews but these SJW anti-reviews may seal the deal for me to go see it in the theater.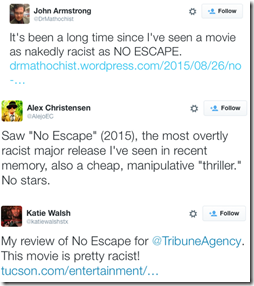 Polar Bears Storm Camp, Take Arctic Researchers Hostage
Fucking polar bears. You know it was just for this very reason that KLM bought AR-10 rifles back in the late 50s for their planes flying trans-polar routes. And to this day not a single KLM passenger or crew member has ever been captured or harmed by a polar bear. Take note, arctic researchers!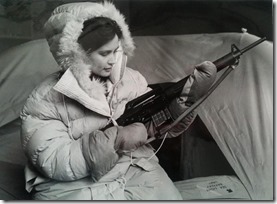 New York's Taxi Cartel Is Collapsing So Of Course They Want a Bailout
Gun Sales Spike Again, Highest Number Of August Checks Ever
In New Study HIV Prevention Pill Truvada Is 100% Effective
The Extraordinary Marquis de Lafayette
Born into a French aristocratic military family he decided at age 18 that the American revolution was his fight as well. He made his way to America against the French King's orders, learning English during the voyage, and within just a few months after landing had proved his mettle in battle and was made a Major General in the Continental Army. His leadership at several key battles helped the Americans defeat the British despite being outmanned and outgunned.
Unfortunately for him, the rest of the French army and government were not ready. England threatened war if France allied with the rebels in the insurrection. His father-in-law, who was also his commander, ordered him to go to London to apologize to no less than the King of England. That is an indication of how important this teenage boy was, and the intensity of the strain in French and British relations.

After three weeks of making the social rounds in London, Lafayette returned to France but not Versailles. He wrote his father-in-law and said he was going to America to fight anyway. Infuriated, his father-in-law had Louis XVI issue an arrest warrant. Lafayette went to Bordeaux, bought a ship, and headed to America to fight for liberty.

His ship landed on North Island near Georgetown, South Carolina, on June 13, 1777, and headed for Philadelphia. He greatly impressed George Washington, who was a fellow Mason, but getting the Continental Congress to commission Lafayette as an officer took some doing. Washington nevertheless used this well-trained officer at the Battle of Brandywine on September 11, 1777, before Lafayette received a commission. Shot in the leg during the battle, Lafayette kept his head and turned a chaotic disaster into an orderly retreat.
And his life after the Revolution was just as interesting and eventful.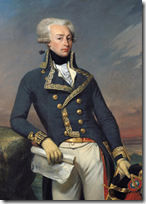 The USS O'Bannon and the Potato Battle of 1943
Destroyer Squadron 21 was returning after a night of shelling Japanese positions in the New Georgia area, in the Solomons. Destroyer USS O'Bannon, main character of this short little story, picked up a radar contact that turned out to be Japanese submarine Ro-34. The submarine was on the surface, not expecting a squadron of destroyers to be nearby.

The commanding officer, Commander George Philip Jr., ordered the tin can to approach and ram the submarine. At the last minute, the officers on the bridge could not identify the submarine and decided that it might be a mine layer. Not wise ramming a mine layer and sinking your ship in the process, right? To avoid the unwanted collision, O'Bannon made a hard turn - and that put her alongside the submarine, "in a rather embarrassing situation", as crewman Ernest A. Herr put it.

No captain can do very wrong if he places his ship alongside that of the enemy. But, what if your ship is so close to the enemy, that your guns can't even depress low enough to fire?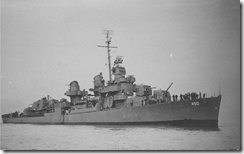 (thanks to the Political Hat)
News You Can Use: An Inmate's Guide To Partying in Prison
Polish John wasn't a bad guy -- he was just in the wrong place at the wrong time. Four times, in fact. When I met him, he was doing 20 years. A cherubic and likable serial burglar, John had a neighborhood politician's talent for remembering names and cracking jokes. He could have been the guy in the bar who's always there and never pays. Since he spent much of his life behind the wall, he instead schmoozed with both cops and convicts until everyone was taking care of him. He kept his huge belly full with boxes of pork chops that cops left for him in unlocked refrigerators. Back in the block, inmate chefs often made extra bowls "to take care of Johnnyboy."

John was irresistible, and one day he let me in on the secret of his good humor: he was drunk, every day, year after year, on his own hooch.
Against Their Own Interest: Porn Studio Offers to Pay For Correction Surgery For Man With 19 Inch Penis
New Toy in Japan: Sperm Viewer
They say the science you do yourself is the most educational. And enjoyable.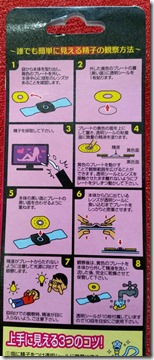 Weekly Commenter Standings
Top 10 commenters:
1 [456 comments] 'Anna Puma' [64.01 posts/day]
2 [454 comments] 'Mike Hammer, etc., etc.'
3 [448 comments] 'mynewhandle'
4 [441 comments] 'Ricardo Kill'
5 [357 comments] 'Nevergiveup'
6 [343 comments] 'Lizzy'
7 [287 comments] 'Turd Ferguson'
8 [283 comments] 'AllenG (DedicatedTenther) - Fire-hooks and Rock Salt for sale'
9 [271 comments] 'BackwardsBoy'
10 [266 comments] 'Caitlyn Jenner'
Top 10 sockpuppeteers:
1 [86 names] 'The Political Hat' [12.07 unique names/day]
2 [64 names] 'Mike Hammer, etc., etc.'
3 [59 names] 'Turd Ferguson'
4 [46 names] 'Bertram Cabot Jr.'
5 [40 names] 'Count de Monet'
6 [38 names] 'Not Absinthe- but Late Harvest Riesling-drinker Guy'
7 [36 names] 'Doctor Fish'
8 [32 names] 'Turd Ferguson'
9 [31 names] 'logprof'
10 [31 names] 'Bernie Madoff'
The group. Banned on 12 universities.
Where it's at - the Twitter
Tonight's post brought to you by also 80% of all pregnancies: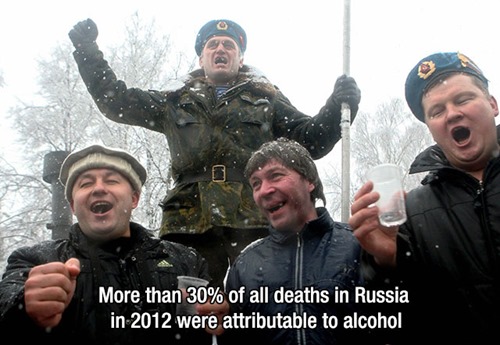 Notice: Posted by permission of AceCorp LLC. End of ONT transmission - channel returned to regular cat picture service.

posted by Maetenloch at
11:23 PM
|
Access Comments