« Sept 2, 1945
|
Main
|
Top Headline Comments 9-2-2015 »
September 01, 2015
Overnight Open Thread (9-1-2015)
There are no rational means of predicting the 'future of humanity' over a long period or foretelling the nature of 'social formations' in ages to come. The idea that we can make such forecasts 'scientifically,' and that without doing so we cannot understand the past, is inherent in the Marxist theory of 'social formations;' it is one reason why the theory is a fantasy, and also why it is politically effective. The influence that Marxism has achieved, for from being the result or proof of its scientific character, is almost entirely due to its prophetic, fantastic, and irrational elements. Marxism is a doctrine of blind confidence that a paradise of universal satisfaction is awaiting us just around the corner. Almost all the prophecies of Marx and his followers have already proved to be false, but this does not disturb the spiritual certainty of the faithful, any more than it did in the case of chiliastic sects: for it is certainty not based on any empirical premises or supposed 'historical laws,' but simply on the psychological need for certainty. In this sense Marxism performs the function of a religion, and its efficacy is of a religious character. But it is a caricature and a bogus form of religion, since it presents its temporal eschatology as a scientific system, which religious mythologies do not purport to be. . .

At present Marxism neither interprets the world nor changes it: it is merely a repertoire of slogans serving to organize various interests, most of them completely remote from those which Marxism originally identified itself.

-- Leszek Kolakowski
Monsters shall always be with us, but in earlier days they did not roam free. As a psychiatrist in Massachusetts in the 1970s, I committed people - often right out of the emergency room - as a danger to themselves or to others. I never did so lightly, but I labored under none of the crushing bureaucratic and legal constraints that make involuntary commitment infinitely more difficult today.

Why do you think we have so many homeless? Destitution? Poverty has declined since the 1950s. The majority of those sleeping on grates are mentally ill. In the name of civil liberties, we let them die with their rights on.

A tiny percentage of the mentally ill become mass killers. Just about everyone around Tucson shooter Jared Loughner sensed he was mentally ill and dangerous. But in effect, he had to kill before he could be put away - and (forcibly) treated.

Random mass killings were three times more common in the 2000s than in the 1980s, when gun laws were actually weaker. Yet a 2011 University of California at Berkeley study found that states with strong civil commitment laws have about a one-third lower homicide rate.

-- Charles Krauthammer in The roots of mass murder
Last weekend, I camped with my family at a barn-raising party on the western foot of the Quantock hills, in Somerset. On Saturday I crept out of the tent at 5am, when the faintest skein of red cloud netted the sky. Below me, mist filled the valley floor. I slipped through the sagging fence at the top of the field and found myself in a steep, broad coomb, covered in bracken. I climbed for a while, as quietly as I could, until a frightful wail shattered my thoughts. I crouched and listened. I could see nothing on the dark hillside. It came again, from about 50 metres to my right, half-shriek, half-bleat, a wild, wrenching, desolate cry, a cry that the Earth might make in mourning for itself.

...Walking without a map, I reached the valley floor too soon and found myself on the main road. In some places there were no verges and I had to press myself into the hedge as cars passed. But on such early walks, almost regardless of where you are, there are rewards. Just as I was about to turn off the road, on to the track that would take me back to the barn, I found a squirrel hit by a car that must have just passed me, dead but still twitching. It was a male, one of this year's brood but fully grown. Blood seeped from a wound to the head.

I picked it up by its hind feet, and though I had played no part in its death, I was immediately gripped by a sensation so discrete, so distinct from all else we feel, that I believe it requires its own label: hunter's pride. It's the raw, feral thrill I have experienced only on the occasions when I have picked up a fresh dead animal I intend to eat. It feels to me like the opening of a hidden door, a rent in the mind through which you can glimpse a ghost psyche: vestigial emotional faculties that once helped us to survive.

-- The Guardian's George 'Moonbat' Monbiot expounding on the joys of his roadkill hunter-gatherer lifestyle
Quote of the Day IV - How Nature Says Do Not Touch Edition
"I'm 23, female, a lesbian, white, mentally ill,
visually impaired, a recent college graduate,
an atheist, very left-wing, from the U.S.,
and seeking to learn more every day."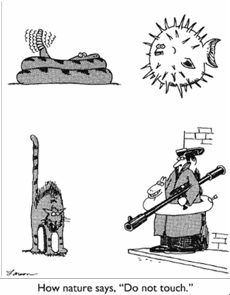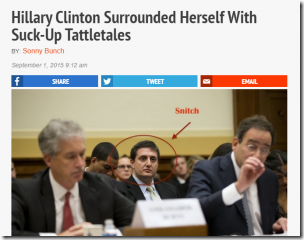 Can You Spot All That is #Problematic About This Poster?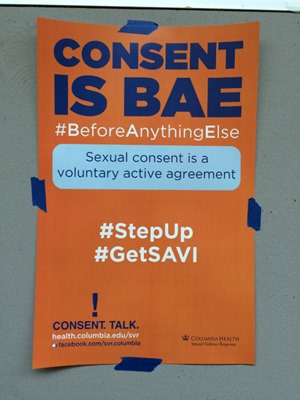 Charles C. W. Cooke's Beautiful Rant Against Those Who Would Repeal the 2nd Amendment
Seriously, try it. Start the process. Stop whining about it on Twitter, and on HBO, and at the Daily Kos. Stop playing with some Thomas Jefferson quote you found on Google. Stop jumping on the news cycle and watching the retweets and viral shares rack up. Go out there and begin the movement in earnest. Don't fall back on excuses. Don't play cheap motte-and-bailey games. And don't pretend that you're okay with the Second Amendment in theory, but you're just appalled by the Heller decision. You're not. Heller recognized what was obvious to the amendment's drafters, to the people who debated it, and to the jurists of their era and beyond: That "right of the people" means "right of the people," as it does everywhere else in both the Bill of Rights and in the common law that preceded it. A Second Amendment without the supposedly pernicious Heller "interpretation" wouldn't be any impediment to regulation at all. It would be a dead letter. It would be an effective repeal. It would be the end of the right itself. In other words, it would be exactly what you want! Man up. Put together a plan, and take those words out of the Constitution.

...You're going to need a plan. A state-by-state, county-by-county, street-by-street, door-to door plan. A detailed roadmap to abolition that involves the military and the police and a whole host of informants - and, probably, a hell of a lot of blood, too. Sure, the ACLU won't like it, especially when you start going around poorer neighborhoods. Sure, there are probably between 20 and 30 million Americans who would rather fight a civil war than let you into their houses. Sure, there is no historical precedent in America for the mass confiscation of a commonly owned item - let alone one that was until recently constitutionally protected. Sure, it's slightly odd that you think that we can't deport 11 million people but we can search 123 million homes. But that's just the price we have to pay. Times have changed. It has to be done: For the children; for America; for the future. Hey hey, ho ho, the Second Amendment has to go. Let's do this thing. When do you get started?
Is The Koran Older Than Muhammad?
Carbon dating suggests maybe.
Scholars now believe that a copy Quran held by the Birmingham Library was actually written sometime between 568 AD and 645, while the Prophet Mohammad was believed to have been born in 570 AD and to have died in 632 AD. The copy of the widely used holy text held by the library is known for being one of the oldest in the world.

Scholars came to this conclusion after researchers carbon dated a small piece of parchment from the Islamic holy book. The carbon dating, which is considered to be extremely accurate, suggests that the Quran may have actually been written before Muhammad was alive, or during the early years of his childhood.
Gun Ownership Vs. Firearm Accidents, 1965-2013
Holy inverse correlation Batman.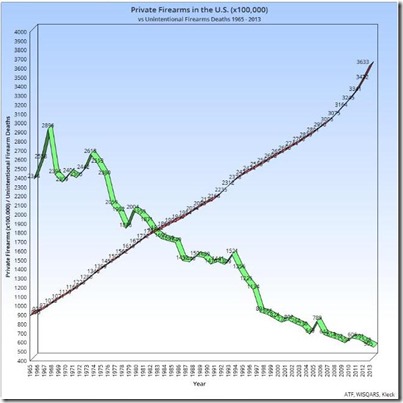 The Secret Playboy Mansion Tunnels That Led to the Hollywood Homes of Celebrity Casanovas
The editorial staff at Playboy.com recently revealed that they have discovered a bunch of dusty old blueprints, plans and photographs in an unfinished basement area of the Playboy Mansion, which unveil a network of underground tunnels that allegedly once linked Hefner's notorious bachelor's pad to the homes of "Mr. J. Nicholson," "Mr. W. Beatty," "Mr. K. Douglas" and "Mr. J. Caan" during the late 1970s and 80s.

...The clues to the story were hiding in the office archives all this time; polaroids dated to 1977 that showed a large excavation project at the residence. When editorial staff contacted the Mansion about the polaroids they had stumbled upon, the Mansion's current general manager responded "very matter-of-factly" and told the journalists "that's probably when they built the tunnels in the 70s."

A little dumbfounded, the editorial team promptly made their way over to the Playboy Mansion and were given access by mansion staff to a basement area where they pretty much went nuts over the treasure trove they found there; old photos, plans and blueprints, clearly indicating that these tunnels led specifically to the homes of Jack Nicholson, Kirk Douglas, James Caan and of course, Mr. Warren Beatty, who all lived nearby.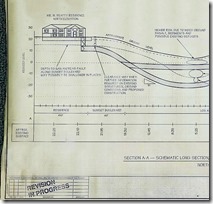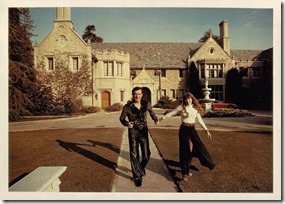 FCC Introduces Rule to Ban Any Modification of WiFi Router Firmware By Users
Say goodbye to DD-WRT and all the other open source firmwares. You don't really control your own network devices anymore.
Note to Scorned Women: There Is No Car Paint Spellcheck
Man's Selfie Ends With Car in Tree, Friends in Hospital
One of my web searches turned up a study from Trinity College's American Religious Identification Survey (ARIS) on the demographics of Mormons. According to the ARIS study, there are now 150 Mormon women for every 100 Mormon men in the state of Utah - a 50 percent oversupply of women.
Kermie Apparently Found Himself a New, Younger, Svelter Pig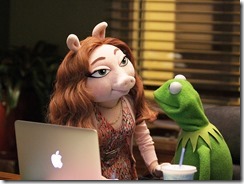 The Yahoo group is for closers only.
Teh Tweet!
Tonight's post brought to you by hi-fi listening: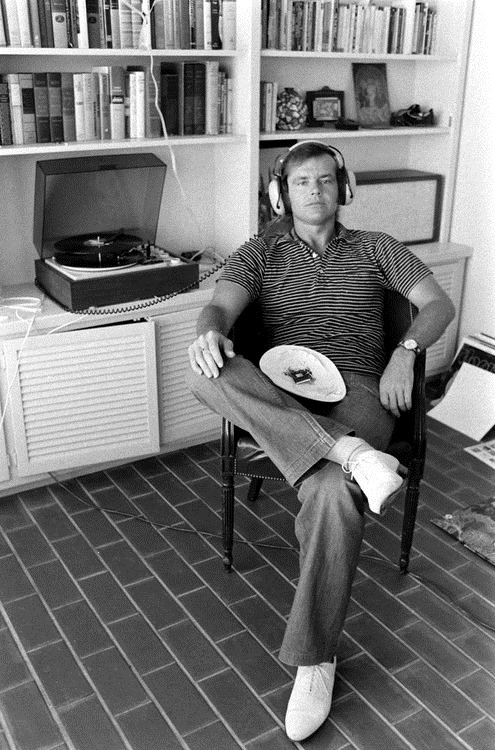 Notice: Posted by permission of AceCorp LLC. Don't try to understand 'em, just rope, throw an' brand 'em. Note: Vittles and love not included in ONT.

posted by Maetenloch at
11:23 PM
|
Access Comments