« Unexpected! Gun Sales Surge [CBD]
|
Main
|
In Case You Were Wondering... - [Niedermeyer's Dead Horse] »
September 06, 2015
Food Thread: Mea Culpa [CBD]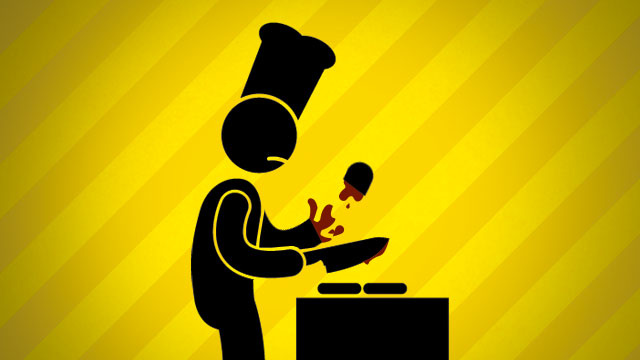 [CBD's Knife Skills]
From last week's Food Thread:
I can't tell whether I love or hate these CBD food threads. One on hand they give me a terrible inferiority complex. ("The goal is to create an emulsion." Wut?) On the other hand the recipes sound delicious and I admire the talent. CBD is probably too young to know this, but there was a time when salads were not a big deal in American life and "romaine lettuce" sounded like something only Fred and Ginger would eat. Anchovies, though! We do know anchovies and must have them on our pizza.

Posted by: Caliban at August 30, 2015 06:38 PM (3GFMN)
Well shit....now I feel like a total asshole. My intent is to have a good time with the Moron Horde, talking and learning about food and cooking, and getting some hits for Ace's Valu-Rite fund. I wholeheartedly apologize for making you feel inferior. It's just food. It's not a reflection on you or anyone else that I am a bit of a food geek and like talking about emulsions (It's a mixture of liquids that normally don't mix, like oil and water. It's also a fancy and assholish term for a thick sauce or dressing). Some people love the minutia, some people don't. Hell, I read the Gardening Thread or the Gaming Thread and I think to myself...."Cool stuff, but I have no idea what they are talking about."
That being said, once again, I apologize if I made you or anyone else feel uncomfortable (I only try to make Garrett uncomfortable, and never succeed!). I hope you stick around and comment and ask questions and have a good time in the thread, although...anchovies do not belong on pizza!
And...yes, I am old enough to remember! I think salad became something other than an afterthought in the 1980s. I remember as a kid in the late 1960s getting a lonely chunk of iceberg lettuce, a single thin slice of pale tomato, and some bottled Thousand Island dressing....

********
I am a big fan of dry-rubbed smoked ribs. I haven't had a really great sauce since Flint's Barbecue in the Bay Area in the 1990s. Most of them are a tad sweet for my palate, and I haven't had luck making them either. Eventually I will sit down and tweak and play and figure out the correct recipe for the most important taste in the world....my own. Until then I am happy without sauce.
But last night I went to a local barbecue joint and had some sauced ribs that were quite good. Not too sweet, not too spicy, not too thick and gloppy. The ribs were also cooked correctly and were meaty and fatty and just great.
Oh...the beer and bourbon were pretty good too.

********
Good, plain sandwich bread is hard to find. The mass-market stuff like Wonder Bread is too soft, and the stuff from most bakeries around here is ridiculously expensive. Here's an interesting recipe for
Easy Sandwich Bread
from Cooks Illustrated. I like their recipes. They are rarely transcendent, but almost always well thought out and solid. I haven't tried this one but I will within a couple of weeks.
********
Desserts Taste Better A La Mode
No! Really? I think the regular writers all took vacation and they drafted the IT guy to write some filler.
********
The Manhattan is a grand and glorious drink, and one that has survived the onslaught of flavored vodkas and SkinnyGirl ersatz margaritas and a host of other attacks.
I keep playing with it to see whether it can be improved. And because while I love to drink, I have no talent behind the bar, I also ask professionals. On Friday night I badgered a friend (and fine bartender) about using dry vermouth in a Manhattan, and he shut me up by making one. It was....barely okay.
But I remembered playing around with dry vermouth a few years ago and coming up with this one. The sweet component rounds out the dry vermouth and makes it a reasonable drink. Not great. Not in the Manhattan's class, but if you are bored and want something a bit different.....
IAMNOTAMANHATTAN


3 oz. Evan Williams Bourbon (Or any good quality bourbon)

1/2 oz. Dry Vermouth

1/2 oz. Red Vermouth

2 dashes Angostura Bitters

1/4 oz. Cointreau
Swirl gently in lots of ice
Pour into cocktail (martini) glass
Garnish with a twist of lemon
Try it with Rye Whiskey for a smoother, slightly less sweet drink.

posted by Open Blogger at
04:00 PM
|
Access Comments