« The Cost Of Capitalism vs. Socialism [CBD]
|
Main
|
Robert Bork On The Martini [CBD] »
August 29, 2015
No Longer Tropical Storm Erika, now Invest 90
Good evening, Morons and Moronettes, and this should be the final post about Erika (and, God willing, any tropical system that should threaten to hit the continental United States). If the long-range forecasting is correct, as El Nino gets going, that should inhibit tropical cyclone activity in the Atlantic, and as such, restrict my posting to the odd overnight thread.

More below the fold...
So Erika didn't like running into the mountainous terrain of Hispaniola and Cuba, and has dissipated to an extremely poorly-organized low pressure center between the Bahamas and Cuba. Thank God for friction.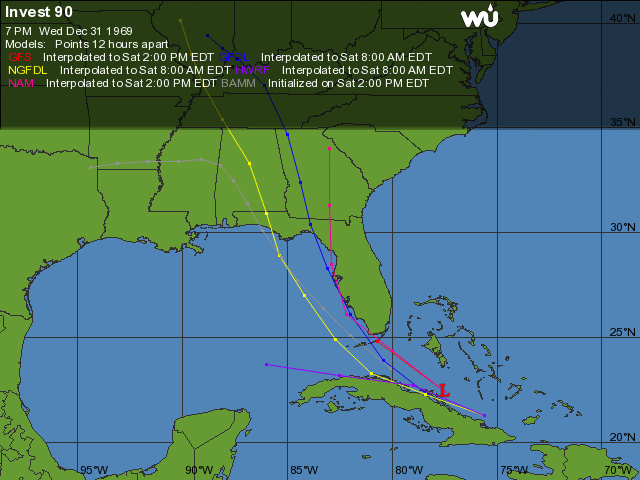 If you're in central Florida, you've still got a pretty good rainmaker with possibly three to five inches of rain forecast for the area. As such, please remember that flooding is the biggest threat with any tropical system, and that threat will remain inland in Georgia, Alabama, and other states in its path.

In the meantime, sit back and enjoy the media's annoyance with their planned news cycle not working out.
A brief thought on Katrina, ten years later...

So as many of you know, I'm a New Orleans native, and I was working in Huntsville, AL when Katrina pushed ashore. It was a pretty damned empty feeling to watch my hometown flood, and to see pictures of the Mississippi Gulf Coast (where my family and I would weekend a few times a year) trashed in the worst way since Camille in 1969.

Much like living in earthquake country, you deal with the notion that at some point, that big storm or big quake is going to come, and you hope you're prepared. When it comes to the city and state leadership, New Orleans and Louisiana (under Ray Nagin- for whom I used to work- and Kathleen Blanco) couldn't be bothered, while Haley Barbour and the Biloxi/Gulfport/Pascagoula leadership were on their game.

Don't forget also that Jefferson Parish (just to the west of NO; part of where Steven Seagal: Lawman used to be filmed) Parish President had his people abandon the pumping stations in the face of the storm, which screwed up the East Bank of Jefferson Parish just as badly. I'm happy to say that Broussard and Nagin are now in federal prison.
A whole bunch of people died needlessly because of the incompetence of Louisiana's leadership, and the only silver lining that one can draw from it is that it slapped a lot of people awake along the Gulf Coast. Florida, Alabama, and Mississippi have been exemplary models of emergency preparation and management, and the same preparation and management have been hallmarks of Bobby Jindal's administration in Louisiana as well.

So, to close, y'all just please be prepared for whatever natural disasters can threaten your area- be it snowstorms, hurricanes, volcanoes, or whatever. If you're prepared for calamity, that means you don't have to rely on questionably competent elected officials and that emergency services can concentrate more fully on their gigs as well.

In the meantime, please pray for the folks affected by the western wildfires... I think they'd KILL for a tropical system to drop 3-5" of rain on their areas right now.

Thanks again for reading!

-tmi3rd

posted by Open Blogger at
08:16 PM
|
Access Comments