« FBI Source Tells NY Post: The Probe of Hillary Clinton is "Definitely Criminal"
|
Main
|
Morning Thread (8-6-2015) »
August 05, 2015
Overnight Open Thread (8-5-2015)
Courtesy of The Daily Mail, a story for our times, with something for almost everyone:

Two white gay men have their mixed-race adoptive child taken away and given to a black aunt the kid's never met.

I would be surprised if Big Gay took this lying down. Everyone seems to accept that Muslims are atop the diversity totem pole, but the rest of the batting order is still up for grabs.

-- Mark Steyn
The term 'wolf in sheep's clothing' captures an important truth: an effective way to leverage power is by assuming the status of a victim. A culture of victimhood is inherent to political correctness. It is through this victimhood, ultimately, that the tribal hatred of its advocates are nourished, and the dignity of its opponents are undermined.

-- tomowolade
"A time is coming when men will go mad, and when they see someone who is not mad, they will attack him, saying, 'You are mad; you are not like us.'"

-- St. Anthony the Great, circa 300AD
It's the big wedding episode. Jeannie and Amanda Bellows are wearing minis for the wedding rehearsal - Amanda, as always with a lower hemline.

But there's a problem - a genie can't be photographed.  Obviously, this will create a stir with lots of wedding photographers capturing the big astronaut wedding.

They formulate a plan to have Jeannie destroy or disintegrate all the cameras, but, as you might expect, that creates even more of a stir.  What to do?

While she's having her hair done by Amanda, Jeannie comes up with the idea to have a mannequin in her place.  Naturally, this leads to all kinds of wacky hijinx; unfortunately, none of it involving miniskirts.  Moving right along...

-- Retrospace on I Dream of Jeannie, Season 5
I guess they've run out of OPM for the moment.
It's all over the wires: Puerto Rico has defaulted on its $58 million payment to creditors of its Public Finance Corporation, which was due by the end of day. San Juan's treasury only managed to scrape together some $628,000 towards the total. The government had tried to argue that the PFC bonds were of a different category-and had a different legal status-than general obligation debt. Credit rating agencies rejected the argument. "Moody's views this event as a default", Moody's analyst Emily Raimes said in a statement, according to Reuters. "This is a first in what we believe will be broad defaults on commonwealth debt."

What now? A whole lot of mess, more than likely.
Murders Rising in Major Cities Across the US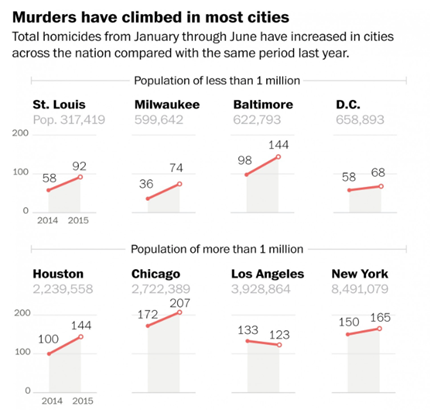 The Making Of A Yet Another Almost SJW Martyr
Dash and body cams are the natural enemy of wild SJWs.
Lindsey Graham's Strange, Charmed Military Career
Well all of his promotions for literally nothing make sense when you realize he was basically JAG's paid-in-rank lobbyist to Congress.
The SEC Moves to Mandate Wealth Shaming on American Corporations
The Secret to Modern Financial Success
And steps 1-11 are just the beginning of the list although I can already see that steps 3 and 7 could be problematic for some.
1. Don't marry her.
2. Use your mom's address for your mail.
3. The guy buys a house.
4. Guy rents out house to his girlfriend who has 2 of his kids.
5. Section 8 will pay $900 a month for a 3-bedroom home.
6. Lover signs up for ObamaCare; guy doesn't have to pay out-the-butt for family insurance.
7. Lover goes to college for free being a single mother.
8. Lover gets $600 a month for food stamps.
9. Lover gets free cell phone.
10. Lover gets free utilities.
11. Guy moves into home but uses mom's house for his mail.
The Waco Biker Gang Shootout Case Gets Stranger and Stranger
It's been over two months since a shootout at a Waco, TX restaurant left nine people dead and 18 wounded yet no forensics reports have been released and everyone involved in the case even peripherally still is under a gag order.
Finally Ending the Hospice 'Cruel Choice'
The Teen Who Exposed a Professor's Myth
Apparently the Google and local library microfilms are tools unavailable to professional academics.
In 2002, University of Illinois-Chicago history professor Richard J. Jensen printed "No Irish Need Apply: A Myth of Victimization." His abstract begins:

"Irish Catholics in America have a vibrant memory of humiliating job discrimination, which featured omnipresent signs proclaiming 'Help Wanted-No Irish Need Apply!' No one has ever seen one of these NINA signs because they were extremely rare or nonexistent."

...Here, of course, is the problem: After only couple of hours Googling it, Rebecca, a 14-year-old, had found out these signs had, in fact, existed all along. Not only in newspaper listings-in which they appeared in droves-but, after further research, in shop windows, too.

The Irish were persecuted in the American job market-and precisely in the overt, literally written-down way that was always believed.
How a 1913 Fistfight Led to Mandarin Becoming China's National Language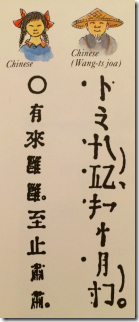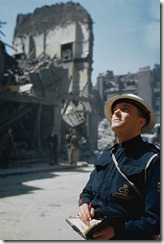 How to Build a Classic Adirondack Chair and Enjoy Lounging the Rest of Summer
This is very tempting to try although I do think some of the steps can be simplified.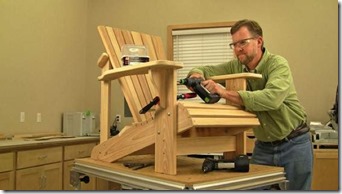 Does Drinking Alcohol Actually Kill Brain Cells?
Short answer: No.
Researchers at Washington University in St. Louis found that alcohol, even when applied directly to neurons, didn't kill them. It just interfered with the way they transmit information. Specifically, the researchers showed that alcohol causes certain receptors on neurons to manufacture steroids that inhibit memory formation.

Some alcoholics can experience neuron death as part of a brain disorder called Wernicke-Korsakoff syndrome. In these cases, the evidence again suggests that the disease and cell death aren't caused by the alcohol itself, but a B1 (or thiamine) deficiency and general malnutrition that often go hand in hand with alcoholism.

For moderate drinkers, a number of studies from the last 15 years suggest that, far from killing brain cells, a little tipple is actually associated with a reduced risk of cognitive decline and dementia.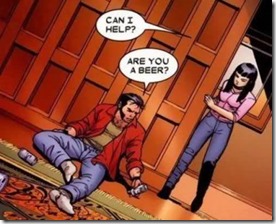 Also: Top.Scientists. Say There Are Four Kinds of Drunk
Time for a Buzzfeed-style Quiz!
Psychologists have identified four different types of drunk people: the Hemingway, the Nutty Professor, the Mary Poppins and the Mr Hyde.
The Group knows your sins but doesn't care.
Tonight's post brought to you by the Beer-dex: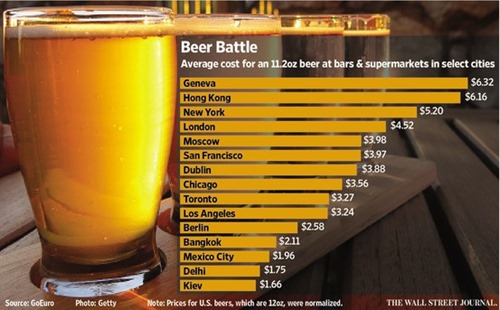 Notice: Posted by implicit permission of AceCorp LLC. Please e-mail overnight open thread tips to maetenloch at gmail. Otherwise send tips to Ace. This ONT is ribbed for your pleasure.

posted by Maetenloch at
10:42 PM
|
Access Comments