« Microsoft Getting Very Googley with Windows 10
|
Main
|
Open Thread: Best Movie Soundtracks [Y-not] »
August 01, 2015
Saturday Gardening Thread: "Cold" August Ovens [Y-not and KT]
I apologize for the delay in posting the Saturday gardening thread.
Y-not: Good afternoon, gardening morons and moronettes!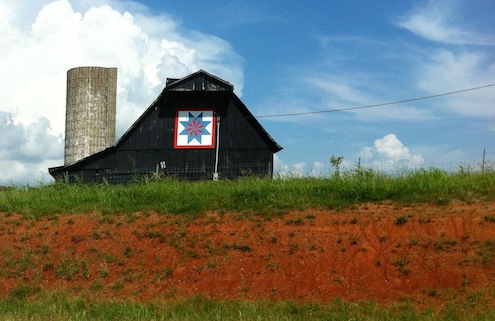 A pretty barn in Kentucky.
Today's thread is brought to you by ragweed: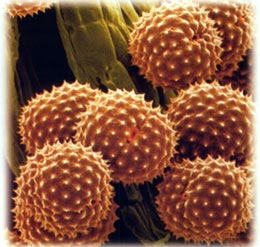 Ragweed pollen via the Eat The Weeds website (link above).
While I was on my trip to Kentucky a local told me that their state flower was ragweed! I'm not sure if that's true, but I'm going with it.
In any event, I am currently suffering pretty badly, not with allergies, but with a bad head cold. So we'll be relying very heavily on KT for content this week.
Perhaps I'll try some of these herbal remedies.
Speaking of ailments, we have a report back from CharlieBrown's Di concerning his sick roses:
I got a combination anti-fungal (as recommended) and fertilizer spray and have used it a few times on the roses. All three are producing shoots that look quite healthy. Coincidence? Probably, but the correlation is 1
Thanks to everyone who shared their expertise with CBD. Sounds like his roses are on the road to recovery!
Now, without further ado, take it away, KT!
Outdoor Ovens
There is not much activity in our garden right now. It is very hot. We can only water twice a week. Some of my tomato plants and flowers have died. But Y-not's archive reminded me that the Saturday Gardening Thread started out as the Yard and Garden Thread. (Don't comment on the archive or on old posts). Since the drought and heat are preventing us from growing many plants in the South Central San Joaquin Valley, maybe we could try building something in the yard.
Outdoor pizza ovens seem to be all the rage. There are many styles described on the intertubes, from do-it-yourself brick ovens to ready-made kits for a Weber grill. But a couple of weeks ago, I found an online version of a project that had piqued my interest years ago when I read about it in the Sunset Magazine. Anybody wanna build an outdoor adobe wood oven? It is more versatile than a pizza oven, even though you couldn't bake a big pizza in it.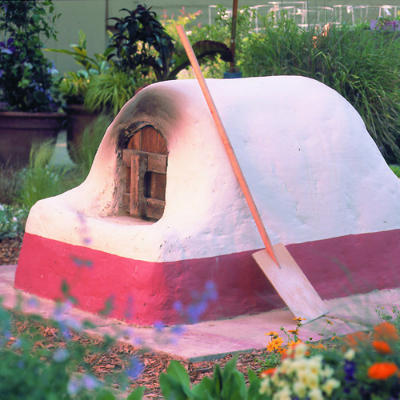 Sunset Adobe Oven
This oven allows you to bake individual pizzas, followed by roasted meat and vegetables, followed by bread. You could have a small lunch and dinner party.
If you build this oven, you will need heating and cooking directions. These directions are a reminder that in the past, baking often required some skills that we don't think about much today, along with a fair amount of extra work and attention. There are recipes for Flat Bread Salt Pizzas, Adobe Oven Bread, Ratatouille and Adobe Oven Roasted Salsa - "Flavors of the West."
If you don't like Sunset's design, here is a prepper's demonstration of how to build a beehive-style mud oven like the traditional ones in Arizona and New Mexico in places like Acoma, Taos and Pueblo. The post includes a book recommendation, additional links for bread recipes, etc.
I also found some impressive photos of outdoor ovens, small to large and plain to very fancy celebrity chef models. For you physics buffs, near the end of this post are diagrams explaining how this type of oven is heated, from the most frequently recommended author on the subject of earthen ovens. There are links to other resources. Try to ignore the "green" rhetoric. Wood-fired ovens do, in fact, produce carbon dioxide and even smoke.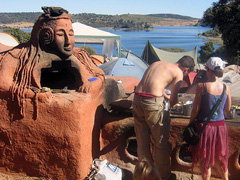 Cob oven, Boom Festival, Portugal
Mother Earth News has instructions for an outdoor stove, oven, grill and smoker. If you scroll down a little, you should see links to the left for a Tandoor Oven made from a (steel drum)* and flower pot, from Instructables.
*Use a non-galvanized steel drum instead of a garbage can. See Step 11.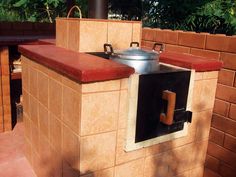 Stove, oven, grill and smoker
You could also check out The Stoven (an oven and rocket stove that burns corn cobs) or The Stoven 2 (an earthen oven for an outdoor kitchen.)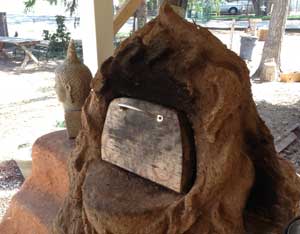 The Stoven
Mother Earth News also has directions for a simple project, a clay pot smoker that uses an electric hot plate and wood chips. This project looks like one I could do. For the more ambitious, the "related content" includes links for information about building a real smokehouse, an inexpensive cold smoker and an outdoor canning cooker. The last two require welding skills.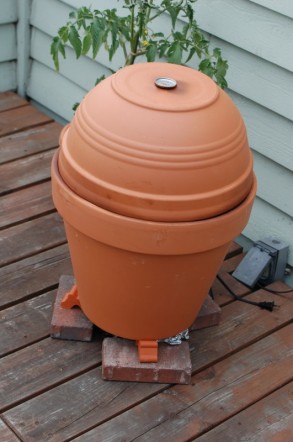 Clay Pot Smoker, Alton Brown Style
Has anybody in The Horde ever built an outdoor oven, or something similar?
Insect of the Week: The Polyphemus Moth
Dang. I totally forgot about National Moth Week. Sounds like, in San Antonio anyway, it was a good excuse to drink beer outdoors in the dark. The event in San Antonio didn't attract a lot of moths this year, possibly due to heat, high winds and maybe urban light, or earlier wild weather in Texas. You might get some ideas for a backyard moth viewing event in your own yard at the link.
We have already featured two of "five Texas moths for enjoying year-round moth week", the celebrity Sphinx Moth and the Black Witch. The huge Black Witch Moth, the subject of conflicting folklore, is a tropical moth that is common in Southern Texas. Our featured insect today, the Polyphemus Moth, is a large silk moth that is found in most of the continental USA and into Canada, though populations tend to be localized. Because of its striking eyespots, it is named after Polyphemus, the giant cyclops from Greek mythology who had a single large, round, eye in the middle of his forehead. All parts of these moths are interesting up close.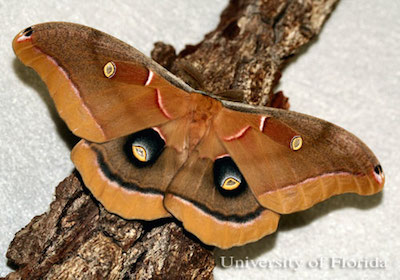 Polyphemus Moth
The female moths lay eggs on over 50 species of broad-leaved trees and shrubs, from citrus to elms. The caterpillars are seldom numerous enough to be pests, except occasionally in commercial plum orchards. If attacked, the caterpillar makes clicking noises with its mandibles. These noises seem to be caterpillar lingo for "I am going to regurgitate vile liquid upon you".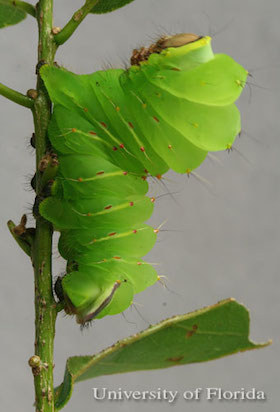 "I am not a caterpillar" sphinx pose
At various stages of growth, the caterpillars are eaten by birds, rodents, reptiles, amphibians and the typical predatory and parasitic insects. The cocoons are sometimes pecked open by woodpeckers which eat the developing moths. "In the West, Native Americans sometimes fill the cocoons of Polyphemus and other silk moths with sand or pebbles to make rattles by tying them to sticks or to their ankles for use as musical instruments."
If it survives the perils of growing up, the emerging moth uses a liquid from its mouthparts to soften part of its cocoon so it can escape. The moth cannot eat as an adult, and only lives about a week.
The coloration of the moths can be variable, but "The pattern on the hind wings of the polyphemus moth resembles that on the head of the great horned owl." When threatened, the moth uses this pattern to startle predators. The striking coloration of the moth was probably the reason it was chosen as the messenger in Peter Jackson's film, The Lord of the Rings: The Fellowship of the Ring, as the messenger between Gandalf and Gwaihir.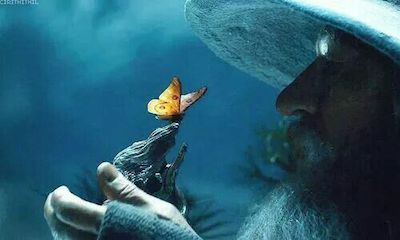 Gandalf and the Moth
Or, if it works, this might be interesting.

Warning about other moth caterpillars
The Swiss German word for caterpillar (teufelskatz) translates to "devil's cat." Sometimes cute creatures are not nice.
Caution children against picking up hairy caterpillars unless you know the species is harmless. The hairs can be irritating and some can sting. Even with the "harmless" species, hands should be washed after touching hairy caterpillars to avoid the possibility of getting one of the hairs in your eye. Hairy caterpillars generally turn into moths, but not all moth caterpillars are hairy.
If you are stung by a caterpillar, "Place Scotch tape over the affected area and strip off repeatedly to remove spines. Apply ice packs to reduce the stinging sensation, and follow with a paste of baking soda and water. If the victim has a history of hay fever, asthma or allergy, or if allergic reactions develop, contact a physician immediately."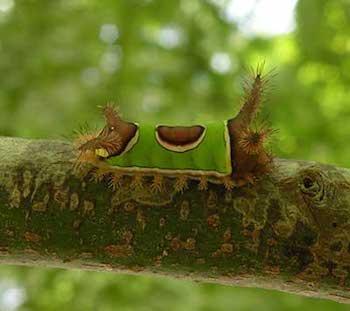 The Saddleback Caterpillar Stings!
Hope your garden is in better shape than mine. Watch out for cute creatures that are not nice. Have a great week.

Y-not: Thanks, KT! To close things up, here's a song that seems very appropriate...

What's happening in YOUR gardens this week?

posted by Open Blogger at
06:43 PM
|
Access Comments