« Hillary Clinton: Of Course I'm Not Asking People To Vote For Me Because I'm a Woman. I'm Asking Them To Vote For Me On the Merits. And My Merits Are, I'm a Woman.
|
Main
|
Gunman Shoots Up Louisiana Movie Theater, Injuring Six People »
July 23, 2015
NASA Spies Earth-Like (Well, A Little Bit Bigger Than Earth) Planet in Habitable Zone
Usually they only spot gas giants and very, very heavy terrestrial-type planets, because such things are hard to see, and you can only "see" them by the shadows they make when they cross their sun, or their gravitational effects.
They say this one is just a bit heavier than earth... well, a fair bit heavier, but not gigantic, and it's in the habitable zone, not too close to its star, not too far.
So: Who's comin' with me?
Astronomers have spotted the closest thing yet to the first true 'Earth twin' -- a small planet orbiting the bright star Kepler 452, at a distance where liquid water could exist.
You have to remember, the media always lies, and the media knows nothing about science -- so be prepared for some disappointment on that "earth twin" claim.
It may be the closest to earth yet found outside of our system, but it's not super-close.
...

"It is the first terrestrial planet in the habitable zone around a star very similar to the Sun," says Douglas Caldwell, an astronomer at the SETI Institute in Mountain View, California.

The alien world is 60% larger than Earth and orbits its star at a distance similar to that between Earth and the Sun. The star itself lies 430 parsecs from Earth, in the constellation Cygnus.
60% larger wouldn't translate to exactly 60% more gravity, because the planet's radius is bigger too, but it would be, like, guessing, about one and half earth's gravity -- so, not superfriendly to human bone and muscle, though I guess if you went to fat camp there you'd come back pretty buff.
Or, like, dead, from your spine collapsing or something.
Still, there is hope.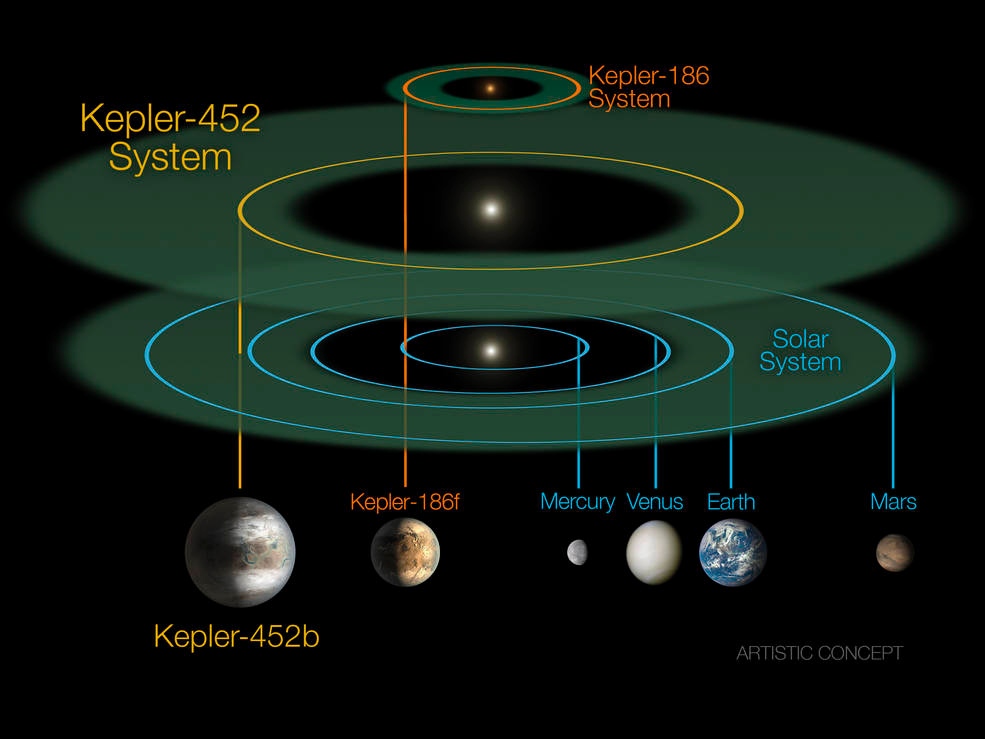 Graphic taken from Nature -- no rights claimed

Update: There is no hope. Scientists report an emission coming from the planet:
READY
FOR
HILLARY

Might As Well Throw Up This Old Tab: Black sky mining.

posted by Ace at
08:18 PM
|
Access Comments