« Did the White House Farm the Rolling Stone Fake-Rape Jackie Story to Rollling Stone?
|
Main
|
Sure »
July 22, 2015
Hillary Has Fallen and She Can't Get Up
She runs poorly against Walker and Rubio in three key swing states. She also lags Jeb Bush, but not as badly. (Jeb does best in Virginia, but only edges her in Colorado and Iowa.)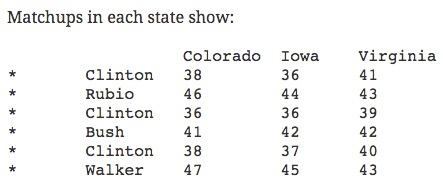 It gets very easy for me to say Let It Burn given my assumption that we're doomed anyway and need a dramatic loss to shake anyone's brain up. Never let a crisis go to waste -- if you're going to lose, lose in such a profound way that it disrupts the current Loser's Trajectory and leads, a decade hence, to a win.
Then a poll like this comes along, and I start thinking about supporting a candidate.
It sure would be nice to not elect Hillary Clinton.

posted by Ace at
05:35 PM
|
Access Comments