« EMT 7/18/15 - Breakin' Dallas, Electric Yahoo [krakatoa]
|
Main
|
Fundamental Concepts - Normal [Weirddave] »
July 18, 2015
Saturday Morning Politics Thread: Off the Sidelines Edition [Y-not]
Good morning, horde.
Via the NYT, How Much Money Presidential Candidates Have Raised So Far:
Jeb Bush has the most outside support, with a reported $103 million raised by the super PAC backing him.

This cycle, outside groups like super PACs are playing a larger role than ever in supporting candidates, so combining fund-raising totals for those groups with those of the campaigns provides a more complete picture of how the candidates stack up.
Here's their graphic showing (most of) the candidates' combined fundraising totals thus far: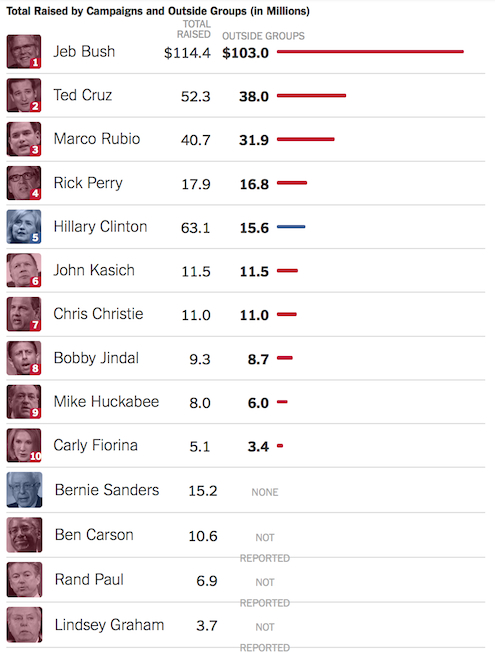 Now here's the current RCP polling (showing the top ten polling candidates):

I don't know which poll(s) the GOP debate organizers plan to use, but however they plan to decide on which ten candidates get on stage, there are good people (Jindal and Fiorina) who will be left out in favor of some not-so-good candidates.
For some time I had been sitting back and watching the candidates (plus doing my homework on them), but as these debates draw nearer, and quality thinkers like Governor Jindal remain low in polling, I realized that my "watch and wait" strategy was self-defeating.
I've given to two candidates: Rick Perry and Bobby Jindal. Whatever their respective flaws, I would be happy to have either one as President and -- perhaps even more importantly these days -- as Commander-in-Chief.
There are other GOP hopefuls whom I also like. Indeed, I may very well wind up voting for a different candidate when the time comes. But I want to do what I can to make sure Perry and Jindal are in the debates.
I urge you to send some bucks to your preferred candidate or candidates.
Unless it happens to be Jeb Bush, in which case I urge you to spend that money on hookers and blow.

I keed because I love.

posted by Open Blogger at
08:25 AM
|
Access Comments