« Manufacturing Consent: Democrats Pretend to be "Skeptical" of the Iran Deal
|
Main
|
Morning Thread (7-16-2015) »
July 15, 2015
Overnight Open Thread (7-15-2015)
Well I've been bouncing around airports for the last two days and have been 1/6 in getting a working WiFi connection - it's like the bad old days of 2003 all over again. So I'm taking advantage of a momentary connection to throw up a quickie ONT.
Trump: My Fortune is Too Yuge To be Accurately Captured by the Puny FEC Forms
Like a medieval monk preserving Western culture through the Dark Ages, Thomas soldiered doggedly on, carrying the largest writing workload on the Court, pressing his point in cases small and large, sometimes at odds with his conservative colleagues, often alone. Perhaps history will never return to the path he is marking, but no one can say we weren't warned.

Supreme Court justices are often little known or understood by the general public, and in Thomas's case, his image is further obscured by his race, the controversies surrounding his 1991 confirmation, and his famous refusal to ask questions at oral argument. Thomas's critics outside the legal profession tend to fall back on open attacks on his race (a "clown in blackface," said Star Trek actor, Facebook meme-sharer, and gay-rights crusader George Takei recently) or unsubtly coded attacks (such as Harry Reid's assertion that Thomas wasn't smart or a good writer like Scalia, though Reid couldn't name any of his opinions).
Well Both Like Dogs and Neither Got a College Degree I Guess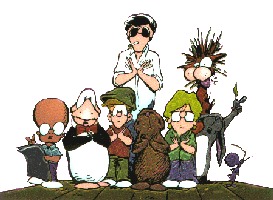 The Group knows your sins but doesn't care.
Tonight's post brought to you by the F-zone:

Notice: Posted by implicit permission of AceCorp LLC. No time to chit chat. Connection going dow,slksajdakshkjdkj.2752176$

posted by Maetenloch at
10:30 PM
|
Access Comments