« Book Club Thread: Fall of the House of Usher
|
Main
|
Morning Thread (7-14-2015) »
July 13, 2015
Overnight Open Thread (7-13-2015)
Uber, the world's largest taxi company, owns no vehicles. Facebook, the world's most popular media owner, creates no content. Alibaba, the most valuable retailer, has no inventory. And Airbnb, the world's largest accommodation provider, owns no real estate. Something interesting is happening.

-- Tom Goodwin in The Battle Is For The Customer Interface
Quote of the Day II
If you're a Jew, and you're wondering if it's time to leave, then it's probably past time. "Last December, Créteil endured the brutal case of a 19-year-old woman whose apartment, which she shared with her boyfriend, was broken into. One of her assailants allegedly said, 'You must have cash here because you are Jews.' They then gang-raped her."

-- Glenn Reynolds
Also: The Yogurt Has Expired in Europe
Then there is a fact that, in my opinion, doesn't get enough emphasis in these debates: in the course of preparing its most recent report, AR5, the IPCC slashed its estimate of future global warming by almost 50 percent. And this was at the end of 2013! How can the science be settled, when it isn't even settled within the IPCC, a political body that was established by the U.N. to promote global warming alarmism?

-- John Hinderaker of PowerLine
If only there were some... natural explanation for falling and rising temperatures.

Such a hypothetical source of warming would have to be massive, however. On the order of magnitude of our own Sun.

-- Some ancient AoSHQ commenter whose name is now lost to history
Sun God Disappointed in Us: New Solar Model Predicts 60% Fall In Solar Activity In The 2030s, Mini Ice Age
A new model of the Sun's solar cycle is producing unprecedentedly accurate predictions of irregularities within the Sun's 11-year heartbeat. The model draws on dynamo effects in two layers of the Sun, one close to the surface and one deep within its convection zone. Predictions from the model suggest that solar activity will fall by 60 per cent during the 2030s to conditions last seen during the 'mini ice age' that began in 1645.
The so-called double dynamo model proposes that there are two magnetic dynamos operating at different levels within the sun and that their interaction can predict most of sun's varying behavior apart from the known 11 year sun spot cycle.
"In cycle 26, the two waves exactly mirror each other -- peaking at the same time but in opposite hemispheres of the Sun. Their interaction will be disruptive, or they will nearly cancel each other. We predict that this will lead to the properties of a 'Maunder minimum'," said Zharkova. "Effectively, when the waves are approximately in phase, they can show strong interaction, or resonance, and we have strong solar activity. When they are out of phase, we have solar minimums. When there is full phase separation, we have the conditions last seen during the Maunder minimum, 370 years ago."
On the other hand this commenter on Reddit points out that our actual data set on the sun's longer cycles is incredibly thin which means we're mostly guessing and ought to be skeptical about any models based on such sparse data:
Solar activity does wax and wane on (as near as we can tell) fairly regular cycles over the course of centuries. The problem is we've only been watching for a tiny sliver of the sun's lifetime, a fraction of a fraction of a percent, so our sample size kind of sucks. Even considering evidence for solar activity in the longer term, such as ice core samples, we still know very little. The only thing we've got to work from is past observed trends, which, as our attempt to predict this cycle demonstrates, isn't especially reliable.

We've only seen about 3 of those longer term minimums in the 400 or so years we've been staring at the sun, and only two, the Dalton Minimum and the less severe minimum that lasted from about 1880 to 1940, were well documented.

...What we do know for sure is that this cycle is a) the weakest we've seen in at least 100 years, and b) a radical statistical outlier both in how low it went, and how quickly it fell off from the previous cycle. If this is in fact the start of a new minimum, our closest analog to a previous trend would be the Dalton Minimum, and that would actually suggest the next cycle may rebound somewhat, with a return to the modern norm in just 2 or 3 cycles, but really at this point it's all tea leaves and chicken bones. At best we've got some educated guesses and a little bit of historical evidence, but none of our observations of the sun offer even a reasonably reliable barometer of the long term trend.

The article takes a number of tidbits from actual studies and theoretical predictions, strips nearly any context, and jumps straight to the conclusion that we're headed in to the next Maunder Minimum. We have zero meaningful observations of the sun's conditions during previous minimums to compare the data to, as we've only been capable of making such observations for about the last 2 solar cycles. All we have is the sunspot count and some data about how quickly they evolved, and how they were distributed on the face of the sun as the cycle progressed.
So maybe hold off on prepping for the new ice age just yet.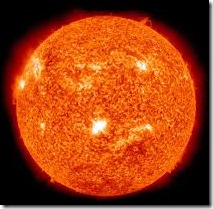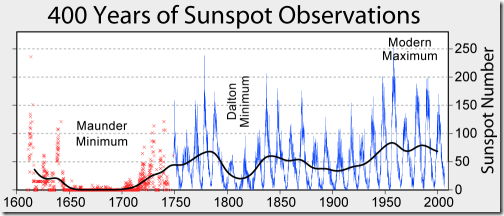 Jack Dunphy on Why Crime is Increasing in Los Angeles
And in Baltimore, Chicago, etc.,  etc.
The rise in crime is easily explainable if you proceed from the assumption that police officers and criminals are rational actors who constantly evaluate the risk-reward ratio of any decisions they make. For the criminals of Los Angeles, a good deal of risk has been removed from their calculations, especially now that so many felony property- and drug-related crimes are misdemeanors and the state's 2011 "realignment" law has achieved its intended goal of easing overcrowding in the state's prisons. The result has been fewer criminals behind bars and more on the streets without much in the way of a deterrent under the law.

...But while a police officer may keep himself physically fit and practice his marksmanship, there is no amount of training that can prepare him for the dangers that emanate from City Hall, the district attorney's office, or the Justice Department if he should become involved in some controversial incident that has the mob calling for his head on a pike.
Public School Principals Now Wearing Body Cameras
Which seems crazy but then I guess we're all inching closer to Vannevar Bush's idea of a memex in which all of our daily interactions can be stored and processed.
Carlos Danger Questions Why a So-Called Independent Socialist is Running in the Democratic Primary
The CIA Shares Julia Child's Shark Repellent Recipe
Sometimes some of the coolest stories get lost in history. The CIA recently noted one of them - famous French food chef and author Julia Child's critical involvement in developing a shark repellent recipe for military personnel during WWII. The CIA reports: "Julia McWilliams (better known by her married name, Julia Child) joined the newly-created OSS in 1942 in search of adventure. This was years before she became the culinary icon of French cuisine that she is known for today. In fact, at this time, Julia was self-admittedly a disaster in the kitchen. Perhaps all the more fitting that she soon found herself helping to develop a recipe that even a shark would refuse to eat....After trying over 100 different substances-including common poisons-the researchers found several promising possibilities: extracts from decayed shark meat, organic acids, and several copper salts, including copper sulphate and copper acetate. After a year of field tests, the most effective repellent was copper acetate."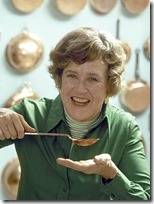 The 1,000-Year-Old Saxon Remedy That Kills Superbugs
It sounds random and gross yet it seems to be very effective at killing MRSA.
The recipe calls for two species of Allium (garlic and onion or leek), wine and oxgall (bile from a cow's stomach). It describes a very specific method of making the topical solution including the use of a brass vessel to brew it in, a straining to purify it and an instruction to leave the mixture for nine days before use.

On Killing 'The Killing Joke' and Killing the Past
For those of you not in the know, "The Killing Joke" is considered a seminal Batman story from the 1980s; along with Frank Miller's work on "The Dark Knight Returns" and "Batman: Year One," Alan Moore's "The Killing Joke" basically set the tone for the character for the next 30 or so years...

I've written to this sort of sentiment before, but it's worth reiterating in the wake of this "troubling" news: the reason non-PC comic book readers can't stand the feminist set is because they aren't interested in sharing the space-they're interested in dominating it wholly. It's not enough to make Squirrel Girl and Bat Girl and Spider-Gwen. The industry also has to disown its past, to declare it is ashamed of classic stories, to scorn the readers who have kept "The Killing Joke" in print through four separate decades. As Ace of Spades has noted in the context of video games, the social justice set is not really interested in providing alternatives or opening up new markets. Rather, they're interested in changing what people like. As long as people like "The Killing Joke"-and as long as DC refuses to memory hole it, to airbrush it out of existence like a Stalinist recreating history-these warriors will not have won.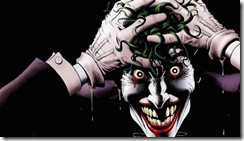 And of course the site's users and sexism are being blamed. Frankly Pao was always a strange choice for interim CEO as she had never run a company before and is mostly known for losing a sex discrimination lawsuit against the venture capital firm Kleiner Perkins Caufield & Byers.
When Engineers Bestrode the Earth
Plus you have this scene as well.
Gunpowder From Urine and Battling the Gorn
Historically, this is a pretty odd way of making gunpowder. For most of history, people with guns have also had a source of saltpeter. During the Napoleonic Wars, however, France could not import gunpowder or saltpeter and took to collecting urine from soldiers and livestock. This source of nitrates was collected, converted from calcium nitrate to potassium nitrate, and combined with charcoal and sulfur to field armies.

Still, [Cody] has a great example of what can be done using traditional methods, and the fact that he can fire a ball down a barrel is proof enough that the niter bed he's peeing in will produce even better gunpowder.

School District Soothes Parents Over Letter Warning That Students Will Be Turned Over to Child Protective Services If Parents Late in Picking Them Up
OMFG: What Color is #THESHOE?!?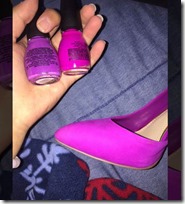 The Yahoo AoSHQ group - it's got electrolytes and shit.
And my twitter thang.
Tonight's post brought to you by Parade magazine, March 21, 1971: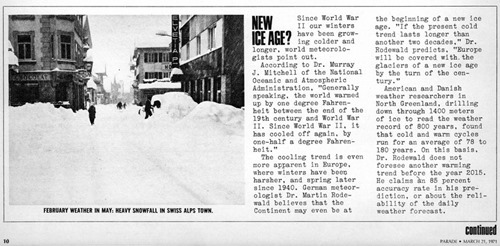 Don't worry - according to the article we're safe from warming until the year 2015 and 85% of the time they're right every time.
Notice: Posted by permission of AceCorp LLC, bla bla bla. Hey why are you even reading this - don't you have some papers to go write and submit by the fall? Well okay then.

posted by Maetenloch at
11:06 PM
|
Access Comments