« "It's Lawlessness!:" Megyn Kelly Lays Katie Steinle's Body at Barack Obama's Feet
|
Main
|
OPM Director Katherine Archuletta, Political Hack With Zero Qualifications for Job, Is Made to Resign, Not Because She Was Woefully Incompetent and Jeopardized Millions of People, But Because Republicans Were Making an Issue out of OPM »
July 10, 2015
Dude Dating Lena Dunham Told Her For Years "I Can't Marry You Until Gays Can Be Married."
Now Gays Can Get Married and He's Like, Let's Just Take This Slow, Baby.
I don't know whether I should laugh or, well, laugh.
I guess I'll laugh. Hm. Wasn't such a dilemma after all.
Lena Dunham's boyfriend Jack Antonoff is kinda goofy-looking in a Devo kinda way but he is actually a rock star (to the extent such a thing exists anymore) and he has a song that is actually not terrible.
So what he's doing with Lena Dunham, I don't know.
But he might be wising up.
Like most little girls, I had a fluffy white approximation of a bridal gown that I wore around our house until it lay in tatters. I often begged my tomboy cousin to play groom, a job she bore with sufficient humor. A wedding was, I imagined, an incredible day, better than your birthday, Halloween, and Hanukkah combined, with all eyes on you--a chance to be the star of your own show.

...


In college, we talked endlessly about the politics of marriage, its mercantile origins, its role as an organizing principle of the patriarchy. A full seminar was devoted to the issue, in fact, with letter grades and all, in which we debated why we should or shouldn't engage in such an archaic act when our L.G.B.T.Q. friends and family couldn't. If we got married, weren't we supporting and promoting a bigoted and outdated institution?.... But my friend Audrey put it best when she raised her hand and told our professor, "I object to the marriage-industrial complex. But I want that dress. So now what?"

...

BTW, I have to cut loads out of this piece of shit because she stuffs it full of every stray thought about Wonderful Her.
You're welcome.
Three years ago, when I was twenty-five, I met a bespectacled musician named Jack. He had a passion for John Hughes movies and driving on the Jersey Turnpike. His belief in, and insistence on, true equality for L.G.B.T.Q. citizens was no small reason why I fell in love with him, and, early in our relationship, I watched him struggle with the decision of whether or not to perform at a straight couple's wedding. He discussed the matter at length with queer friends, concerned that it might be a form of betrayal (ultimately, he was given their blessing, though he seemed fairly tortured about it anyhow). The struggle was real and raw for Jack, and so it somehow became understood, between us, that we wouldn't even consider marrying until every American had the same right. And I said it proudly whenever I had the chance, with the grandiosity and intimations of sacrifice you hear from certain lesser vegans.


According to a June 30th article in Time, we were not the only ones who felt this way, as straight couples across America eschewed the idea of a celebration that their L.G.B.T.Q. friends and family could not participate in with a shared sense of freedom. While my own queer sibling considers marriage barely radical enough to scratch the surface of consciousness, many of the couples profiled in Time felt that, without national marriage equality, their weddings would be a flat-out attack on the queer people they love...

I proudly wore our anti-marriage badge, though I did cut a rug at assorted straight weddings. But sometimes, in a moment of deep gratitude, I would mutter these words to Jack, unbidden: "Marry me." They became a kind of code, a way of giving a million other kinds of loving thanks. I wasn't serious, I told myself....

That future, of course, arrived not long ago, when the Supreme Court ruled that marriage is a right for all...

Soon after, another kind of text started to trickle in: "Now you can get married!" "Hello, bride to be <3" "So, when's the wedding??" There were tweets from awesomely excited gay guys, and also from teen-age girls who listen to Jack's band, informing me that it was finally my time. There were tweets from our friends. From our mothers....

What followed was a remarkable display of emotional acrobatics on my part. As soon as Jack woke up, I informed him that he "better not make a fool out of me," followed by a quick "LOL," and then, "But seriously. I'm going to look like a real idiot if we just sit here like losers and keep dating." Then I tweeted, "@jackantonoff get on it, yo," followed by my immediate and all-consuming regret.

Jack didn't text back, which is entirely unlike him, and it wasn't until I got home and looked him in the eye that I realized just how little the concept of marriage had been on his mind...


It just so happened that we were scheduled to attend a wedding that weekend, a beautiful affair in Portland, Maine... I held Jack's hand and said, "Let's not talk about marriage for a while, O.K.?" He looked grateful and relieved. I felt unburdened but sad. The subject wasn't particularly loaded for him. It never would be.

Just two days earlier, we had been living in a world where marriage wasn't an option, or, rather, was an option that we had postponed for ourselves. And, instead of a hardship, this limbo had been a saving kind of relief, a limitless breathing space that allowed our relationship to grow without any of the tortured questions of legal commitments and ring settings that seem to plague so many sooner than they might want. Had a perfectly earnest moral and political stance actually been a convenient stalling tactic?
Well, who can say? Let's ask the 8-Ball.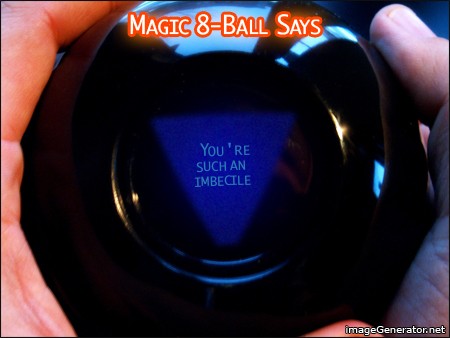 I like that thing Dunham does, just every once in while, where everything's all about her.