« If Hillary Clinton's Speaking Fee of $237,000 Is Too Much For You, You Can Hire Her Useless Failure-Puddle of a Daughter for $65,000
|
Main
|
Morning Thread »
June 30, 2015
Overnight Open Thread (6-30-2015) – Link-o-rama Edition
When Greece's finance minister, Yanis Varoufakis, in an early round of negotiations in Brussels, complained that Greek pensions could not be cut any further, he was reminded bluntly by his colleague from Lithuania that pensioners there have survived on far less. Lithuania, according to the most recent figures issued by Eurostat, the European statistics agency, spends 472 euros, about $598, per capita on pensions, less than a third of the 1,625 euros spent by Greece. Bulgaria spends just 257 euros. This data refers to 2012 and Greek pensions have since been cut, but they still remain higher than those in Bulgaria, Lithuania, Latvia, Croatia and nearly all other states in eastern, central and southeastern Europe.
And here Mark Steyn describes the onerous life of a Greek civil servant:
Greek public sector employees are entitled not only to 14 monthly paychecks per annum during their "working" lives, but also 14 monthly retirement checks per annum till death. Who's going to be around to pay for that?

So you can't borrow against the future because, in the crudest sense, you don't have one. Greeks in the public sector retire at 58, which sounds great. But, when ten grandparents have four grandchildren, who pays for you to spend the last third of your adult life loafing around?
In the 1950s, the most puritanical place in America was somewhere in Kansas. Today it is Los Angeles.

-- Richard Miniter
Blogger Glenn Reynolds noted that when the South was solidly Democratic, we got "Gone With the Wind" nostalgia. Now that it is profoundly less racist, but also less useful to Democrats, it's the enemy of all that is decent and good.

-- Jonah Goldberg
The F-35's ability to compete against other fighter aircraft in a close-in dogfight, even against the decades old designs it looks to replace, has always been a contentious issue. Long ago, the F-35's maneuverability was planned to far exceed that of fourth generation fighters. Over time, those claims eroded to the point where the troubled stealth jet is described as being "about as maneuverable as an F-16."
Also: The F-35 can now take off from a ski jump. So it has that going for it.
Moe Lane on the Pros and Cons of a Big Fat Greek Meltdown
Hard to argue effectively with that, although as I've noted earlier Greece is still an ally, which leads me to rather sentimentally not want it to collapse into some sort of Anarchy Free-Fire Zone. But, hey, elections have consequences. Greece has been making some very bad calls all throughout this crisis; not least of which was its inexplicable decision to hire Marxists to solve its economic problems. That's like hiring a radical Greenie to run your fission pile; he doesn't want to do the job, and even if he did he still doesn't know how. Hopefully the Greeks will wise up, soon. because the end result of that fission pile analogy would quite likely be a pile of corpses, and that is something that Commies are quite good at producing, alas.

What, you don't think that you can have a Third World collapse in Europe?  Why? It's not like there's some sort of Cause And Effect disruption field covering the continent.
Hillary Clinton to Fundraise with 'Anti-Christ'
Part of a pattern.
In 1975 the Clintons attended in a voodoo ceremony in Haiti. Hillary has also been known to communicate with the dead.
Well Of Course: The Same Attorney Who Was in Charge of Retrieving Lois Lerner's Emails, Now in Charge of State Department Emails
Ouch: Jimmy Carter Says Obama's Foreign Policy Accomplishments Are 'Minimal'
Does the New York Times Want Catholics to Burn Museums?
Religion in a Plain Brown Envelope
The Longest Running Racist Organization in History
United Church of Christ divests from Israel
How the DEA Robbed a Man of $44,000 at the JFK Airport
Nevertheless, the DEA took all of Do's money under the assumption that he's involved in the drug business, despite being more than willing to let him go without even a citation. Do had planned to take his money to California to help his financially-struggling siblings out, but ran into the DEA first.

Then there's this:

The Plaintiff did not know that it was a violation of Federal regulations to carry cash in excess of $5,000 at the time of the seizure.There's a good reason for not knowing this. There is no federal regulation prohibiting citizens from walking around (or boarding planes) with any amount of cash. Asset forfeiture laws make this practice unwise, but nothing in federal law says Do was forbidden from boarding a plane with his $44,000.
Note that not only was there no evidence of any connection with drugs but that DEA agents simply took the money without even issuing a citation or summons. This is Mexican Federales shit.
And then it got worse.
What's Really in a Pair of $250 Beats Headphones
One Possible Upside From Gay Marriage
In 1980, Ted Benna was fed up with the pension consultant business. Instead of looking for ways to help employees when they retired, employers were looking out for themselves and seeking tax deductions, while minimizing pensions.

...The 401-k was a page-and-a-quarter of the 1978 Tax Reform Act. It allowed companies to set up defined contribution plans in which employees put money in, invest it, and collect the money when they retire. No one envisioned what Benna did with the 401-k, and it is doubtful Congress intended it that way. Unions have come to oppose defined contribution plans. Perhaps because the 401-k makes it easier for workers to participate in capitalism.

He was working on refining the pension plan of Cheltenham National Bank of Philadelphia in 1980. He had gone into work on Saturday where he would not be distracted by colleagues and phone calls, he read the code and had a Eureka moment. He credits God for the discovery, and who am I to argue with him?

Benna's plan was brilliant, because it allowed pre-tax payroll deductions of the money, and allowed employers to match some of the investment to encourage hourly workers to save money for retirement by investing their savings in mutual funds. Because it was retirement money, this forced workers to think in the long term and not worry about day-to-day changes in the market.

But his plan was not in the law. Benna wrote it. None of that was in the 401-k legislation. Unsure of the legality of his plan, Cheltenham National Bank. He said, "My approach was that if the code doesn't say thou shalt not, then thou should be able to."

Johnson Cos., an insurance and finance company in Newtown, Pennsylvania, was the first to take the plunge. Benna received initial approval from the Internal Revenue Service, which later promulgated regulations enabling Benna's plan.

More than 30 years later, the 401-k is now a $4 trillion industry.
"A blast furnace that fits in a vest pocket."

-- Wilhelm Ostwald, winner of the 1909 Nobel Prize in Chemistry
Rosie O'Donnell could not be reached for comment.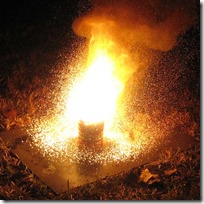 The WETA Effect, or, Why Special Effects Peaked in the 90's

The 1880 Gentleman's Surprise Chair
With hidden games, liquor, and pr0n.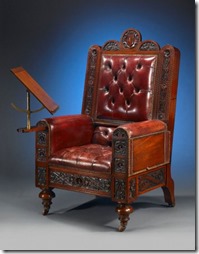 The Yahoo group is for closers only.
Teh Tweet!
Tonight's post brought to you by unsung heroes: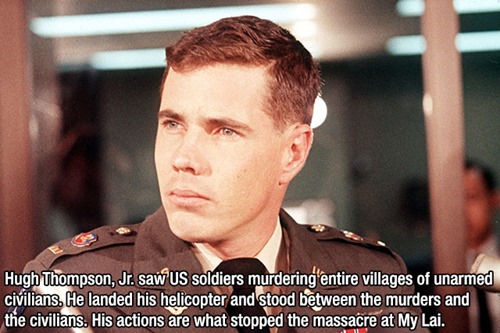 Notice: Posted by permission of AceCorp LLC. You can send tips to steaksatnoon@ewok.org. Your ad could be here.

posted by Maetenloch at
10:18 PM
|
Access Comments