« Open Thread for Politics and Misery [Y-not]
|
Main
|
Sunday Music/Open Thread [CBD] »
June 28, 2015
Weekend Thread: Stereotypes, First Impressions, and Lasting Impressions [Y-not]
I did some traveling last week to two states that I'd never visited before, Tennessee and Kentucky. (Most of my time was spent in Kentucky.) It was interesting to spend a couple of days in a "new" (to me) part of the country, particularly during the Confederate battle flag brouhaha. It got me thinking about the impressions we form of different parts of this country and how those impressions are formed.
In my own loosely thought out way, I categorize the qualities we ascribe to different regions of the country into three groups: stereotypes, first impressions, and lasting impressions. I think of stereotypes as strong impressions (occasionally negative, but not always) that are often formed on limited (and sometimes indirect) evidence. They're the things everyone "knows" but far fewer know from direct, protracted experience. For example, we all KNOW that Philadelphians are rude. Why? Because they attacked Santa! We also all KNOW that Californians are free spirits. Why? Because of Haight-Ashbury!
(I hope those two examples illustrate my point: stereotypes CAN be true, but very often are not true.)
About a year ago, an interesting study was published about stereotypes and how they are formed:
...our minds are hard-wired to categorize information and create mental shortcuts (attribute A is associated with behavior B). This helps us retain knowledge using minimal mental effort, and provides a needed sense of structure to an otherwise chaotic universe.

We take complex webs of information and, in the process of sharing what we've learned, create "a progressively simplified, highly structured, and easily learnable system" of stereotypes.

In doing so, however, nuances and complications tend to be discarded.

Often, the researchers write, stereotypes begin with a "kernel of truth" that subsequently gets inflated into a widely held truism regarding a group of people. But other times, they can spring up seemingly from nowhere.
Follow the link above to read more about the study.
Earlier this year, Voice of America published a piece on the stereotypes Americans apply to their fellow Americans. The results are based on a YouGov poll and are illustrated graphically below: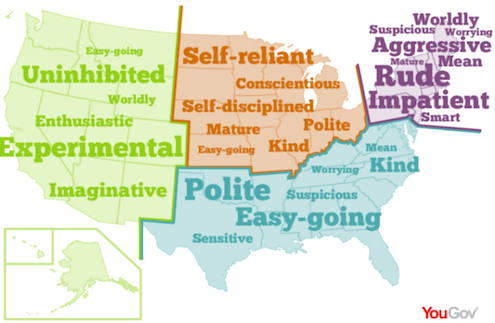 People who took the nationwide survey conducted by YouGov were shown a list of 20 adjectives and asked to identify which four words they most associated with a particular region. For survey purposes, the country was broken down into four regions.
Last Fall, Deep South Daily published the results of a similar survey -- in this case Brits were surveyed on their impressions of the U.S. Here are their results: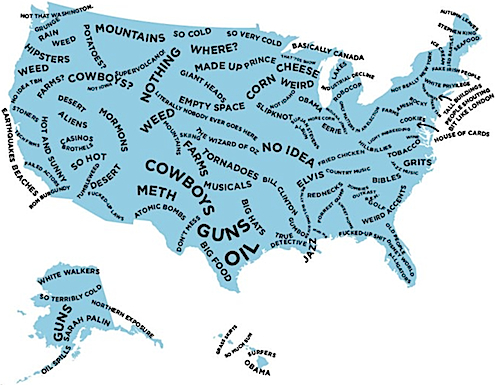 The results of British BuzzFeed's survey of British citizens concerning their impressions of U.S. states.
What do you think of these results? Do they fit with your experiences or pre-conceptions of different parts of the U.S.?
I have lived in a lot of different parts of the U.S. At last count, I've lived in nine different states (eight as an adult) thus far and in all four time zones. It's been an interesting process -- usually good, sometimes not-so-good (I'm looking at YOU, California!), but always an adventure.
Of the different places where I've lived, I'd say the one that surprised me the most (but probably shouldn't have) was Boston. Although Bostonians have a reputation as being unfriendly, I did not move to the area thinking that would be an issue. Why? I'm a friendly person and my parents, as well as my husband's family, are from Massachusetts. So although I was aware of the Boston stereotype, I discarded it figuring that it was wrong. I knew these people (I thought). I'd have no trouble.
Well, I was wrong in that case. When I moved to Boston from Chicago, I was frequently and routinely asked if I was from the Midwest (I'm not, actually) by shopkeepers and others I'd meet casually -- that's how much I stuck out for being TOO FRIENDLY. (If you haven't been to Massachusetts, the take home lesson is that the state is divided into threes: Boston, central Massachusetts, and the Berkshires. The people are quite dissimilar.)
My three-year "tour" of Boston went like this:
STEREOTYPE: "I've heard people in Boston are unfriendly, but I bet that's wrong!"
FIRST IMPRESSION: "The locals here sure seemed to be put off by how friendly I am. Why do they all think I'm from the Midwest?"
LASTING IMPRESSION: "People in Boston sure are unfriendly!"
*shrugs*
Last week as I was visiting Kentucky for the first time, I had only a very loosely formed idea of what to expect. I knew it would be greener than Utah and I assumed it would be more diverse, but somehow "Southern." (I don't really have a lot of experience with what I'd consider the True South, having only lived in Houston and Maryland. The latter is, believe it or not, considered to be The South by my Yankee mother-in-law!)
I formed a few first impressions about the state, all good. The biggest one was that it did not feel like the True South to me -- it really felt like a blend of the Midwest and the South. This makes sense in retrospect when you look at a map of Kentucky and learn a little about its history. The people I met during my time were polite, but not really "laid back" in the way that I tend to associate with the South. That said, I certainly was ma'am'd a lot!
I guess I may still be in search of the The South. Maybe the vaguely formed idea I have of it doesn't exist. And maybe the unfriendly Boston that I experienced in the early 90s no longer exists, too. Over the years I've learned to find good in every place I've lived (even California!) and to try to not rely on stereotypes too much as I travel throughout the U.S.
This brings me to one last map -- a travel route that takes you through all 48 contiguous states (plus D.C.), optimized to hit important landmarks in each place: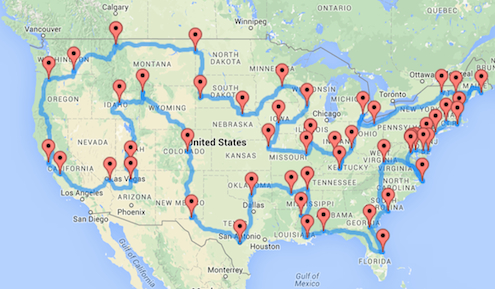 Michigan State University computer science graduate Randal S. Olson used his Where's Waldo algorithm to create the optimal map of a road trip across the United States that hits landmarks in all 48 contiguous states, plus a stop in Washington DC, and a bonus stop in California to bring it to an even 50.
It looks like the map takes you to Bryce Canyon in Utah. That is a dramatic place and a good choice for experiencing some of Utah's dramatic landscapes, but to learn about the people you probably need to go to Provo.
Tell us about where you live(d). Which stereotypes are true? What surprising thing about the people there would someone new to your state find? What one place typifies your state best? Is it the same place you'd send someone to learn about the people of your state?
Oh, and Southerners, where should I go to experience the True South?!

Open thread for travel and general chit-chat.

posted by Open Blogger at
10:55 AM
|
Access Comments