« Former Fake Republican Lincoln Chafee Announces His Intent to Embarrass Himself for President
|
Main
|
Morning Thread (6-4-2015) »
June 03, 2015
Overnight Open Thread (6-3-2015)
"When people get used to preferential treatment, equal treatment seems like discrimination."

-- Thomas Sowell
College Student Sentenced to Six Years in Prison For Helping a Friend, Cleaning Up His Room a Bit
Oh and did I mention that Dias Kadyrbayev, 21, was a friend of Dzhokhar Tsarnaev and not only didn't report him to the police when he realized he was involved in the bombing but also went to Dzhokhar's dorm room and removed evidence.
After serving his six years he'll be deported back to Kazakhstan.
Asian American Coalition Files Discrimination Complaint Against Harvard With the DOJ
Well good. It's clear that there's been a de facto Asian quota for admission spots for a while. And when universities talk about increasing diversity what they really mean is a certain kind of black and latino diversity.
Over the last two decades, Asian-American applicants to Harvard University and other Ivy League colleges have increasingly experienced discrimination in the admissions process. Many Asian-American students who have almost perfect SAT scores, top 1% GPAs, plus significant awards or leadership positions in various extracurricular activities have been rejected by Harvard University and other Ivy League Colleges while similarly situated applicants of other races have been admitted. Because of this discrimination, it has become especially difficult for high-performing male Asian-American students to gain admission to Harvard University and other Ivy League colleges. In recently years these trends have become more and more severe.
Also David French on What Ivy League Affirmative Action Really Looks Like - From the Inside
On the other hand Columbia University's masters program in statistics apparently didn't get the word: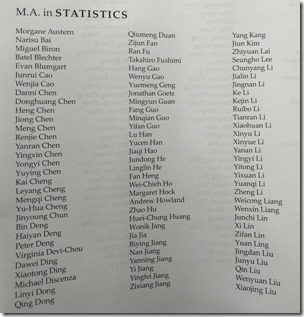 Also Wisconsin To Eliminate Tenure at State Universities?
Patterico vs. Ace on 'Using Their Tactics Against Them'
Patterico vs. Ace on 'Using Their Tactics Against Them' - Part 2
I like and respect Patterico but here I find his arguments and counterexamples unpersuasive. Especially in Bernie Sanders' case.
High School Cruises to Cuba For the Wealthy and Entitled
Since the embargo is still in effect I wonder how much money was given to the Clintons for a special state department dispensation.
Jon Bon Jovi's son partied like a rock star in Cuba - and his prep-school pal posted the photos to prove it.

Social-media shots appear to show Jesse Bongiovi and his best friend from the posh Poly Prep Country Day School in Brooklyn puffing away on stogies and soaking up the rays from rooftop patios overlooking the Caribbean - a trip in which the teens were plied with booze, cigars and a hooker on the Brooklyn school's dime, according to a lawsuit.

"First night in paradise #cuba," Sebastian Andersen wrote in a blurry Instagram post of him and best bud Bongiovi lighting up inside a restaurant during the December 2012 trip.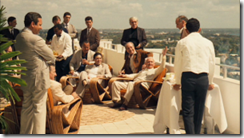 So Why Is Indiana Flatter When Hunting Deer?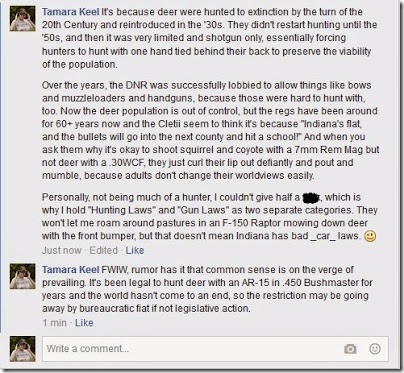 Is Your Poop Plain and Boring?
Vampire scat?
What Happens To Our Musical Taste As We Age?
New research from Spotify and Echo Nest reveals that people start off listening to chart-topping pop music and branch off into all kinds of territory in their teens and early 20s, before their musical tastes start to calcify and become more rigid by their mid-30s. "Men, it turns out, give up popular music much more quickly than women. Men and women have similar musical listening tendencies through their teens, but men start shunning mainstream artists much sooner than women and to a greater degree."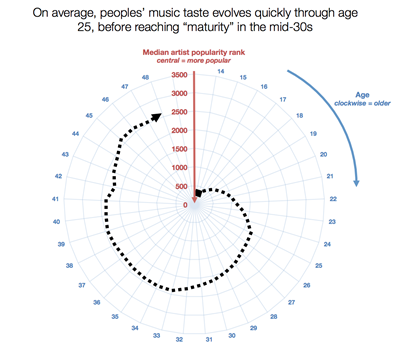 In The Beginning: The Bible's Adam and Eve Story As Re-Told By Sci-Fi TV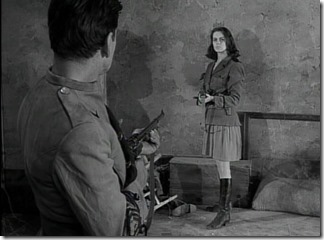 The Group knows your sins but doesn't care.
Tonight's post brought to you by Leica: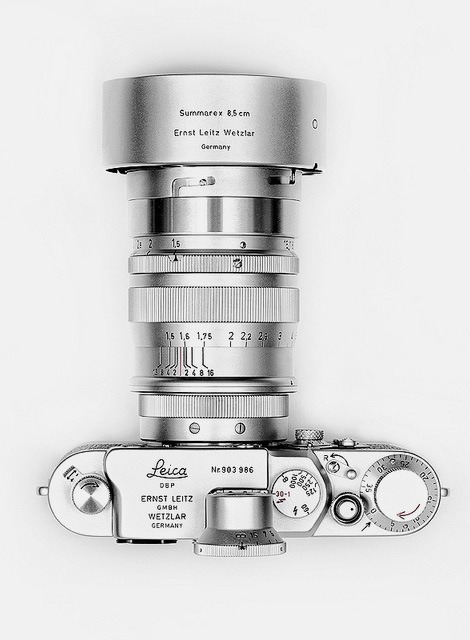 Notice: Posted by implicit permission of AceCorp LLC. Please e-mail overnight open thread tips to maetenloch at gmail. Otherwise send tips to 'Caitlyn'.

posted by Maetenloch at
10:34 PM
|
Access Comments