« So They're Remaking "Big Trouble In Little China," With Dwayne Johnson as Jack Burton
|
Main
|
Morning Thread (6-2-2015) »
June 01, 2015
Overnight Open Thread (6-1-2015)
Welcome to 2015: Moroccan Government Seeks to Distance Itself from Bill Clinton by Criticizing Provocative Jennifer Lopez Performance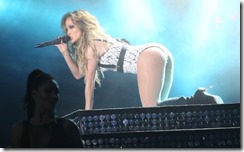 Obama Administration Moving Forward With New Gun Regulations
No one knows all the details yet but rumors are that the new rules may include expanding the set of domestic violence-related offenses that result in loss of gun rights, something similar for mental health treatments, restriction of pistols in rifle calibers (goodbye AR-15 pistols), changes to NFA trusts, along with dozens of other rules designed to make law abiding gun owners' lives miserable.
Sigh: Rand Paul Digs Even Deeper
During debate over renewing the Patriot Act:
People here in town think I'm making a huge mistake. Some of them, I think, secretly want there to be an attack on the United States so they can blame it on me.
Takeaways: 1) It's all about Rand, 2) There can be no legitimate disagreements over the pros and cons of the Patriot Act, and 3) If you do disagree with him on this, you're probably a bloodthirsty, spiteful f*ck.
And yeah, yeah because I'm calling out Rand it can only because I'm in thrall to Lindsey Graham and his ilk. Nope. But I will say this for ole Lindsey - he generally manages to say foolish things in public without also attributing vile motives to those who disagree with him. Update: Um well apart from that whole making-the-bigots-shut-up thing back in 2006 as commenters have reminded me. Oof and that was one of the original reasons that I came to loathe Lindsey. Now moving my chit to a pox on both their houses/obligatory deathmatch.
Infighting Among Feminists Over Whether They Should Move on From Mattress Girl And Focus on the Victims of Boko Haram
Advantage: White, affluent, college girls.
Mark Steyn on the Next Coming Leftist Crusade: Removing Gender From Birth Certificates and Other Official Documents
Including North America's most litigious 12 year-old uh, person who currently identifies as a girl.
Nine intersex and transgender people along with the Trans Alliance Society have filed a complaint with the B.C. Human Rights Tribunal to remove gender from birth certificates.

Morgane Oger, society chair and a trans woman, said by removing the gender markers off birth certificates, intersex, trans and gender non-conforming residents will no longer be born into discrimination.

"We're trying to get it so that if you want to find out somebody's gender, you ask them and you can ask them to declare it," she said.

"You can ask them to have some sort of process to talk about who they are, but you don't tell them to come up with a document based on a two-second inspection at birth."
CBS's Bob Schieffer Signs Off, Artfully Lies to Howard Kurtz in Exit Interview
Bias? Never heard of it.
So Whatever Happened to the 'Population Bomb'?
Also see PJ O'Rourke's take on the population explosion crowd here: Just Enough of Me, Way Too Much of You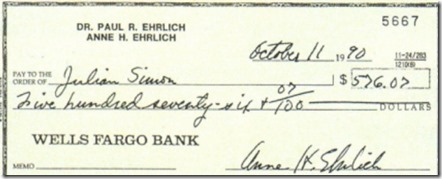 UK NHS to Patients: You Know For 14,000 Pounds You Can Get Your Free  Knee/Hip Replacement Now Instead of a Year From Now
But don't you dare call it a two-tiered non-quite-free health care system. It's not that I mind them having a two-tier system where those who pay can go to the head of the line - but rather it's the fact that this is really not that far off from what we have with Medicaid vs. private insurance or cash and I'm rather sick of being lectured by Brits on how awful and inhumane the US healthcare system is.
Remembering Hedy Lamarr's Contribution to the War
Between them, they had an idea. Allied subs, it seems, were wasting torpedoes. Ocean currents and evasive action worked against them. Lamarr and Antheil meant to do something about that. Lamarr, just 26, had been only a girl when she'd listened to her husband talking about torpedoes. She might have looked like pretty wallpaper, but she'd been a quick pupil. And Antheil had done ingenious early work with the technology of modern music.

The solution, they reasoned, was a radio-controlled torpedo. But it would be easy for the enemy to jam a radio-control signal. So they cooked up something called "frequency-hopping." The trick was to set up a sequencer that would rapidly jump both the control signal and its receiver through 88 random frequencies. They patented the system and gave it to the Navy.

The Navy actually did put the system to use, but not in WW-II. Sylvania engineers reinvented it in 1957. The Navy first used frequency-hopping during the 1962 blockade of Cuba. That was three years after the Lamarr/Antheil patent had expired.
Having read the patent I'd say it's a mix of the clever along with the rudimentary. It's designed to be hard to jam and even includes the use of fake control channels so the enemy would have a hard time spoofing commands to the torpedo. But to make it really work and be both robust and secure would have required some digital logic which was not readily available at that time. More here on why her invention was never used by the Navy during the war.
I think you'd be hard pressed to come up with any contemporary movie stars who would be capable of a technical innovation like this and have also the wherewithal to patent it and then give the patent away to the military. About the only ones I could even think of would be maybe Geena Davis and Kevin Costner who seem like substantial people apart from their movie careers.
Suggestions from the comments: James Woods, Peter Weller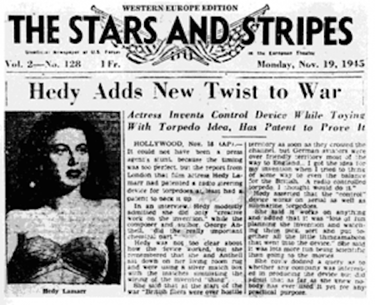 'Silicon Valley': HBO's Most Subversively Conservative Show
Okay I've heard enough good things about this show that I'm finally adding it to my watchlist. For the record it was the contraband ferret and the porn website product pitch scenes that pushed me over the edge. No spoilers - I haven't watched any episodes yet.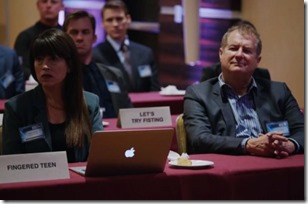 Did You Know That United Airlines Had Men-Only Flights Until 1970?
With steaks, cocktails, cigarettes, pipes and cigars, along with the internet of the day.
From 1953 through 1970, United offered men-only 'Executive flights' between New York and Chicago and between Los Angeles and San Francisco.

These flights were operated by DC-6B aircraft and later Caravelles. Flights mostly operated at 5pm in each direction between the two cities(generally six days a week excluding Saturdays). They didn't just ban women, but children also, and flight attendants catered to these business flights with special meals and offered complimentary cigars.

They offered 'last minute message service' (to make a call on behalf of the passenger back to the office) and the flights also had a teletype business news update with closing market prices. This was co-branded with the Wall Street Journal at one point.

I believe the New York - Chicago flights operated between LaGuardia and Midway until around 1961. That's when they switched to the Caravelle and flew from Idlewild (now JFK) to O'Hare, at the time that scheduled air service was in the process of transitioning away from Midway. On the New York side the Executive flight was later moved to Newark.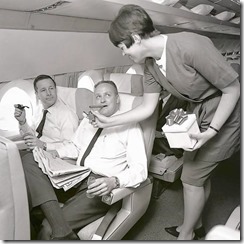 The Yahoo AoSHQ group - it's got electrolytes and shit.
And my twitter thang.
Tonight's post brought to you by Skynet in the bathroom: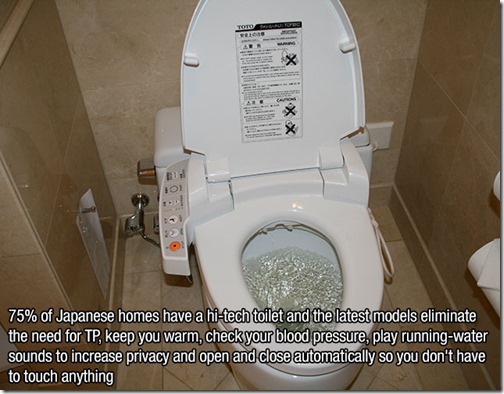 Notice: Posted with permission of AceCorp LLC. Please e-mail overnight open thread tips to that place. Otherwise send tips to the other one. Negative I am a meat popsicle-American.

posted by Maetenloch at
11:07 PM
|
Access Comments