« Relationship Expert: The GOP Is Doomed As a Party, Should Seek Divorce
|
Main
|
So They're Remaking "Big Trouble In Little China," With Dwayne Johnson as Jack Burton »
June 01, 2015
The Beginning of the End of PC Militancy?
So David French suggests in his headline.
Laura Kipnis, a leftist feminist, wrote an article which questioned colleges' bans on professor-student dating. Or, well, just professor-student hook-ups. But more importantly than that issue was her general criticism of militant Snowflake Feminism -- the endless stridency, demands for safe spaces, demands to be insulated from upset and disagreement, etc.
The Militant Feminists demanded that her college officially censure her over that article. To pressure the school into doing so, the militants began protesting Kipnis at home, carrying mattresses on their heads, as a reference to Emma "Mattress Girl" Sulkowicz, and implying that Kipnis was herself either a rapist or pro-rape.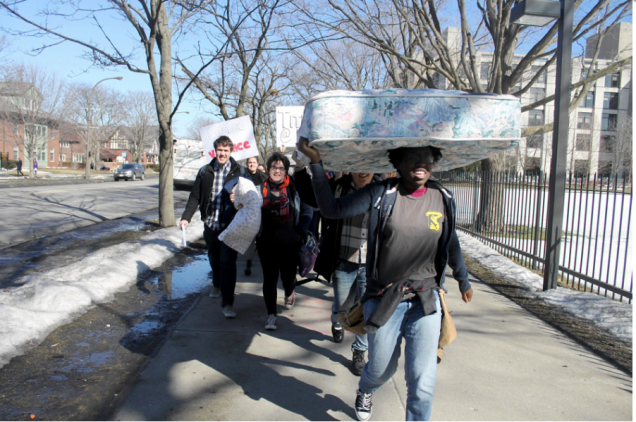 What we lack in judgment we make up for in slavish imitation
The militants escalated still further: Kipnis soon found herself the target of a vague Title IX investigation.
Things seemed less amusing when I received an email from my university's Title IX coordinator informing me that two students had filed Title IX complaints against me on the basis of the essay and "subsequent public statements" (which turned out to be a tweet), and that the university would retain an outside investigator to handle the complaints.

I stared at the email, which was under-explanatory in the extreme.
I was being charged with retaliation, it said, though it failed to
explain how an essay that mentioned no one by name could be
construed as retaliatory, or how a publication fell under the
province of Title IX, which, as I understood it, dealt with sexual
misconduct and gender discrimination....


I should pause to explain that my essay included two paragraphs
about a then-ongoing situation on my campus involving a
professor who was himself the subject of two sexual-harassment
investigations involving two students. This professor subsequently
sued university officials and one of the students for defamation,
among other things. The charges had occasioned a flurry of back-and-forth
lawsuits, all part of the public record, which had been
my source for the two paragraphs. My point in citing this legal
morass was that students' expanding sense of vulnerability, and
new campus policies that fostered it, was actually impeding their
educations as well as their chances of faring well in postcollegiate
life, where a certain amount of resilience is required of us all....


I wrote back to the Title IX coordinator asking for clarification:
When would I learn the specifics of these complaints, which, I
pointed out, appeared to violate my academic freedom? And what
about my rights -- was I entitled to a lawyer? I received a polite
response with a link to another website. No, I could not have an
attorney present during the investigation, unless I'd been charged
with sexual violence. I was, however, allowed to have a "support
person" from the university community there, though that person
couldn't speak. I wouldn't be informed about the substance of the
complaints until I met with the investigators.

Apparently the idea was that they'd tell me the charges, and then,
while I was collecting my wits, interrogate me about them. The
term "kangaroo court' came to mind. I wrote to ask for the charges
in writing. The coordinator wrote back thanking me for my
thoughtful questions.

What I very much wanted to know, though there was apparently
no way of finding it out, was whether this was the first instance of
Title IX charges filed over a publication. Was this a test case? From
my vantage point, it seemed to pit a federally mandated program
against my constitutional rights, though I admit my understanding
of those rights was vague.
You can read the rest if you like. It describes a Kafkaesue system of fake college justice, in which she is forbidden to know the actual charges against her -- they tell her first they'll interrogate her, and then, after the interrogation and further investigation, she may be told the charges.
Ultimately, she was cleared, but not after being investigated and interrogated over writing an article which sexually harassed feminists by disagreeing with them.
One of the two complainants claimed that Kipnis had "misrepresented" her in her article -- apparently it was determined that Kipnis had not. How this is even a Title IX concern is quite beyond me -- if this woman thought Kipnis misrepresented her, she should have sued for defamation.
She should have been told that from the jump, not indulged with hundreds of hours of billable hours of investigation into someone she was feeling snitty towards.
The other one of the people filing against Kipnis -- for writing an article, remember -- did not claim any particular wrong done to her, but feared that Kipnis' article would have a "chilling effect" on women who wanted to come forward and complain about sexual harassment.
So, she set in motion an investigation under Title IX sections having to do with sexual harassment. Just to show that it's crazy to suggest that any sexual harassment complaints are ever frivolous and vindictive, I guess.
Even Jezebel -- sort of the Nazi High Command of the Tumblrinas -- has a problem with this.
The Title IX creep that's happening to Kipnis doesn't just stop with her. Kipnis was allowed to bring a 'support person' , who was not allowed to speak, to her meeting with the Title IX investigators. A Title IX complaint was then filed against the support person. Certainly, such blithe use of a provision to expand the sphere of victimhood seems counter productive to the goal of protecting those who were directly victimized by sexual misconduct or discrimination.

For the rest of the insane and increasingly paradoxical twists to Kipnis' ordeal (which is still ongoing), including the Title IX investigators asking Kipnis if she would like to file her own retaliation claim against the students, read her dispatch here. It is a stunning example of feminism devouring itself.
First the Monarchists were fed to the Guillotine, when the Jacobins convinced the Constitutionalists that it was all for the best.
Then the Constitutionalists were fed to the Guillotine, when Jacobins convinced the Girondists it was all for the best.
Then the Girondists were fed to the Guillotine, when the Jacobins convinced themselves it was all for the best.
Ultimately, people got wise and realized that feeding the Jacobins to the Guillotine was for the best, and finally, it really was.


posted by Ace at
06:21 PM
|
Access Comments