« Archive of the Saturday Gardening Thread [Y-not]
|
Main
|
End Income Inequality In America: Cut Media CEO Compensation [CBD] »
May 30, 2015
Saturday Gardening Thread: Texas-sized Fun [Y-not, KT, and Weirddave]
Y-not:
Good afternoon, gardening morons and moronettes!
This week's gardening thread is brought to you by Spring flowers: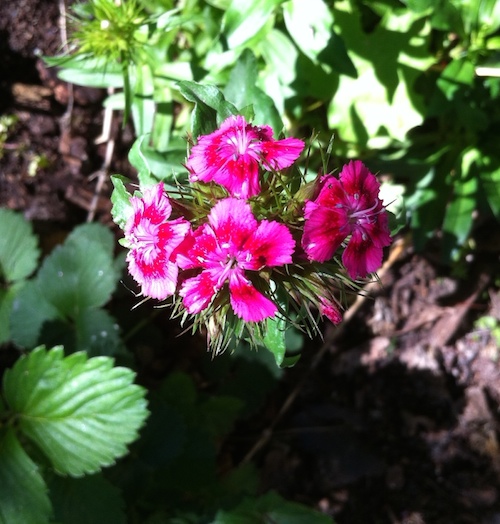 Last weekend we had a request for an archive of the Saturday Gardening Threads. Although the sidebar provides links to HQ archives by month, that's not much help if you are looking for a specific thread and don't happen to remember the date!
It took some work, but I've assembled a Gardening Thread Archive by hand. That's right, your lowly cob spent last week doing the work that even illegal aliens don't want to do!
Here's a link to the Gardening Thread Archives. I will update it from time to time, but bookmark it for future reference.
KT was inspired by all of the news out of Texas (and Oklahoma), so her contribution this week will feature two plants generally associated with the Lone Star state: tumbleweeds and roses (perhaps yellow ones, let's find out!).
To kick things off, how about a song?
Take it away, KT:
Texas has been on my mind, with the flooding there and in Oklahoma. In last week's comments, there were several nice reports from gardens in Texas and nearby states. I hope the weather hasn't done too much damage to gardens belonging to members of The Horde.
I have personal ties to people in Oklahoma, but the news seems to have been mostly focused on Texas this week. Oklahoma deserves its own week. So I am writing about tumbleweed, which reminds me of Texas. I also want to recognize the Texas Rose Rustlers.
To get you in the mood to read about tumbleweed, Marty Robbins, NASCAR driver, sings Tumbling Tumbleweeds: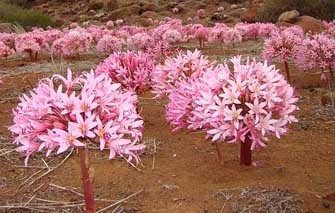 Wait! The plants above are South African tumbleweeds. Sorry. I think they would grow outdoors in parts of Texas, though. According to Dave's Garden, Brunsvigia bosmaniae can also be grown indoors. Scroll down to the Gardener's Notes to learn more about the beautiful photos on the Dave's Garden page, which show these plants in their native habitat.
There are apparently several plant families with species that use the "tumbleweed" model of seed dispersal. Brunsvigia bosmaniae is related to Amaryllis belladonna, and it shows. This Amaryllis (Naked Ladies) also grows most readily from fresh seed. I have grown some. You can see tiny green leaves inside the translucent seeds even before you plant them. Some species of plants that are adapted to grow from seeds this fresh will not grow from old seeds. Others will, but germination may be erratic.
Both the Amaryllis and the Brunsvigia come from dry-summer climates where they produce flowers in the fall, before their leaves start to grow. Many people plant dwarf, evergreen Agapathus in front of Naked Ladies to disguise their leaflessness - at least where Agapanthus is hardy.
Brunsvigia bosmaniae may grow leaves and flowers at the same time when it gets summer water. Some plant specialists are more fascinated by the leaves, which lie prostrate on the ground, than by the flowers. But I like the flowers. Below, a flower head just opening: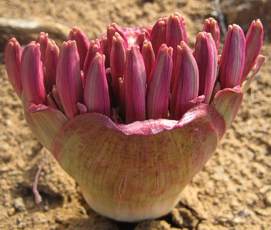 Tumbleweeds inspire some unusual art, and a few inventions with some potential practical uses - like minesweeping. Tumbleweed Rovers are being tested by NASA for possible use in a trip to Mars.
But enough distractions - on to Texas-style tumbleweed.
This week, I removed some young tumbleweed plants (and toritos, but that's another story) from the side of our neighbor's driveway, where some of our Garden Kitties hang out. Four of the kitties were born in the neighbor's yard and were brought to our house to eat when their mother thought they were old enough to handle solid food. Our neighbors don't spend much time outdoors. Spooky Mama is shy and preferred to raise her kittens by herself, mostly.
The tumbleweeds were fairly easy to pull out because the leaves were not too sharp yet, and because the ground still had a little moisture in it. It will be a different story for the remaining plants in their yard in a week or so. It is getting hot now.
I expect that it will be a banner year for tumbleweed in Texas and in several other states. The earlier any plants in your yard are tackled, the better. If you pull them when they are really young, you may be able to eat the tender stem tips. Tumbleweed is related to spinach and beets.
One close relative of tumbleweed, Agretti, is a trendy vegetable in Italy and is now showing up in foodie circles in the USA, too. Seed must be sown when fresh. There is a savory ricotta and agretti pie recipe from Modern Beet. Feel free to substitute young tumbleweed stem tips.
Another close relative, Okahijiki, or "Land Seaweed" grows in salt marshes in Japan. I have seeds, but have never planted them. Maybe I should. You can buy seeds from Pinetree, Johnnys, Nichols, Evergreen or Kitazawa.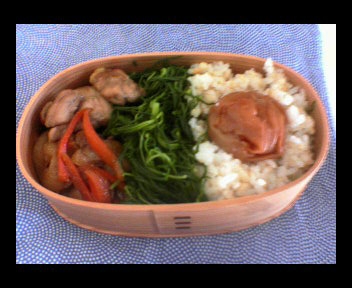 Chicken Garlic Saute and Okahijiki
If you want to substitute tumbleweed for the veggies above, the Eat the Weeds guy recommends that you check with a local expert if you are not sure which species of tumbleweed you have. If you are confident that you have regular tumbleweed, he recommends eating it raw or, even better, cooked. I tasted some raw tumbleweed this week, and it had a nice, mild flavor. His summary page on tumbleweed is full of interesting information. A sample of the information for gardeners and farmers:
Young plants make good fodder and it grows well in low-water areas. In fact, when dry Salsola is a good source of fuel. It also has been used to make soap since Biblical times. Salsola soap can still be purchased around the Mediterranean.
Now some warnings: The plant, a relative of the Chenopodium, can contain as much as 5% oxalic acid thus folks who are sensitive to oxalic acid should avoid the genus. It is also a severe allergen for some people. And if you eat it when it is too old the shape of the leaves -- fat and pointed -- will irritate your throat. Lastly, Salsola kali is a host plant of the Sugar Beet Leafhopper. This insect carries curly-top virus, a disease affecting sugar beets, tomatoes, and beans. This puts it on the farmers' hit list.
This pestiferous, if often tasty, weed is associated with the Old West, but it is originally from the Ural mountains in Russia. It first became established in South Dakota. It moved quickly across the country with the railroads. It can grow on salty roadsides in the North or it can fill large swaths of land in Southwestern deserts. It can be a fire hazard.
Many people have unfortunate encounters with tumbleweed on the road. To help maintain peace with the neighbors, I recommend getting it out of your yard. There is enough tumbleweed out by the highway for most people in the "Old West", and in a lot of other places, too.
"Two years ago, driving down a lonesome highway towards Amarillo, I ran over a baby tumbleweed..."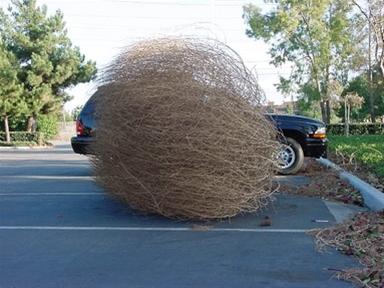 Vengeful parent tumbleweed?
There are a few uses for mature tumbleweed, though. In addition to using it as fuel for fires or selling it on eBay, you can make it into snowmen. I am afraid that Albuquerque, New Mexico has beaten out Texas towns in building the largest tumbleweed snowmen. But they have helpfully posted photos showing potential competitors how to build one.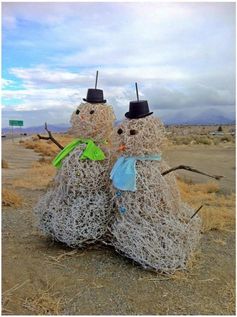 I wasn't kidding. People buy tumbleweed.
Most people who think of roses and Texas probably think of The Yellow Rose of Texas. The original Yellow Rose seems to have been a pretty woman of African/European heritage. By the time Mitch Miller's arrangement topped the charts, all racial references were gone. Miller's version was featured in the motion picture Giant, and hit #1 on the U.S. pop chart the same week Giant star James Dean died. James Dean was killed in his Porsche Spyder in the dry, hilly country near Cholame, between our house and Paso Robles.
Stan Freberg did a version of The Yellow Rose of Texas, too. Used the same drummer featured in Mitch Miller's hit. Heh.
The plant most often associated with this song is Harison's Yellow, a tough, thorny old pioneer rose that blooms once a year.
The Yellow Rose of Texas?
The first Texas Rose Rustlers lived in a part of Texas where growing the typical Hybrid Tea rose is something of a challenge. They sought out cuttings from roses at old pioneer cemeteries and homesteads. "If dead people can grow roses, anyone can."
They saved some historic roses that were on the brink of extinction. Eventually, they even caught the attention of the New York Times. I have tried their technique of placing plant cuttings in "willow water" to enhance the probability that the cuttings will take root. I pounded the willow stems lightly to loosen the bark.
Nowadays, the Rose Rustlers mostly exchange cuttings instead of "rustling" roses, but I think they have some fun, too.
Personal Gardening Notes
Our last, experimental cool-season crops
On Memorial Day, I picked the last of our cool-season crops, a few turnips (Hakurei) and kohlrabis that I started in late winter as an experiment. Quality was not up to fall-planted veggies of the same cultivars. The turnips were stringy and the kohlrabi lacked flavor. Neither had a strong cabbage flavor, though.
First Tomatoes of the season
Our first tomato this year was a Sungold cherry. We have since picked several Sungold, Gardeners Delight and Tomatoberry Garden fruits. I like Sungold the best of all small cherries and Tomatoberry Garden is my current favorite large cherry. "Large Red Cherry", a genuine heirloom, hasn't ripened fruit yet.
The day after Memorial Day, Mr. Bar-the-Door jumped the gun a little and picked two Cosmonaut Volkov tomatoes a little early. It is hard to tell when this cultivar is ripe because it is green-shouldered. For some people, it ripens in midseason rather than early.
We let them sit for a couple of days before eating them. They were great, especially with a touch of salt. Soft texture like many old heirlooms, easy to peel without blanching. Great flavor.
There were two cosmonauts named "Volkov", one from Ukraine and one from Russia. I believe that this tomato was named after the Russian one, who died in a space-related accident.
Our next "big" (medium-sized) tomato was a Sweet Tangerine Hybrid. It is determinate and productive. Early for a non-red tomato. Beautiful golden-orange color. It is tasty and peels easily.
There is a Jetsetter Hybrid on deck and a few other tomatoes that will be ripe soon.
Golden Girl and Gary'O Sena don't look happy, assuming they are labeled correctly. Golden Girl did very well for me last year. Gary'O Sena is not particularly heat tolerant, but the tomatoes have been nice when I have grown this cultivar in the past. Gardening is kind of a gamble sometimes. Hope your gamble is paying off.
OK, now let's see what Weirddave has for us. Wait, what's this on the AoS garden shed?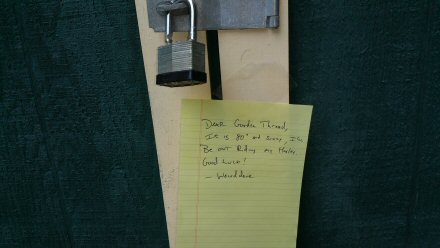 Well isn't that just a kick in the teeth?
Y-not: To wrap things up, here's a fun rendition of the San Antonio Rose:



San Antonio Rose-Asleep at the Wheel with Johnny Gimble & Herb Remington of the Bob Wills' Texas Playboys... "San Antonio Rose" was the signature song of Bob Wills and His Texas Playboys. was a song written by Bob Wills, who first recorded it with the Playboys in 1938. The Rolling Stones performed this song live in Austin, Texas at Zilker Park for their DVD The Biggest Bang. In a 1968 issue of Guitar Player, rock guitarist Jimi Hendrix said of Wills and the Playboys: "I dig them. The Grand Ole Opry used to come on, and I used to watch that. They used to have some pretty heavy cats, some heavy guitar players." Fats Domino once remarked that he patterned his 1960 rhythm section after that of Bob Wills

What's happening in your gardens this week?

posted by Open Blogger at
01:30 PM
|
Access Comments