« Obama Commemorates the American War Dead By Scarfing Down Some Sweet Sweet Ice Cream
|
Main
|
Morning Thread (5-26-2015) »
May 25, 2015
Overnight Open Thread (5-25-2015) – Memorial Day Edition
If you are able...

Save for them a place inside of you, and save one backward glance when you are leaving for the places they can no longer go.

Be not ashamed to say you loved them, though you may or may not have always.

Take what they have left with their dying and keep it with your own.

And in that time when men decide and feel safe to call the war insane, take one moment to embrace those gentle heroes you left behind.

-- Major Michael O'Donnell, Dak To, RVN, 1 January 1970

[Killed on March 30, 1970 while piloting a helicopter in Cambodia, remains recovered in 2001 and interred in Arlington National Cemetery]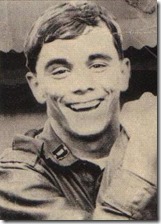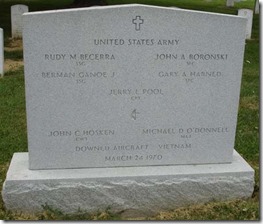 Here the recording shows a number of Iraqi police, some of whom had fired their AKs, now scattering like the normal and rational men they were, some running right past the Marines, who had three seconds left to live. For about two seconds more, the recording shows the Marines firing their weapons nonstop. The truck's windshield explodes into shards of glass as their rounds take it apart and tear into the body of the son of a bitch trying to get past them to kill their brothers - American and Iraqi - bedded down in the barracks, totally unaware that their lives at that moment depended entirely on two Marines standing their ground. Yale and Haerter never hesitated. By all reports and by the recording, they never stepped back. They never even shifted their weight. With their feet spread shoulder-width apart, they leaned into the danger, firing as fast as they could. They had only one second left to live, and I think they knew. The truck explodes. The camera goes blank. Two young men go to their God. Six seconds. Not enough time to think about their families, their country, their flag, or about their lives or their deaths, but more than enough time for two very brave young men to do their duty.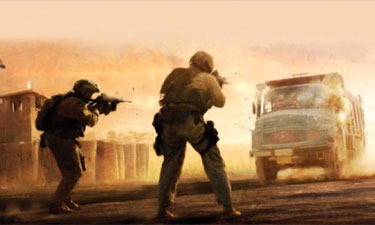 Remembering Melvin Garten, America's Most Decorated Soldier
Garten died a few weeks ago at age 97 and when he retired from active service he was the most decorated member of the US Army. After his death the New York Times ran obits of a trumpeter, food blogger, actress, golfer gratis but required his family to pay for a death notice. On the other hand the Village Voice ran a very nice article honoring his lifetime of service. He earned a CIB in three different wars among many other awards before a VietCong mine took his leg.
Upon graduation from CCNY, he joined the Army and became a paratrooper. He then married his girlfriend, Ruth Engelman of the Bronx, in November 1942. She was a war bride. Everyone said the marriage wouldn't last, and they were right because the marriage ended on January 9, 2013 -- the day she died.

Melvin went off to the Pacific Theater of the war, where he participated in what can only be described as an audacious airborne raid of Los Banos in 1945, rescuing more than 2,000 U.S. and Allied civilians from a Japanese prison camp. He was a highly decorated soldier, earning the Silver Star, the Bronze Star, a Presidential Unit Citation and the Purple Heart with three Oak Leak Clusters for his wounds in battle. He was tough and handsome and courageous.

...At dawn on Sunday, June 25, 1950, with the permission of Stalin, the North Koreans crossed the 38th parallel behind artillery fire. Melvin was back in combat. Captain Garten proved his mettle again as commander of Company K, 3rd Battalion, 31st Infantry Regiment, 7th Infantry Division. President Eisenhower would award him the Distinguished Service Cross: "Captain Garten distinguished himself by extraordinary heroism in action against enemy aggressor forces near Surang-ni, Korea, on 30 October 1952. On that date, observing that assault elements of Companies F and G were pinned down by withering fire on a dominant hill feature, Captain Garten voluntarily proceeded alone up the rugged slope and, reaching the besieged troops, found that key personnel had been wounded and the unit was without command. Dominating the critical situation through sheer force of his heroic example, he rallied approximately eight men, assigned four light machine guns, distributed grenades and, employing the principle of fire and maneuver, stormed enemy trenches and bunkers with such tenacity that the foe was completely routed and the objective secured. Quickly readying defensive positions against imminent counterattack he directed and coordinated a holding action until reinforcements arrived. Major Garten's inspirational leadership, unflinching courage under fire and valorous actions reflect the highest credit upon himself and are in keeping with the cherished traditions of the military service."
Their sons were in their teens when the Vietnam War erupted. Melvin would earn his Combat Infantry Badge for the third time -- perfect attendance as those men of that distinction of serving in those three wars called their service. The Army put him in command of the 2nd Battalion, 237th Infantry in 1968 and he reinvigorated the unit, calling it the No Slack battalion. Just as he almost completed the turnaround, his jeep ran over a Vietcong mine, sending shrapnel to his leg and to his head. Another war, another Purple Heart, only this time it cost him his leg. The military sent him to Walter Reed to recuperate.

Ruth went alone, shielding her sons from the news, as they were in college. She wanted to see how he was. Melvin was in horrible condition. His head wound was more serious than their sons would realize. For nearly a year, he worked to recover from the explosion. Melvin wanted to remain on active duty as a one-legged paratrooper. She supported his decision. They had to appear before a medical board. Ruth told the Oregonian, "When I got there, they wanted to know only one thing. 'Was he as difficult a man before was wounded as he is now?' one board member asked. 'No difference,' I answered. And he passed."

His assignment was as post commander of Fort Bragg, North Carolina, home of the Airborne and Special Operational Forces, a nod to his sterling and exemplary service under fire. She relished the role of the post commander's wife, visiting with the Army wives each day, for a talk and drinks. As the colonel's wife, Ruth treated them as her daughters and also as her peers, dispensing advice and encouragement, one Army wife to another.

The first part of their marriage was about to end. He would retire as the most decorated man in the Army at the time with the Distinguished Service Cross, four Silver Stars, five Bronze Stars, five Purple Hearts, two Legion of Merits, two Joint Service Commendations, a Combat Infantry Badge for each of three wars, and a Master Parachutist Badge with two combat jump stars. Melvin paid dearly for those awards, but so did Ruth. She was one of the few women to receive five telegrams over the years informing her that her husband was wounded in combat.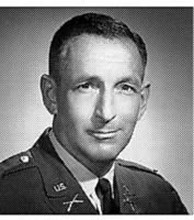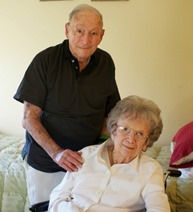 Remembering the "Forgotten War"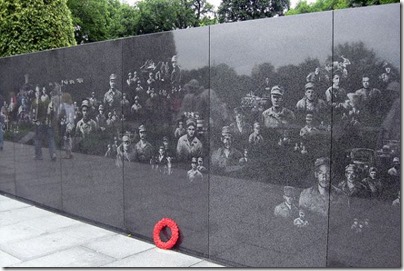 'You will hold your present position at all costs to the last man and last round. This is essential in order that a vitally important operation can take place.'
Remembering the rear guard of the Dunkirk evacuation who fought and died almost 75 years ago to the day for the most valuable thing in the world at that moment: a bit of time for others to escape to fight again another day. The best they could possibly hope for was to spend years as POWs. They succeeded in their mission.
But the real heroes of Dunkirk were the British and French soldiers who took up positions to protect the port and the thousands of troops awaiting evacuation.  Theirs was a thankless task; running short on food, ammunition and medical supplies, they were supposed to hold off the advancing Germans as long as possible, facing almost certain death or capture at the end of their mission.  General Alan Brooke was ordered to mount a holding action with the 3rd, 4th, 5th and 50th divisions along the Ypres-Comines Canal while the rest of the BEF retired towards Dunkirk; General Ronald Adam, the III Corps Commander, was put in charge of establishing perimeter defenses around the port.

Between 27 May and 1 June, the men of the BEF rear guard, mounted a determined defense, slowing the German advance (which resumed on the 26th).  Their valiant stand allowed the bulk of British forces to make their way to Dunkirk, where they were evacuated by the Royal Navy.  While many historical accounts focus on the small boats ferrying soldiers from the beaches, most of the troops departed via the sea walls (or "moles" ) that protected the harbor, since Dunkirk's damaged docks could no longer handle ships.  Under the direction of Royal Navy Captain (later Vice Admiral) Bill Tennant, the evacuation quickly gathered steam; at its peak, on 31 May, just over 68,000 soldiers were rescued from the sea walls and the beaches on a single day.

Further inland, between 30-40,000 British troops, along with a larger French contingent, fought desperately to stem the German tide, buying more time for their comrades to escape.  While a few members of the rear guard were able to reach Dunkirk (and make their way onto one of the final evacuation ships), most were forced to surrender.  Near the village of Le Paradis, in the Pas-de-Calais region, member of the 3rd SS Division Totenkopf massacred 97 British POWs from the Royal Norfolk Regiment.  Most of the BEF troops who surrendered were transported to detention camps in Poland where they would remain for the next four years.  Unfortunately, their suffering was not over; in the winter of 1944-45, with Russian forces advancing from the east, thousands of British and French POWs were forced-marched to other prison camps in Germany.  Hundreds more died from disease and exhaustion in the bitter cold.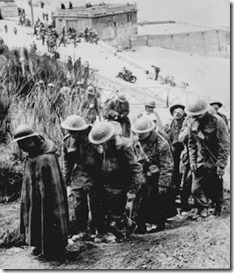 A Veteran of WWI Speaks of His Experiences
From an interview with William J. Lake in October 2003 when Lake was 107. He died the following year. He was a private in the U.S. Army's 91st ("Wild West") Division and served in  a machine gun crew.
"How did you cope with that?"

"Well, it kind of bothered me at first, but I got used to it-well, as near used to it as I'd ever get, because you'd hear bullets hitting off, zipping all around ."

"What would you do when bullets were zipping around? Would you hit the ground, or would you just keep on your way?"

"No," he said, "I just kept going."

"So you really just had to be very lucky?" I posited.

"That's right," he said. "Very lucky, that's true." One night, he told me, "a piece of shrapnel just missed my left arm," while another one tore through his coat-tail, he said, "about two inches from my back." If it had hit him, he reckoned, "I'd have been gone . that's how close I come to getting it." The following night-"I was just standing there," he explained, "waiting for something, I guess, I don't remember what it was" - he had a close encounter with a German bullet. "It was either machine gun or rifle," he told me. "Whichever it was, I don't know, I couldn't tell you. But it hit the heel on my shoe." And tore it off. He got off a few shots himself-some at a low-flying German aeroplane, others at an enemy gunner-but he didn't believe he'd hit either.

Another time, he recalled, "I got a little gas" - that is, mustard gas, not the kind we all get from time to time. "Not enough to do any harm, really," he told me.

"What kind of effect did it have on you?" I asked him.

"Well," he said, "it makes you sick. It makes you feel terrible."

"You threw up?"

"Oh, yeah."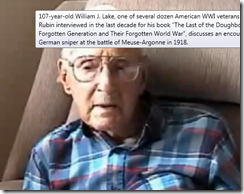 Five Professional Athletes Who Died Serving Their Country
(via WeaponsMan)
CDR Salamander Praises Sebastian Junger's Article on PTSD
I have to admit it, four times I avoided reading Sebastian Junger's bit over at Vanity Fair, How PTSD Became a Problem Far Beyond the Battlefield.

It was the title. I have less then zero interest in another hype-hit-bit from the media - Vanity Fair as the venue didn't help either - about the broken vet, etc etc that is recycled over and over. I'm just done with the whole thing. B.G. Burkett warned about it before 911, I hit on it a decade ago - I'm just done with it.

Don't be like me the first four opportunities, take a moment and read it. The title does not do the article justice.

Yes, there is discussion about PTSD, but not the way we are used to it being flung about. Junger adds nuance and also shows some of the side issues that may or may not be PTSD (I lean to the not) or PTSD related - just coping mechanisms. He also puts some well needed facts on the ground so we can all have a fact-based conversation, and goodness knows, we need more facts and less compassion trolls on the topic.
A snippet:
Suicide by combat veterans is often seen as an extreme expression of PTSD, but currently there is no statistical relationship between suicide and combat, according to a study published in April in the Journal of the American Medical Association Psychiatry. Combat veterans are no more likely to kill themselves than veterans who were never under fire. The much-discussed estimated figure of 22 vets a day committing suicide is deceptive: it was only in 2008, for the first time in decades, that the U.S. Army veteran suicide rate, though enormously tragic, surpassed the civilian rate in America. And even so, the majority of veterans who kill themselves are over the age of 50. Generally speaking, the more time that passes after a trauma, the less likely a suicide is to have anything to do with it, according to many studies. Among younger vets, deployment to Iraq or Afghanistan lowers the incidence of suicide because soldiers with obvious mental-health issues are less likely to be deployed with their units, according to an analysis published in Annals of Epidemiology in 2015. The most accurate predictor of post-deployment suicide, as it turns out, isn't combat or repeated deployments or losing a buddy but suicide attempts before deployment. The single most effective action the U.S. military could take to reduce veteran suicide would be to screen for pre-existing mental disorders.
Meanwhile back among the clueless fucks...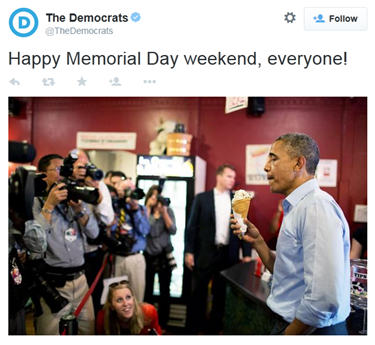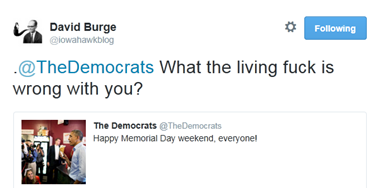 The Yahoo AoSHQ group - it's got what morons crave.
And my twitter thang.
Tonight's post brought to you by the Two Thousand Yard Stare: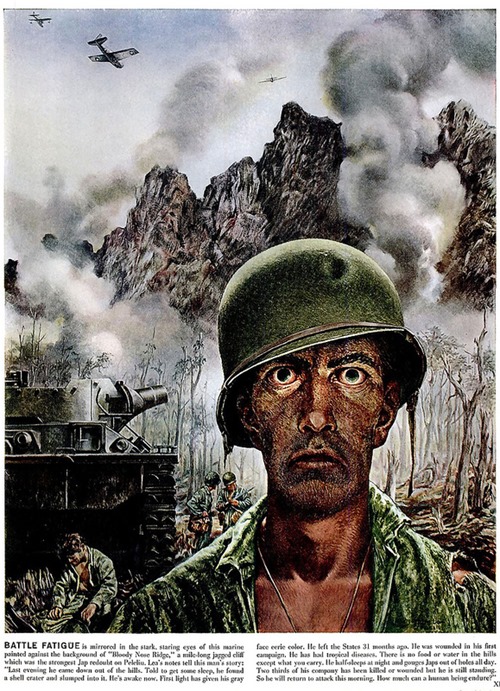 Notice: Posted by permission of AceCorp LLC. Please e-mail overnight open thread tips to maetenloch at gmail. Otherwise send tips to Ace.

posted by Maetenloch at
10:42 PM
|
Access Comments
Recent Comments
Recent Entries
Search
Polls! Polls! Polls!
Frequently Asked Questions
The (Almost) Complete Paul Anka Integrity Kick
Top Top Tens
Greatest Hitjobs