« Early Morning Thread 5/3/15: Just One Meal - Toledo. [krakatoa]
|
Main
|
The NY Times: A Study In Fakery [CBD] »
May 03, 2015
Sunday Morning Book Thread 05-03-2015 [OregonMuse]: A Space For Rioting Books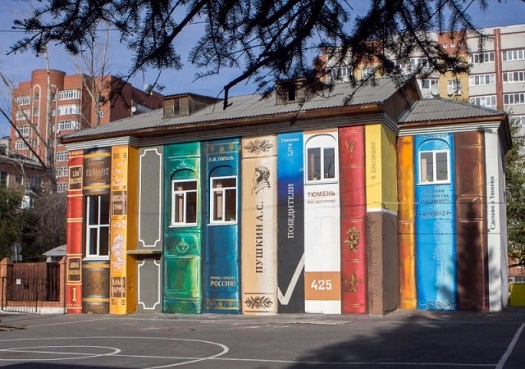 (I'm not sure what the building is in today's photo. It's probably a bookstore, and I think it's in the Ukraine, but that's all I know)
(Update: Thanks to moron commenter 'Calvin Dodge' this is apparently a school in Tyumen, Russia. More info and photos here).
Book Quote
Outside of a dog, a book is man's best friend. Inside of a dog, it's too dark to read.
-Groucho Marx

I've been taking a correspondence course, Clickbait: How To Write Stuff On Teh Internets, so I've been trying to put into practice what I've been learning.

This First Book Will Amaze You
What do you think was the first book printed in America? If you guessed The Whole Booke of Psalmes Faithfully Translated into English Metre: Whereunto is Prefixed a Discourse Declaring not Only the Lawfullness, but Also the Necessity of the Heavenly Ordinance of Singing Scripture Psalmes in the Churches of God, congratulations, you're correct!
It's commonly known as the "Bay Psalm Book" and this is how it came about:
The Reverend Jesse Glover imported the first printing press to the Massachusetts Bay Colony in 1638, some 18 years after the first English settlers landed at Plymouth Rock. A London printer, Stephen Daye, came with the press and established a printing office in Cambridge. The following year, the residents of the colony asked John Eliot, Thomas Welde, and Richard Mather to undertake a new translation from the Hebrew of the Book of Psalms, for use in the colony's churches. Mather was the principal author and translator, but was assisted by about 30 other New England ministers. The book was printed in 1640. Reissued in successive editions, it remained in use for more than 100 years.
As an example of what these men produced, here is the famous 23rd Psalm, as it appears in the King James Version:
The LORD is my shepherd; I shall not want.
He maketh me to lie down in green pastures: he leadeth me beside the still waters.
He restoreth my soul: he leadeth me in the paths of righteousness for his name's sake.
Yea, though I walk through the valley of the shadow of death, I will fear no evil:
for thou art with me; thy rod and thy staff they comfort me.
Thou preparest a table before me in the presence of mine enemies:
thou anointest my head with oil; my cup runneth over.
Surely goodness and mercy shall follow me all the days of my life:
and I will dwell in the house of the LORD for ever.

Now, here is the same psalm, as rendered into English meter by Mather and the other translators:
The LORD to me a shepherd is,
Want therefore shall not I
He in the folds of tender grass
Doth cause me down to lie
To waters calm me gently leads
Restore my soul doth he
He doth in paths of righteousness
For his name's sake lead me
Yea though in valley of death's shade
I walk, none ill I'll fear
Because thou art with me, thy rod
And staff my comfort are
For me a table thou hast spread
In presence of my foes
Thou dost anoint my head with oil
My cup, it overflows
Goodness and mercy surely shall
All my days follow me
And in the Lord's house I shall dwell
So long as days shall be

Even though some of it is a little awkward ("Want therefore shall not I" sounds positively desperate), overall, I think it works. Not only does the translation capture the meaning of the original, it sounds good. Read it out loud to yourself and you'll hear the rhythm of the lines. Also, a metered body of text is easier to memorize, since the cadence of the words as you say them to yourself is a good mnemonic device, books being expensive back in those days.
Pdf versions of the Bay Psalm Book are available all over teh internets, but the scanned-in original text is hard to read, particularly with the 17th-century usage of 'f' instead of 's'. In the above rendition of the psalm, I changed 'f' to 's 'to reflect modern usage, otherwise it would like pretty silly. But here's an open question for the horde: sometimes in these old texts, 's' appears as 'f', but sometimes it's 's' as we are accustomed to. What were the rules governing this, or could you just use whatever you felt like using?
You'll Be Astounded When You See This English Monarch's Never-Before-Published Book
The more I learn about Queen Victoria, the more I am coming to realize what a remarkable person she was. Not only was she a great queen, but she was also a skilled artist (see also here and also here) and if that weren't enough for one person, she was also a prolific writer:
Always a diligent diary writer, Queen Victoria's journals run to 141 volumes comprising 43,000 pages, from which extracts were published in what became a bestseller.
But before all that, Victoria wrote her own children's book. And she did this when she herself was a child:
Entitled "The Adventures of Alice Laselles by Alexandrina Victoria Aged 10 and 3/4", and written in an unassuming red composition notebook now in the Royal Archives at Windsor Castle, it tells the story of a 12-year-old girl sent away to boarding school after her father remarries.
The story is about a 12-year-old girl who is sent away to boarding school after her father remarries. Here's a sample:
In one passage, when Alice hears that she is to be sent to Mrs Duncombe's school for girls, the privately-tutored Victoria writes: "'Oh do not send me away dear Pappa', exclaimed Alice Laselles, as she threw her arms around her Pappa's neck; 'don't send me away, O let me stay with you.' And she sobbed bitterly."
I think that's pretty good writing for someone who's not yet 11. Me, at that age, I think I was just learning not to pick my nose.
The book, illustrated with some of Victoria's own artwork, will published by the Royal Collection Trust in June.

Obama's Favorite Childhood Books - The List May Surprise You
Here's an hilariously bad article about Obama's favorite childhood books. The list itself is actually pretty conventional (no biographies of little-known civil rights leaders or novels by distinctly black writers), but the obeisant author has to use each selection to find some way to to explain why it adds to the wonderfulness of her Liege Lord. I was tempted to fisk the whole thing, but it's simply not worth it. So I'll leave you with her comments on the final selection, "Of Mice And Men", a book that she first notes gets banned a lot from libraries, which she then follows up with:
In other words, Obama isn't afraid of making a statement about freedom of speech.
AHAHAHAHAHAHAHAHAHAHAHAHAHAHAHAHAHAHAHAHAHAHAHA!!!!!!
This is so unbelievably dumb I have to wonder if I'm being suckered in by some variant of Poe's Law here.

You'll Never Believe What Moronette Author Sabrina Chase Is Giving Away For Free
Sabrina Chase's YA novel Jinxers, mentioned in the book thread a few weeks ago, is available on Amazon for FREE starting today and continuing until May 5th. This is a sci-fant story about
a plucky street kid who finds himself suddenly transported from his freezing city to the Sands of Araby (OK, a desert world). He has many adventures hiding out from the Bad Guys, rescuing a secret agent from a fort, convincing his local friend not to kill anyone with her sword, and climbing things. Oh, and figuring out his magical abilities so he can go back to his own world again and rescue *other* people.
Sabrina mentioned at the time that she wrote Jinxers after hearing complaints on the book thread that there were few kids books that would interest boys. She hopes this book helps to address this lack. Because boys need books about action, adventure, danger, heroism, overcoming great obstacles, defeating the bad guys, etc., rather than sitting around on bean-bag chairs in a 'safe space' talking about their feelings.

Another Free Book That Will Keep You On The Edge Of Your Seat
At least it was free as of now (Saturday morning, May 2nd), and I hope it still is today. I'm talking about the political thriller Flower of Heaven by Julien Ayotte, which I haven't read, yet, but according to Amazon, it has won some indie book awards, and it sounds like it might be a good read:
Father Richard Merrill had led a seemingly quiet life as a man of the cloth...Now, the core of his beliefs and his being is propelled into the darkest chaos. What's more, it's all for the sake of his very own flesh and blood, two sons who were long ago given up for adoption. Their mother, Francoise Dupont...has since married an Arab prince...The bloodlines of the sons place them in line to succeed her gravely ill husband, now the king. More than a few of the king's enemies are consumed with stopping them from ascending to the throne.

With help from the FBI, the CIA, and an aging mercenary, the race is on.
Yeah, I like free, so this one is now on my stack.
Via Bookbub. I think this is worth mentioning again: if you do a lot of e-book reading, and haven't signed up for the BookBub daily e-mail, you owe it to yourself to do so. Every day, you get notified of free and cheap e-book deals from Amazon, Kobe, Nook, Google Books, and Smashwords. What's more, you can configure the notifications you'll get by category (i.e. science fiction/fantasy, history, cooking, romance, etc.), so you can filter out the stuff you're not interested in. I usually end up downloading 2-4 books per month from the BookBub daily deal. Contrast this with another notification e-mail I get every day, the Amazon Kindle Daily Deal e-mail, which is pretty much full of crap and I think I've only downloaded one book in the 2-3 years i've subscribed to it.
The sequel to FoH, Dangerous Bloodline, is also available, but you'll have to pay for it.
This is so unbelievably dumb I have to wonder if I'm being suckered in by some variant of Poe's Law here.

Books By Morons That Will Provide Hours of Low-Cost Entertainment
Amy Lynn: Golden Angel by our own Oldsailors Poet, the much-anticipated sequel to his first book Amy Lynn, is now available from Amazon. Link is to the paperback version. Presumably the Kindle version will be available shortly, and I'll let you all know when that is as soon as I find out.

___________
So that's all for this week. As always, book thread tips, suggestions, bribes, rumors, threats, and insults may be sent to OregonMuse, Proprietor, AoSHQ Book Thread, at the book thread e-mail address: aoshqbookthread, followed by the 'at' sign, and then 'G' mail, and then dot cee oh emm.
What have you all been reading this week? Hopefully something good, because, as you all know, life is too short to be reading lousy books.

posted by Open Blogger at
09:08 AM
|
Access Comments