« Two Contradictory Claims the Left Urges On Us
|
Main
|
California (Democrat) Secretary of State Kamala Harris' Aides Accused of Running Secret Shadow Police Force...
Which, By the Way, Secret Policemen Claim Dates Further Back Than The Knights Tempar »
May 06, 2015
Life is Beautiful, Part II: Poop, Sweat, and Tears
So here is the "end of the beginning", in all of its visceral detail. My wife would like to thank the morons and ettes, particularly Brent and Carol, who organized an online baby shower for her and Jameson. Your outpouring of support and encouragement has been a blessing during a rewarding, but very trying, pregnancy.
A little over nine months ago, my wife and I did what tens of billions of homo sapiens have done over eleven thousand generations: recombined our DNA; and like 99.99999% of that mass of humanity we certainly weren't thinking about it in that way at the time.
I wrote about the roller coaster that followed right here at Ace's place, and as the months, weeks and days counted down, we felt totally prepared for what would come next.
What follows is a tale of poop, sweat and tears.

False Start, Offense, 24 Hour Penalty
So on All Stoners' Eve, the beginning of the end was at hand. I'll spare you the really gory details except that if your wife asks you to "check this out I think I started", don't respond with a "whoa that's cool". That isn't the right answer. Also, don't assume that this is the nastiest it will get.
After a quick call to her OB/GYN, we went to the hospital, following all of the procedures we learned on the tour. Filled out all of our forms (all 316 of them), checked into the triage area, and we waited.
And waited.
And waited.
And waited.
After a painful cervical check for her, a hand squeezed blue for me, and a "come back if this list of symptoms present" later, we were back on the road at 2am.
A good thing, in retrospect: if our kid was born on 4/20 our friends would have never let that slide.
My wife, who up to this point had been handling her pregnancy like a champ, huffed, "we aren't coming back here until he comes out."
As she tried to rest, the contractions started as I headed off for work.
What are you doing here?
Just over a day later, the contractions had finally grown close enough together to merit another call. Erinn's weekly doc visit was just an hour ahead of us when we begin arguing whether to go back to the hospital. We wanted to avoid another wasted trip, so we packed the car and drove over to her OB. "What are you doing here? You're water is about to break!" her annoyed doctor reacted during the exam. This was it. After few quick phone calls to family, we rushed to the hospital a second time.
This time we wouldn't be waiting for two hours, no sirree.
This time, it would be twelve.
The Bored Millennials
Oh the boredom. This is the thing nobody tells you about, because everyone focuses on the excitement and the action and the noise and the machines that go ping and the blood and the screaming. But much of the time you spend in the hospital, even after admittance, is spent watching local television and watching your wife have a stream of doctors and nurses poke prod and bother her. So, like most people bored and born after 1983, I went on Twitter.
My better half at first was annoyed, but grew to enjoy the distraction of hearing replies. Her annoyance with local stories (including a bathroom breast feeder) were great fodder for me and made the hours pass a little faster. It was a fun escape for both of us, until a decision we hadn't really planned for reared up.
David Cronenberg's "Birth"
We had planned for a vaginal birth. Discussed all the dirty work of it. The episiotomy. Which kind of painkilling option she would prefer. Reassurances the baby wouldn't "ruin her". All the usual jazz. And in the end, the baby, consistent in his character throughout this 279-day ordeal, had other plans. The nurses and doctors monitoring her and him realized the medication she was receiving to speed up contractions was stressing the little dude out. Worse, his head was too damn big. So after over a day of labor she was given the option of waiting longer but risking further complications or going with the Cesarean. It took my wife all of five seconds to mouth the word, and it was on.
After hours of waiting, the next hour would be the most dramatic in our lives. The doctor, nurses, paperwork, gurneys, scrubs, blood, delirious smiles, everything and everyone rushed in so rapidly I only had a brief moment to think.
I was pacing, in scrubs, in the surgery hallway, waiting for the go ahead. It was the longest ten minutes of my life. Thoughts about my wife, my son, my job, the stay, what the hell I was doing at thirty, and then the show really began.
The wife was happily sedated below, awake above, and the smell of burning flesh and the sounds of her doctor working her magic left little to the imagination. I took one bit of advice from a friend and didn't watch the surgery itself.
A nurse prompted me to grab my camera, and that's when we saw him for the first time: pale, wrinkled, covered in slime, a miniature GG Allin. At our very beginning of outside lives, we all look, for lack of a better word, pretty gross. Birth is a beautiful and gory thing.
Like everything else in our modern world, he wasn't a breath away from the belly before he was weighed (7lbs 13 oz), measured (19.5"), and checked for all of the usual irregularities. While they were cleaning him up, I enjoyed a quiet moment with the wife. Her routine of enduring kicks, somersaults, burps, farts, and riverdance inches above her intestines has finally ended. She seemed quite relieved.
Cutting the cord was far cooler than I imagined. How could I describe it...have you seen The Thing? Not the crappy remake, the good one, with the blood test and Kurt Russell and Keith David and a pre-diabetes Brimley. When Norris transforms, and his head rips free into that crab creature? Those pus-filled tubes? THAT is what the cord was like. The goop and smell was more fitting for a xenomorph autopsy. Through all of the layers of goo and tissue and bodily things, I didn't lose sight of what was truly important: severing it with just one cut. I failed, unfortunately: it took two.
With the clean up and cutting and general data gathering over, I had a moment to hold my son for the first time. I won't waste bytes trying to describe that feeling because words fail. Frozen in the moment it took the nurse several shouts before I remembered to bring him over to my wife, so she could see who had been trashing her womb. Again, words fail.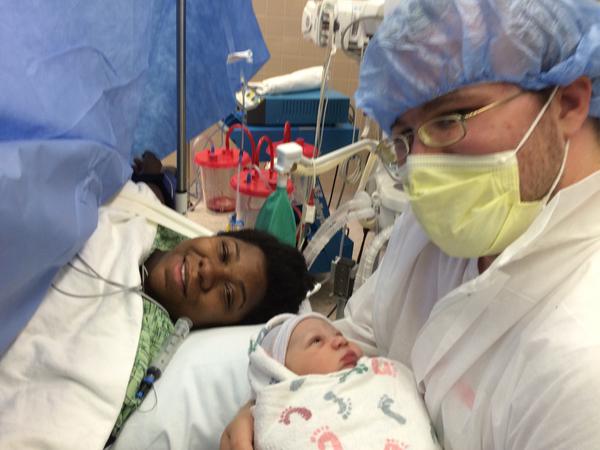 The Bureaucracy of Birth
Once out of the womb, the wife went off for cleanup and recovery as I followed my son into the evaluation area. See, they don't just run tests there in the operation room. They run them all over again in a separate area where you wash your hands for five minutes and stand around and try to entertain this little dude who has heard you drone on and on for months about something called Pennsylvania.

The nurses are quite busy: they have to get the vaccinations started, Vitamin K shots injected, stick protective goop on your kid's eyes, as well as complain about the lateness of other staff. Most of the delay was a paperwork issue. Further delays came from the fact that my wife shared a last name with another cesarean patient.
The bonding part, with all of this paperwork and needling around us, was damn cool. Until they smeared his eyes shut, we spent much of the time just staring at each other. He made a lot of mouth motions which the nurses indicated was a good sign. "He'll be a great eater". Sort of killed my fantasy that he was speaking in tongues. But this was my son. There. Just looking at me. Really cool.
Almost two hours after he was born, we were all reunited as my wife was wheeled out of recovery and into our room for the next four days.
Joining us were two IVs, a heart monitor, another complicated-looking thing with lots of flashing lights, and what I can only describe as:
My wife slept that night. The baby slept that night. But that infernal machine whose purpose still eludes me fueled my insomnia, which went unchecked for the next two days.
Freebies, Being Peed On, and Restless Nights
My wife has always had a strong spirit, and recovered well in the hospital, walking just over a day after surgery. Still, she was much too sore to do the basic cleaning and burping and changing, things I have never done. It is incredibly easy to wing it: just have each new shift nurse "show you" how these things are done, and you won't have to try for the first full day.
Always expect to get peed on within the first week (there's a reason why you are supposed to cover your kid with a towel, as I learned), and understand you have no clue what will please or displease the baby. Our kid was active, inquisitive, and already trying to sit himself up before we left the hospital. He was indeed, as the nurses in recovery had told me, a very good feeder, much to the chagrin of my wife.
Freebies are something to keep an eye out for. Those coffee vending machines, for example. When it says "staff only", remember that you are going to be paying out the nose for this little adventure and dammit it feels good to break the rules and avoid paying 75 cents for cheap coffee. Fight the power. Also, as far as I can tell, the diapers, pads, covers, pillows, IV machine, sofa pillows, and bathroom shampoo are all under the "hotel" policy: take everything that fits into your bag. You never know what you'll find useful (if a nurse fits in the trunk, take one of them too- you can't walk two feet without running into one).
The stream of nurses, doctors, and pediatricians made resting almost impossible for us and the baby. We started worrying as the days rolled on how we could possibly adjust to our new insomniatic lifestyle, and how our baby would handle it once home. Towards the end, with baby and mom "in the clear", we finally had a relatively quiet night, and scored a nice four hours of rest. It was our first in almost a week.
In Praise of the Unplanned
In the end, our pregnancy, by the social definition, wasn't planned. We weren't trying to have a kid. There were no bottles of pre-natals lying about. No "What to Expect" this or "Planning the Perfect" that on our shelves. The very last thing on our minds was Jameson. But that is how these things go.
Life, in its fullest, doesn't care what we humans schedule and organize for ourselves. You zig with college? It zags with a job offer a thousand miles away.
This baby has thrown our lives into total chaos. Much of what we have read in the books has been nice in theory, silly in practice.
He falls asleep while he's being fed.
He smiles at us while he poops.
He'll cry for an hour, then burp so hard he knocks himself out.
Neither my wife nor I ever really thought kids were definitely in the cards for us.
We haven't a clue what we are doing.
With Jameson here now, we are just winging it day to day.
And it has been like that for months.
He was going to surprise us at every turn.
He arrived unexpectedly.
Survived a miscarriage.
Tumbled
Kicked
Shoved
Grew
And found his own way out of the womb, two days early.
He has completely, utterly destroyed our routine.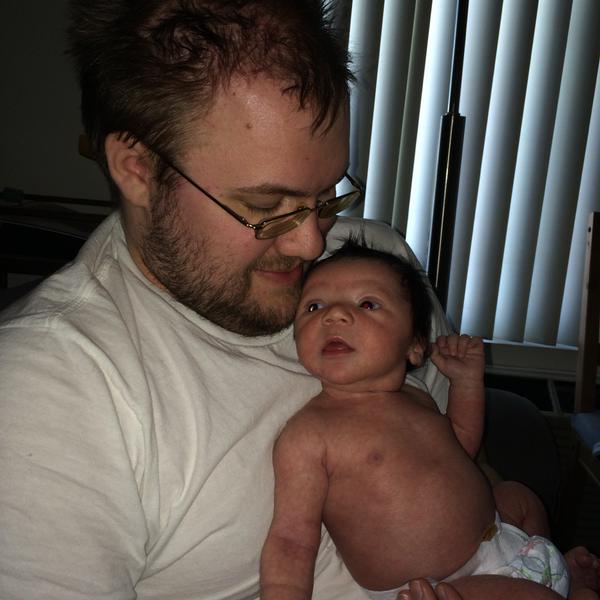 Thank God for that.

posted by CAC at
02:20 PM
|
Access Comments