« Early Morning Thread 5/2/15 - In Search of a punch Line edition. [krakatoa]
|
Main
|
Open Thread »
May 02, 2015
Saturday Politics Thread: The Airing of the Grievances [Y-not]
Good morning!
Last week our Betters in the U.S. Senate voted to confirm Loretta Lynch as Attorney General, replacing the odious Eric Holder. Sadly, by all accounts Ms. Lynch is not any better. You can brush up on her here.
Rather than reading about how awful this Attorney General appointee is, or how spineless Senate Majority Leader Mitch McConnell is, my Twitter feed was blasted with criticism of... you guessed it... Ted Cruz.
And, when I did a Google search of "ted cruz missed vote" last night, I got over 60 hits, including stories dated as late as yesterday afternoon.
Are you friggin' kidding me?
Ted Cruz is not "my guy." (Actually, since the latest round of urban riots and Obama's continued surrender to Iran, I've been leaning Perry lately. But that's a separate issue.) I like Cruz a lot. He's in my top three right now, but I he's by no means someone I'm backing at this early stage of the game.
But to read so many people ON THE RIGHT who, I'm sorry, put so much energy last week into making Lynch's confirmation about how Awful Ted Cruz Is, just enrages me. Moreover, most of those folks were completely mischaracterizing what occurred.
The vote that mattered, boys and girls, was the vote for cloture. Had that vote failed, Lynch's nomination would still be left in limbo. Ted Cruz, and most Republicans, voted against cloture. Here are the twenty Republicans who voted for cloture, effectively guaranteeing Obama's nominee would be approved: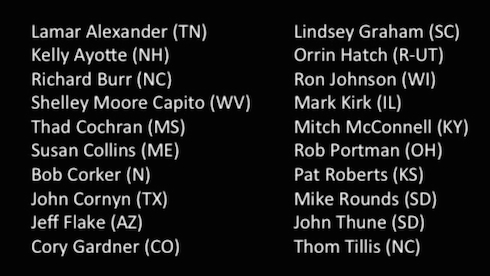 (If you're looking for a list of people to "primary," this is the one to use, not the smaller list of Republicans who voted for her confirmation in the subsequent vote.)
After the cloture vote, Ted Cruz - who you may have heard recently announced his candidacy for President - left town to conduct campaign business.
OH MY GAWD! TED CRUZ LEFT TOWN!
This was accompanied by the latest Horrible Ted Cruz Thing For Republicans To Discuss: he's missed a lot of votes. I saw a - clearly coordinated and infuriatingly bi-partisan - campaign of Ted Cruz Misses Votes !eleventy!11!!! all over the intertubes last week.
Well, here's his voting record (attendance) since entering the U.S. Senate two years ago. He's missed 88 votes. And, for comparison, on the right hand side is the voting record for the Golden Boy of the Smart Set, Marco Rubio. (Whom I've taken to calling Baby Rubio, but whatever.) He's missed 77 votes during that same time-frame.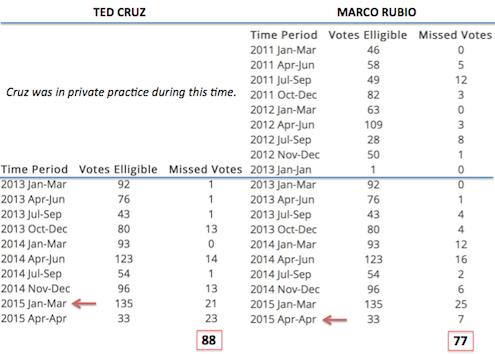 Notice when the spike in Cruz's missed votes occurred? What a mystery! (Cruz announced on March 23rd. Rubio announced on April 13th.)
Of course, we do pay these guys (and gals) to do their jobs, which does include voting. But before freaking out about TED CRUZ MISSED VOTES, I thought it might be worthwhile to examine WHICH votes he missed. Here are some of the votesfrom last week:
S.Amdt. 1150 (Johnson) to H.R. 1191: To declare that any agreement reached by the President relating to the nuclear program ...
On the Amendment in the Senate
Senate Vote #167
Apr 28, 2015 6:10 p.m.
Amendment Rejected 39/57
43 Democrats, 2 Independents, and 12 Republicans voted Nay. 4 Senators did not vote, including Cruz.
On the Nomination PN43: Dava J. Newman, of Massachusetts, to be Deputy Administrator of the National Aeronautics and Space Administration
Senate Vote #166
Apr 27, 2015 5:31 p.m.
Nomination Confirmed 87/0
On the Nomination PN4: Loretta E. Lynch, of New York, to be Attorney General
Senate Vote #165
Apr 23, 2015 1:37 p.m.
Nomination Confirmed 56/43
10 Republicans voted to confirm Ms. Lynch.
S. 178: Justice for Victims of Trafficking Act of 2015
On Passage of the Bill in the Senate
Senate Vote #163
Apr 22, 2015 4:06 p.m.
Bill Passed 99/0
This is just a sample, but you get the picture.
So what, pray tell, are these people going on about? What damage to the Republic (or Republicans) has Ted Cruz done by missing some votes? Is the theory that Cruz is lazy?
Appointed to the office of Solicitor General of Texas by Texas Attorney General Greg Abbott, Cruz served in that position from 2003 to 2008. The office had been established in 1999 to handle appeals involving the state, but Abbott hired Cruz with the idea that Cruz would take a "leadership role in the United States in articulating a vision of strict construction." As Solicitor General, Cruz argued before the Supreme Court nine times, winning five cases and losing four.

Cruz has authored 70 United States Supreme Court briefs and presented 43 oral arguments, including nine before the United States Supreme Court. Cruz's record of having argued before the Supreme Court nine times is more than any practicing lawyer in Texas or any current member of Congress.
Let's get serious here.
By the way, here's an interesting graphic that a (completely in the tank for Obama) WaPo dude made: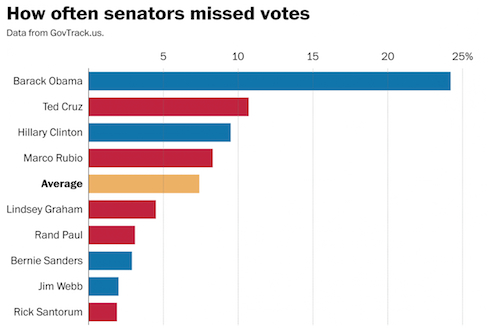 WaPo dude goes on to make a very contorted argument for how Obama's absences don't count. All I can say is, he must have one hell of a yoga instructor to tie himself in those rhetorical knots.
But I digress. The matter at hand is the Shaming of Ted Cruz, Evil Hobbit...
If some conservatives (or Republicans) have chosen Their Guy, that's fine. I think it's too early to have decided on The One, but YMMV. Knock yourself out. But for Heaven's sake, stop mischaracterizing the other GOP candidates' records. Or at least be honest about it and admit "I'm a Rubio/Paul/Bush Guy and I'm going to make it my mission in life to say that all of the other Republicans Suck." Don't pretend you don't know what cloture is. And stop helping Obama and the Democrats by making the storyline surrounding the confirmation of an abysmal hack like Loretta Lynch become about How Awful Ted Cruz Is.
/end rant

Meanwhile, I had promised you an updated thread about Rand Paul since he formally announced, but I've decided not to do it. There are a lot of good write-ups about Paul's record (try this one at the Conservative Review, for example). And, of course, we did a post on him last Fall (the upshot of it being that although Rand has his supporters here, there are enough detractors that he's not making most of our lists of top candidates). But I can no longer be objective about him. He's ticked me off once too often (here and here and here and here and here, for example). You get the picture. Frankly, I think he's grotesquely unqualified in terms of both his record and temperament.
However, I seriously doubt I could convince anyone who is already pre-disposed to like Paul to abandon his candidacy and I'm not going to try. If he winds up being a serious contender later on in the primaries, I'll deal with him then. Until then, I don't need the aggravation and neither do you.
Next week: the Feats of Strength!

posted by Open Blogger at
08:39 AM
|
Access Comments