« On carriers and cockpits - [Weirddave]
|
Main
|
Morning Thread (4-20-2015) »
April 19, 2015
Overnight Open Thread (4-19-2015)
When I asked one top staffer on Hillary Clinton's campaign to pick the high point of her overwhelmingly understated 2016 campaign kickoff in Iowa, the person paused for a moment, then shot back - "The Aaron Hernandez verdict!"

I DON'T WANT TO HEAR ANOTHER GODDAMN THING ABOUT MY CARBON FOOTPRINT: Leonardo DiCaprio the 'eco warrior' flew on a private jet from NY to LA SIX times in SIX weeks, Sony hack documents reveal. I'll believe it's a crisis when the people who keep telling me it's a crisis start acting like it's a crisis.

-- Instapundit
Sex is a fundamental human experience, not simply a white, straight person one

-- Headline from a Guardian article
Apparently the Guardian's author is completely unaware of the existence of certain entire genres of pr0n.
Quote of the Day V - Send in the Clowns Edition
Clowns brawled with animal rights protesters under a circus big top in San Bernardino Friday night, witnesses say.
And I'd pay some good money just to see this part alone.
Why Hillary Can't Be in the Moment
A pretty good armchair psychoanalysis of Hillary Rodham Clinton that goes a long way to explaining how she came to be the way she is. But don't forget that the nasty unprincipled part of her was already present from her earliest days which is why she was fired from the Watergate committee for lies and unethical behavior.
Many years ago Hillary accepted the job of being Bills' after-party cleanup crew. In the service of their upward march, she had no choice. Many people think Hillary Clinton is a psychopath without a conscience who cares nothing about her husband's betrayals on a personal level. That formulation does not seem supported by what has leaked out about the Clinton's relationship. It is more likely that she is a wellspring of anger hiding behind a smile you can hang laundry on.

What is certain is she spent years mopping up and deodorizing Bill's messes. Bill's affairs with and attacks on women have been more destructive to Hillary's psychological integrity and self-worth than some miraculous hundred grand showing up in the Clinton cookie jar have been to him. His sexist violence strikes at the heart of who she claims to be, and continues to damage her basic sense of security and candidacy. For forty years, a room full of strangers is where the party starts for Bill, and where the messes are made for Hillary. For forty years every time Hillary entered a room full of strangers she had her bucket and mop. A bimbo splatter might be found anywhere. For forty years a room full of strangers, interacting in an unscripted moment, has been Hillary's worst nightmare.
Last Two Doolittle Raiders Honored on Anniversary
Only two men are left alive from the 80 airmen and pilots who took off from the deck of the USS Hornet on April 18, 1942, and set out to send Japan a message that the U.S. would stop at nothing to win the war begun by Japan a few months earlier.

Retired Lt. Col. Richard "Dick" Cole, 99, and Staff Sgt. David Thatcher, 93, are the last of the Doolittle Raiders - the men who struck the first blow against the Japanese empire by bombing Tokyo. They are in Dayton, Ohio, today to present the Raiders Congressional Gold Medal to the National Museum of the US Air Force.
The Doolittle Raid has long been praised as mostly a morale-boosting proof of America's commitment to take the war to Japan but it was more than that - it was a physical demonstration that US had already gotten inside Japan's OODA loop and this drove the Japanese military to make mistakes that ended up costing them the war.
The audaciousness of the raid had a big effect on American morale, but it was the Japanese, shaken by the notion that their cities were not invulnerable, who were affected even more. The military actually moved up plans to attack Port Morseby, New Guinea and Midway Island. When our codebreakers, who had cracked one of the Japanese navy cyphers, intercepted the information, the resulting naval engagements in Coral Sea and especially the decisive battle off of Midway Island sealed the fate of Japan and sent us on the road to victory.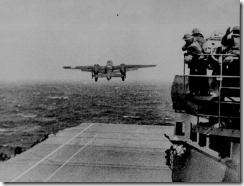 Mark Dean, Engineer Extraordinaire
Mark E. Dean joined IBM in 1980 right after he graduated from the University of Tennessee. Within a year, Dean led a team that developed the Industry Standard Architecture bus in 1981, which would allow computers to print out information and integrate with other external devices. He would hold three of the nine parents associated with that revolutionary IBM Model 5150, which had a 4.77 hertz processor, which was first released on August 12, 1981.

Less than 20 years later, Dean would lead a team that in 1999 developed the first gigahertz chip, which was able to process a billion calculations in one second.

In between times, Dean would develop the color monitor as he would eventually hold 40 patents. And in 1992, he earned his PhD in electrical engineering from Stanford.

Not bad for a kid from the Smoky Mountains who was among the first black students to integrate Jefferson City, Tennessee, schools.

...He was a smart young man and hard worker, so much so that a white friend in sixth grade once asked him if he were really black.

"That was the problem -- the assumption about what blacks could do was tilted," Dean said years later, after he earned his doctorate.
More of the Works of the Religion of Peace
Play of the Day: Chicago Cubs Pitcher Jon Lester Throws Entire Glove to First Base For the Out
Quick thinking on both the pitcher's and first baseman's part.
A Chicago Cubs player was forced to improvise under some unusual circumstances Sunday in their game against the San Diego Padres at Wrigley Field.

Clint Barmes hit a ground ball to pitcher Jon Lester, who scooped it up but couldn't get it out of his glove.

Realizing it was stuck, he decided to just throw his entire glove instead.

First baseman Anthony Rizzo saw it coming, so he quickly dropped his own glove to catch Lester's.

"That's the smartest play in the history of baseball," said the announcer.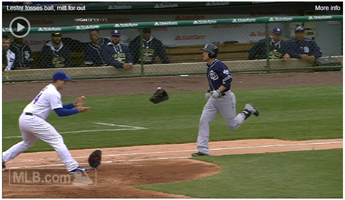 Weekly Commenter Standings
Top 10 commenters:
1 [497 comments] 'Vic  We Have No Party' [69.77 posts/day]
2 [380 comments] 'Sven S Blade a.k.a. El Assassin@sven10077'
3 [347 comments] 'Insomniac'
4 [338 comments] 'AllenG (DedicatedTenther) - TrueCon'
5 [336 comments] 'Ricardo Kill'
6 [335 comments] 'Anna Puma (+SmuD)'
7 [320 comments] 'Lizzy'
8 [313 comments] 'Nip Sip'
9 [309 comments] 'cthulhu'
10 [307 comments] 'ManWithNoParty, unperson from Free Market Jesus Paradise '
Top 10 sockpuppeteers:
1 [95 names] 'The Political Hat' [13.34 unique names/day]
2 [77 names] 'Fa Cube Itches'
3 [60 names] 'Art Mullen's Marshal stiffy'
4 [50 names] 'steveegg'
5 [46 names] 'Prince Ludwig the Indestructible'
6 [37 names] 'Doctor Fish'
7 [34 names] 'Cicero (@cicero)'
8 [33 names] 'BB Wolf'
9 [27 names] 'Lizzy'
10 [27 names] 'andycanuck'
The group. Banned on 12 universities.
Where it's at - the Twitter
Tonight's post brought to you by last flight, Saigon, 1975:

Notice: Posted by permission of AceCorp LLC. Please e-mail overnight open thread tips to maetenloch at gmail. Otherwise send tips to Ace.

posted by Maetenloch at
10:48 PM
|
Access Comments