« Illinois Special Election Pits Establishment Scion Vs. Tea Party Outsider
|
Main
|
Official Batman V. Superman Trailer »
April 18, 2015
Saturday Gardening Thread: Persevere [Y-not, KT, Weirddave]
Good afternoon, Gardeners!
So this happened:
Seriously.
Here at Casa Moxie, we've been alternating between needing air conditioning and running our heat. My sinuses are killing me and the backlog of garden projects keeps growing.
The radish, beet, arugula, mesclun, and spinach seeds have (mostly) sprouted, only to wind up under a couple of inches of snow earlier this week. I took a peek at them yesterday and I think they've survived, but time will tell.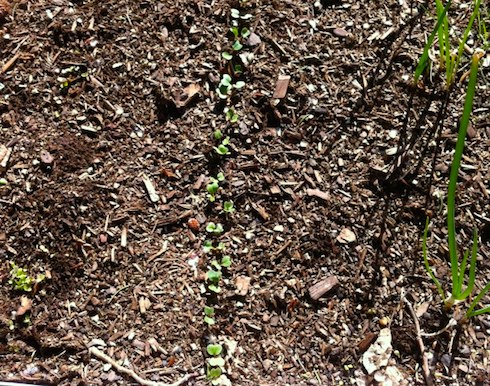 L to R: Mesclun, radishes, and red onions. The onions were planted from seed last year. They seemed to survive the winter, so I left them in.
My lilacs, sadly, look terrible. They hadn't quite hit peak bloom when the snow and cold came. Oh well!
The winters here really don't seem that bad to me compared to the Midwest or New England, but I guess this area is known for late snowstorms. I've lost the link, but Salt Lake City was one of the U.S. cities known for average last snowstorm date.
When the do you feel safe from the threat of any more winter storms in your hometown?
And now, here's KT:
Persistence
This week, I though I would just riff off last week's topics. This is sort of how my mind naturally works -- slowly. In the story of the tortoise and the hare, I would not be the hare.
Annual Bulb Covers
Last week, Y-not wanted to know if there were tulips that lasted a little longer than the usual ones, or cultivars that had a nice fragrance. It should have dawned on me then to mention annual bulb covers.
One of Y-not's photos featured a beautiful bed of red tulips with yellow edges, under-planted with yellow calendulas. That kind of planting is suited to relatively mild-winter climates. But there are some quick-blooming plants that can be seeded into a bed of bulbs in the spring, as long as a pre-emergent herbicide has not been put down, for color and fragrance after the bulbs fade. Most can also be transplanted into place. Sweet alyssum is a familiar one, but there are others.
Virginian Stock (AKA "Virginia Stock") blooms just 6 weeks after sowing. It grows 6 to 15 inches tall, depending on the strain. It sometimes has a faint fragrance. It lasts into fall in cool-summer climates, but dies back in hot weather. It is often planted with the slightly taller, more fragrant Night Scented Stock.
Night Scented Stock grows to 12 inches, or to 18 inches in the case of sturdier hybrids. These including a white one for moon gardens. ". . when the air cools in late afternoon, the four-petaled flowers open wide, and a deep scent of nutmeg-vanilla fills the air." Night Scented Stock can be grown over winter in mild-winter, hot summer areas.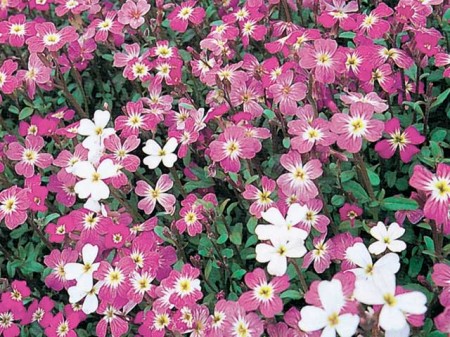 Night-scented Stock
The more familiar, showier clove-scented stocks can also be used as bulb cover, either by plugging plants in between your tulips, or planting the early kinds from seed. Trysomic Seven Week blooms in seven weeks. It grows 12 to 15 inches tall. Ten Week grows 15 to 18 inches tall. Both are branching. The taller florist-quality stocks need cool weather to reach their full potential. They are often planted in winter gardens in mild climates. Those who supply seedlings for the florist and nursery trades have some fancy ways to separate plants which will have single flowers from those which will have double flowers.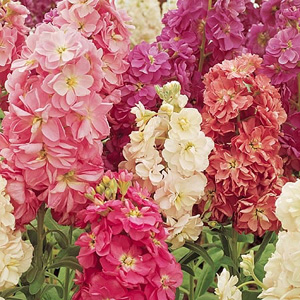 Double stocks
Y-not's fabulous tulip information and links last week should have reminded me that a new tulip garden has been opened in Kashmir - not one of my prime travel destinations these days, but interesting, given the times.
Y-not also sent us tiptoeing through the tulips with Tiny Tim and with the original singer of that famous song, Nick Lucas. I preferred the Nick Lucas rendition. In addition to becoming known as "The Crooning Troubadour", Nick Lucas was given the title, "Grandfather of the Jazz Guitar". Gibson developed a special model of guitar for him.
Since it is April, how about we enjoy I'll Remember April - a favorite of jazz guitarists. The improvisations at the link may mean more to those who know the song. So here is Carmen McRae to sing it to us:
Tiny Tomatoes vs. Tomato Killers
The song by Tiny Tim reminded me that there is a tomato called "Tiny Tim". It grows on a small plant suitable for a windowsill. If you are looking for really small tomato plants, TGS carries the "World's Smallest Tomato Variety", Micro-Tom. It can be grown in a 4-inch pot.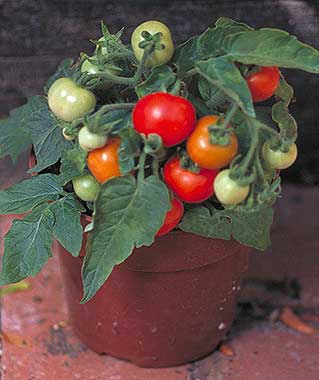 Micro-Tom Tomato
But the cultivars above are not the best tiny tomatoes to choose for a battle against common tomato killers. One of our wonderful Texas gardeners mentioned last week that there was an organism in her soil that killed tomato plants before they could bear fruit. I have seen similar comments from Texas gardeners in previous threads. The problem could be a fungus or virus. Or it could be Root Knot Nematodes.
There are several kinds of nematodes that bedevil gardeners. The Southern Root Knot Nematode is probably the most common. One tomato that is known to thrive even in the highly infested soils of Southern Florida is the tiny Everglades Currant Tomato. The plant is not resistant to nematodes like some hybrid tomatoes. It just out-grows them. Makes a big, snake habitat-worthy plant. You will find illustrative photos of nematode-infested tomato roots in this thread. See the comment, March 6, 2011 at 1:58 PM.
Organic matter tends to limit root knot nematode populations in the sandy soil they like best. They infest parts of our yard. But not like in Southern Florida or Hawaii, where growing tomatoes in the ground can be a real challenge. Plants that are known to particularly inhibit root knot nematodes if dug into the soil include California Poppies and members of the cabbage and mustard families. Broccoli is often mentioned. In summer, you can try sesame, certain French marigolds and nematode-resistant cowpeas to inhibit this pest. Crotolaria spectabilis is supposed to be a nematode trap plant. It is toxic to livestock, too.
I first learned about both Showy Crotolaria and Currant Tomatoes from the J.L. Hudson, Seedsman catalog. If you are a real plant nerd, this is a fun catalog to read.
He offers lots of unusual seeds, including historic poisonous plants. He quotes Shakespeare. Did you know that "Holy Moly" is actually Allium moly, a little yellow-flowered onion once used by witches to cast spells? You can grow it from seed or from fall-planted bulbs. In Homer's Odyssey, there was a magical plant called "Moly", but people don't seem to know exactly what it was.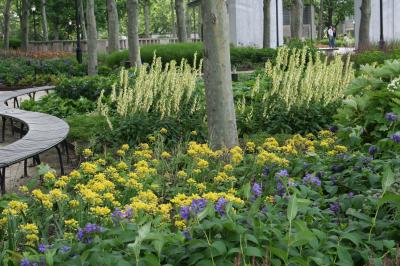 Holy Moly!
Anyway, J.L. Hudson once offered several varieties of currant tomatoes -- red and yellow, "shattering" and "non-shattering". Shattering currant tomatoes are interesting. If you put a tarp under the bush and shake it, the ripe fruits will fall onto the tarp for harvest.
"Alberto Shatters" is billed as the world's smallest tomato. Martha Stewart likes it. Crunchy, not flavorful. It is described on this page concerning a development project for small tomatoes. Currant tomatoes belong to a different species than our typical garden tomatoes, but cross readily with them. If your tomatoes grow in long clusters, they may have some currant tomato in their background.
Tiny tomatoes like this are generally too much work for me in the heat of summer, but they're fun for kids. I can imagine a plant next to some garden chairs in afternoon shade. "Sweet Pea", a non-shattering currant tomato, is recommended for large hanging baskets.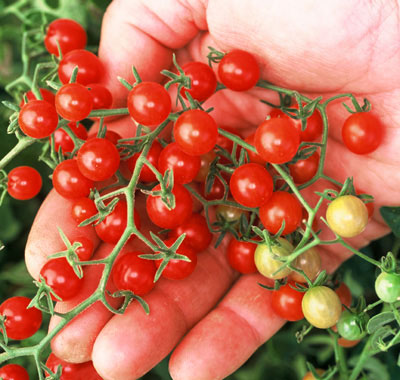 sweet pea currant tomato
Other little bitty tomatoes include Matt's Wild Cherry, Mexico Midget, White Wild Mexican Currant, Cerise Orange, Yellow Currant, Golden Currant, Lemon Drop, Spoon and Hawaiian Currant (there is also a "Hawaiian" cherry tomato which may have late blight resistance). The blogger at "You Grow Girl" is in love with the White Currant Tomato. "Stake diligently. This plant is an octopus."
Since small tomatoes are closer to wild types than big tomatoes, they tend to be easier to grow and more adaptable to adverse conditions, diseases and pests. Terroir Seeds sells the little yellow "Wild Galapagos" tomato - yet another bitty little tomato species. See the Tomato Science link below, concerning a possible use of this species in adding resistance to white flies in tomato breeding programs. Terroir also sells the highly recommended red "Sara's Galapagos", which may be a cross between a standard cherry tomato and the Galapagos Tomato.
Tomato Science Links:
A wild Galapagos tomato may introduce whitefly resistance to hybrid tomatoes.
Papayas in Florida greenhouses may help control tomato whitefly.
Resistance to viruses carried by whiteflies is another approach. Texas tomatoes.
Weed of the Week
Last week, Weirddave was cleaning out his garden beds while singing a catchy song of encouragement to himself. He wrote about a vine-like weed in his garden that he did not consider particularly hard to control. He is lucky. Bindweed (Convolvus arvensis), also a vine, is one persistent weed. It can sprout from tiny pieces of root, or from seeds that have been dormant in the ground for 50 years. Sunset recommends various control strategies at different stages of growth. You need real persistence to get this weed out of your garden.
Courage.
Pretty little flowers. Don't encourage them.

WEIRDDAVE
OK. I don't have anything for y'all this week, but I do have a lot of stuff for next week, based upon where I was last week. Confused? You won't be after this week's episode of SOAP!
Last week I was supposed to go weed the garden, remember? Well I didn't do it Saturday because reasons (nice day, motorcycle), and Sunday when I had planned to do it, my wife took me somewhere as a surprise for my birthday. Where? Here: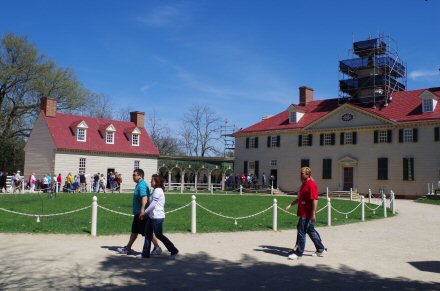 Yes that's Mount Vernon, home of the greatest president in US history, George Washington. The history there is fascinating, but more to the point for this thread, the gardens are AMAZING. Amazing not just because there are beautiful gardens (although there are)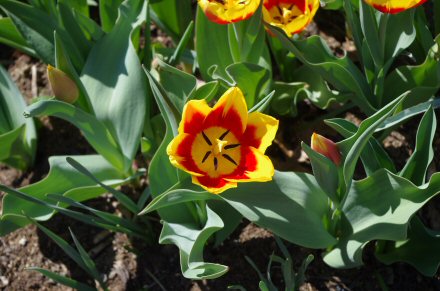 But also because there are damn useful gardens. Check this out, a fruit tree that has been trained to not just bear fruit but also to serve as the border to a vegetable garden: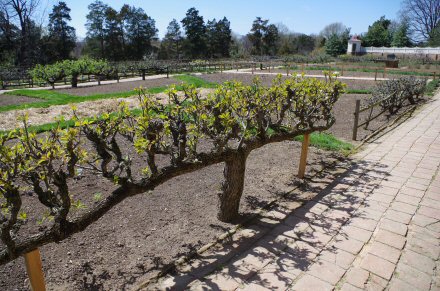 I must have taken a hundred pictures or more of the gardens and grounds, and I want to do justice to them, so I'm just teasing them today. Next week I'll have a better post about Washington's gardens.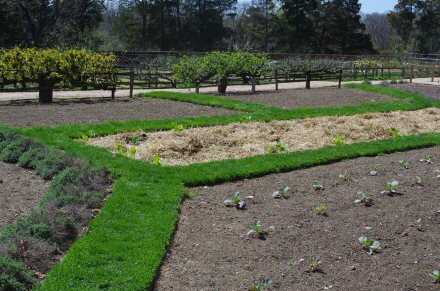 Look at how the grass is used not just to offset the growing areas visually, but also to give easy access to the growing beds!Fantastic! I tell you, as an historian, last week's visit was wonderful. As a gardener, it was Nirvana. More next week, but I have to say, if you're an American and you get the chance to go to Mount Vernon, run, don't walk, to take advantage of it. If you're a gardener as well, you're in for a double treat.

Y-not: KT's mention of stocks got me thinking about the excellent Hercule Poirot series starring David Suchet, which featured gardens and gardening in several episodes. One of my favorites is this one, "How Does Your Garden Grow":
Sadly, I could find no evidence that there actually is a variety of Stocks called "Catherine the Great."

What's happening in YOUR gardens this week?

posted by Open Blogger at
01:15 PM
|
Access Comments