« Early Morning Thread 3/15/15: Cuppa. [krakatoa]
|
Main
|
Open Thread: Tales of Boat Boy [Y-not] »
March 15, 2015
Sunday Morning Book Thread 03-15-2015: Season Of The Witch [OregonMuse]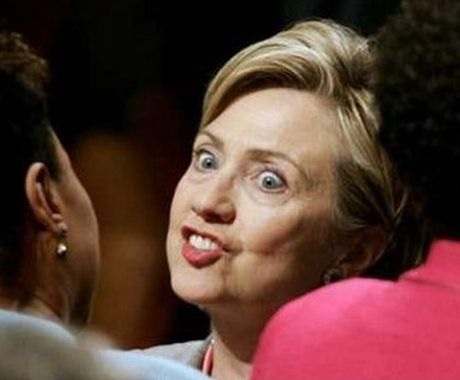 "Dammit, Fitting Into These Pantsuits Is Getting Harder Every Year"
Good morning to all of you morons and moronettes and bartenders everywhere and all the ships at sea. Welcome to AoSHQ's stately, prestigious, and high-class Sunday Morning Book Thread. The only AoSHQ thread that is so hoity-toity, pants are required. Or kilts. Kilts are OK, too. But not tutus. Unless you're a girl.

Book Quote
I cannot sleep unless I am surrounded by books.

–Jorge Luis Borges

Did Zeifman Fire Hillary! For Unethical Behavior?
Jerry Zeifman was the attorney who served as chief counsel to the House Judiciary Committee during the Watergate hearings back in the early 70s, and in that position, he was Hillary! Rodham's immediate supervisor.
So, hid he fire her?
Snopes says he didn't. He says he did. But it's actually others who make the claim. Zeifman did write a book about Hillary!, though, though. Hillary's Pursuit of Power, so you can get an idea just how much he really doesn't like her.
"[S]he was a liar," Zeifman said in an interview last week. "She was an unethical, dishonest lawyer. She conspired to violate the Constitution, the rules of the House, the rules of the committee and the rules of confidentiality."
So the upshot appears to be that Hillary! was let go with all of the other lawyers in a general layoff at the end of the impeachment brouhaha, but Zeifman then refused to recommend her for future positions. He saw her for what she was.
And that's kind of frightening, considering she was only 27.
And of course, I have to mention the late Christopher Hitchens' short, 100 page, vitriolic screamer about Hillary!'s priapic husband, No One Left to Lie To: The Triangulations of William Jefferson Clinton. Because you know, because if Hillary! claws her way back into the White House, Billy Jeff will be right there, too, and won't that just be a kick in the head?
Remember that back in 2008, Hillary! and her supporters firmly believed that the Democratic nomination was rightfully hers, only Obama came along and stole it from her. That's their narrative. What actually happened was that Obama's gang of Alinskyite thugs out-Alinskyed Hillary's! gang of Alinskyite thugs. There used to be a site, one that I've lost track of now, where Hillary's! followers kept track, and I think I remember it being a chronologically-arranged timeline, of all the dirty, dirty tactics Obama used against Hillary! to take the 2008 nomination from her, and, I must admit, listening to them crying their bitter tears was actually quite amusing. And so is this: Blood Feud: The Clintons vs. the Obamas by Edward Klein:
It's mostly about three elections: that of 2008, where Barack Obama came from behind to knock off front-runner Hillary Clinton for the nomination, with charges and countercharges of race-card-playing in the South Carolina primary; 2012, where Bill Clinton made a whizbang nominating speech for someone he can't stand and Hillary drank the Kool-Aid in agreeing to lie about Benghazi - 'it was a spontaneous riot caused by a video' - to seal Obama's reelection; and the 2016 election, where Obama promised Clinton he'd support Hillary in exchange for their carrying his water, then reneged on it.
This is one of those fights where you want both sides to lose.
None Dare Call It Hate
Actually, this time it isn't. Probably. What happened was that
Barron's Educational Series Inc., a private publisher of materials to help students prepare for standardized tests, included in its Barron's AP European History, 7th Edition, a graphic that lumps conservative Supreme Court Justice Clarence Thomas with the Ku Klux Klan as "those who want things like they used to be," and is linked with an arrow to the words "reactionary/fascist."
After the Daily Caller noticed the chart, Barron's responded by apologizing to Justice Thomas, cancelling all shipments of the title in question and destroying the rest of their remaining stock.
Barron's blamed the mistake on a formatting error when they reduced a large graphic down to a single page.
You can see the offensive compressed-down-into-one-page diagram here, and it's kind of lame and over-simplified, with other parts to it that are extremely problematic.
I think it's commendable that Barron's put their money where the mouth is and took the financial hit on the remaining stock. And they didn't offer up one of those "we're sorry if you were offended" non-apology apologies or claim that the graphic was "taken out of context". But it would have been interesting if they had published the original, larger chart, before it was compressed, for the rest of us to understand how such an egregious error could have been made. I mean, why Clarence Thomas? Other than a brief, en passant reference to Robespierre, he is the only historical figure named on that chart. But why? Aren't the others of greater historical significance that might be more appropriate?

Terry Pratchett 1948-2015
The early-onset Alzheimer's disease, which Sir Terry referred to as "an embuggerance", finally caught up with him:
The announcement came in typically irreverent manner on the author's Twitter feed, with a series of tweets beginning in the voice of his character, Death: "AT LAST, SIR TERRY, WE MUST WALK TOGETHER."
There are a number of Pratchett quotes in the readers' comments to the obituary and most are pretty good, but this is the one i think is peculiarly appropriate for us:
"I'm sure we can all pull together, sir." Lord Vetinari raised his eyebrows. "Oh, I do hope not, I really do hope not. Pulling together is the aim of despotism and tyranny. Free men pull in all kinds of directions." He smiled. "It's the only way to make progress."
(From The Truth)
Although, on second glance, this does seem to be out of character. I mean, it's a fun quote and all, but what's a supreme autocrat like Vetinari* doing extolling the virtues of human freedom? Methinks Pratchett thought up a great line and ran with it, a foolish consistency being, as we know, the hobgoblin of little minds.
The entire city of Ankh-Morpork is in mourning. R. I. P.

___________
*One of the Discworld books mentions that Vetinari firmly believed in the principle of one man, one vote. He was the man, and he had the vote.

Cheap Books of Note
There's been some pretty good deals via Bookbub this week.
I've never read any of the Nero Wolfe whodunits, but my understanding is that Wolfe never leaves his apartment, he has his assistant Archie Goodwin running around doing things for him while he hangs out in his orchid garden, solving the crimes in his head.
But how did they ever meet?
Archie Meets Nero Wolfe By Robert Goldsborough, $1.99 until March 31st, explores this question:
Archie Goodwin comes to New York City hoping for a bit of excitement. In his third week working as a night watchman, he stops two burglars in their tracks - with a pair of hot lead slugs. Dismissed from his job for being "trigger-happy," he parlays his newfound notoriety into a job as a detective's assistant, helping honest sleuth Del Bascom solve cases like the Morningside Piano Heist, the Rive Gauche Art Gallery Swindle, and the Sumner-Hayes Burglary. But it's the kidnapping of Tommie Williamson, the son of a New York hotel magnate, that introduces Goodwin to the man who will change his life.
Also, Cryptonomicon By Neal Stephenson, $1.99 until March 23rd. Probably needs no introduction on this thread.
We Were Soldiers Once... and Young By Harold G. Moore and Joseph L. Galloway, $1.99 until March 31st. This is "a firsthand account of real American heroes in the midst of the Battle of Ia Drang Valley, the first major ground battle of the Vietnam War"

Books By Morons
Moronette Sabrina Chase has a new novel out, Jinxers, which, she says, is
...a YA fantasy with a plucky street kid who finds himself suddenly transported from his freezing city to the Sands of Araby (OK, a desert world). He has many adventures hiding out from the Bad Guys, rescuing a secret agent from a fort, convincing his local friend not to kill anyone with her sword, and climbing things. Oh, and figuring out his magical abilities so he can go back to his own world again and rescue *other* people.
And here's the fun part:
I was motivated to write this after hearing many complaints in the Book Thread of how there were no good kids books that would interest boys. I hope this book will help address that lack.
See that? The Horde™ gets results. What could be better than that?
In her e-mail to me, Ms. Chase was even kind enough to include her secret recipe for successful YA novel writing, which I'm happy to pass along:
Mature themes are scarce (a little violence and peril), social justice roundly ignored, and when in doubt, I added more adventure.
You can the results for yourself. Jinxers is available on Kindle for only $2.99. So what are you waiting for? Send her your money.

___________
Author Herb Borkland emailed me earlier this week because he wants to let you all know that his novel Dog$ has been published in paperback. It is his sixth novel and, as he says, "they tell me I finally got it right."
[A] disgraced former Congressman named Gavin Prestaen and three small-businessmen stumble on jihadists bio-militarizing 500 stolen dogs...As the attack clock counts down, paralyzing political correctness costs lives, while an ambitious rogue FBI agent decides Prestaen himself is the terrorist mastermind. So, saving the Nation's Capital is now up to four unprepared citizen vigilantes.
Also available on Amazon.

___________
So that's all for this week. As always, book thread tips, suggestions, bribes, rumors, threats, and insults may be sent to OregonMuse, Proprietor, AoSHQ Book Thread, at the book thread e-mail address: aoshqbookthread, followed by the 'at' sign, and then 'G' mail, and then dot cee oh emm.
What have you all been reading this week? Hopefully something good, because, as you all know, life is too short to be reading lousy books.

posted by Open Blogger at
09:00 AM
|
Access Comments