« Early Morning Thread 3/14/15: Home Again Home Again,Jiggety-Jig. [krakatoa]
|
Main
|
Do You Like Pi? [CBD] »
March 14, 2015
Saturday Politics Thread: Something Righteous and Hopeful [Y-not]
Good morning horde!
I thought I'd give us a little break from the heavy "issues" threads this week. My reason? I realized I was becoming this guy:
Various things have set me off, but perhaps the one really trivial thing that annoyed me the most was The Blaze's decision to not even acknowledge that Rick Perry is a likely POTUS candidate in their article summarizing where the 2016 hopefuls stand on Common Core. (It was a particular irritant because as you'll recall that Perry is the only one of the GOP hopefuls who opposed Common Core from the start.)
Perhaps they don't get CNN on their TVs (or never fly in an airport or have no internet connection).
No, Perry is not "my candidate" (although he is in my current top four list), but c'mon guys.
Anyway, to turn that frown upside down I thought it might be helpful to have a round up of where the prospective candidates' campaign preparations are right now*. For the most part, I focussed on recent news items. This list is by no means exhaustive.
Before getting started, here are a couple of websites that you might find of help while you're doing your own research into the candidates:
"Influence Explorer" (a product of the Sunlight Foundation) provides information about donations to political groups and campaigns.
I don't know what this Democracy in Action outfit is, but they maintain pages for prospective 2016 candidates, including what looks like a fairly extensive list of the candidates' PACs.
Ballotpedia is tracking possible presidential candidates, including some of their pre-campaign appearances and campaign team hires.
Now, in alphabetical order, here are some updates on the candidates we've been tracking:
SEN. TED CRUZ, TEXAS

"Three days after the 2014 midterm election, a super PAC supporting a 2016 presidential bid by Ted Cruz was born. The Stand For Principle PAC was established by Maria Strollo Zack, a Georgia-based lobbyist and political operative who previously worked on GOP White House campaigns by Mike Huckabee and Newt Gingrich."
I did not find a web site, but here's a link to a report on its financial status. And this article from CPAC gives a brief update on its current operations.
Earlier this week more signs of Cruz's intention to run came in the form of a staff change:
U.S. Sen. Ted Cruz's public face to Capitol Hill, Catherine Frazier, is headed home to Houston to join his political operation. Frazier plans to leave her job as Cruz's official Senate press secretary at the end of the month and relocate to her hometown to join the senator's Jobs, Growth and Freedom PAC. The move indicates she will likely be part of his impending presidential campaign, should the state's junior senator follow through on a run.
Here's a link to his speech at CPAC last month.

GOV. NIKKI HALEY, SOUTH CAROLINA
You all know by now that I wish Nikki Haley would run. I am stunned that she's not being floated as a serious POTUS candidate, frankly. It seems like a real wasted opportunity. This article which appeared at NBC two months ago provides a run down of Haley's political career and offers some explanations for her current political situation. I'm not sure I found the arguments very convincing -- lots of "sacred honor" flavored comments from anonymous political types and rivals -- but there you have it.
I haven't given up hope yet, though, so I plan to continue covering Haley in this series. You never know!
Historically, candidates announce they are running for POTUS about 17 months before the general election (which would be in June). So Haley still has a few months to go. (You'll recall that Rick Perry waited until mid-August to make his announcement last time.)
As an aside, I thought this website was of interest just for brain-fodder. They discuss some of (what they perceive to be) hurdles women candidates face in the primaries. Here's an interesting one:
In the past two decades, Americans, and the candidates and elected officials seeking to represent them, have diverged sharply in ideology; conservatives have grown more conservative and liberals more liberal. Women are often perceived to be more moderate politicians. But in fact, female Republican candidates are just as conservative as their male counterparts. With a shift toward the far right among the Republican electorate, GOP women struggle to overcome the perception that they're more moderate.
Governor Haley did not attend CPAC, but here's a recent speech she gave at a SC Rotary Club.

GOV. BOBBY JINDAL, LOUISIANA
Bobby Jindal is giving every indication that he intends to run for POTUS. He has a Political Action Committee in place, he has been raising his profile through attacks on Obama's foreign policy blunders and he's been giving high-profile addresses at home and abroad.
From Politico:
"The Louisiana Republican governor will change the name of his federal political action committee, currently called Stand Up to Washington, to match that of a super PAC that's already in place to back his potential 2016 run. Both entities will soon be called Believe Again, according to an adviser. Former Rep. Bob Livingston chairs the super PAC."
More here.
I thought his responses in this recent interview by John Harwood were quite good. For example:
Harwood: You've been very aggressive about issues of assimilation -- no hyphenated Americans. Did you feel pressure to adopt an attitude like that to succeed as someone of Indian descent in Southern politics?

Jindal: Two things shaped by views. One was my parents. They were very adamant that we're raising you as Americans. English was always our language. We were fully integrated. I was raised as a normal kid. Secondly, as I was older and began to make my own decisions, it was fashionable to call America the great melting pot. In recent years there's been this politically correct idea that that's somehow culturally arrogant. The fear I've got is when you look at what's happening in Europe -- when you look at second third generation immigrants who don't really consider themselves French or British or German, that's a dangerous thing. Part of getting beyond these divisions is to stop saying African-American, Indian-American, Asian-American. We're all Americans. The only colors that should matter are red, white and blue.

GOV. SUSANA MARTINEZ, NEW MEXICO
Like Nikki Haley, Susan Martinez's name has been oddly absent from most 2016 considerations. (I say "oddly" because the GOPe seems determined to pursue specific demographics, yet the only woman whose name seems to be mentioned as a prospective candidate right now is Carly Fiorina.) But Martinez holds some appeal, especially amongst those who think the next nominee might come from the ranks of governors.
As I mentioned recently, New Mexico is debating Right-to-Work right now. (It already passed the House and is in the Democrat-controlled Senate where it may stall.) If Martinez gets that passed in a purple state that would be something.
In terms of her national profile, Martinez did not attend CPAC, but she was just named co-chair of the RGA.

GOV. MIKE PENCE, INDIANA
Governor Pence seems to be toying with the idea of running:
Pence, a former member of Congress, is often overlooked as a potential Republican candidate for president, in part because he hasn't been acting like one. Unlike most of the other would-be contenders, Pence has not launched a political committee outside of Indiana, has not made appearances in key primary states, and has not begun to snatch up the top political talent required of a presidential campaign.

Part of the calculus for Pence is weighing whether to run for president, which he has not ruled out, or run for re-election to a second term as governor in 2016. Indiana law prohibits a candidate appearing twice on the same ballot, although the state legislature might change that.

But if Pence has not yet begun to act like a presidential candidate, he sounded like one Friday as the keynote speaker for the Reagan Dinner, the catbird seat of CPAC speaking slots.
Pence inherited a great situation from his predecessor, Mitch Daniels, but has made a couple of questionable calls since them (most notably, expanding Medicaid). He strikes me as someone who might emerge as the Compromise Candidate, should the conservatives and GOPe favorites flame out. I plan to continue covering him to help us determine if he'd be acceptable as a backup candidate.

FMR. GOV. RICK PERRY, TEXAS
Rick Perry has been doing a lot of retail politicking and courting of donors over the past several months. Last week it was reported that his supporters launched the Opportunity and Freedom PAC.
Like Jindal, Governor Perry has one of the more vocal of the 2016 GOP prospects on foreign policy, including Obama's misguided Iran deal:
Former Texas governor Rick Perry, the only 2016 hopeful with a military background, is establishing himself as a serious voice on national security. In his latest video he lays out the case against the purported terms of a deal with Iran and why they are unacceptable:
What is impressive is not only his grasp of the issues (e.g. the problem with a sunset clause, the nature of the regime makes it untrustworthy), but also his willingness to take a definitive stance: If the deal is not supported by Congress "our next president should not be bound by it." He made the same declaration in an interview with me at CPAC, but it seems this was no throw away line.
By the way, here's a link to his CPAC speech.
I think a lot of us are waiting to see if 2012 was an anomaly before we can enthusiastically back Perry this time. But this is a marathon, not a sprint, so I'm not counting Perry out yet.

GOV. SCOTT WALKER, WISCONSIN
Scott Walker is the front-runner is most polls of GOP presidential hopefuls I've seen and is riding high after signing Wisconsin's Right-to-Work law.
Earlier this year, he created the Our American Revival committee. And he's been making key political hires:
Walker's political group, Our American Revival, has hired Danny O'Driscoll and Wells Griffith, according to a spokesperson, adding to a team heavy with former talent from the Republican Party's national office, including former political director Rick Wiley as campaign manager. The pair "will split the country to help identify, engage and mobilize supporters from grassroots organizations to elected officials, potential donors, state parties and allied groups," said communications director Kirsten Kukowski.

O'Driscoll is a veteran of Mitt Romney's 2012 presidential campaign, where he served as state director for Wisconsin in the general election and deputy state director in New Hampshire for the Republican primary. After New Hampshire, O'Driscoll worked on Romney primary wins in Florida, Michigan, and Ohio. Griffith was Deputy Chief of Staff of the Republican National Committee in the 2012 cycle and unsuccessfully ran for Congress from his native Alabama in a special election in 2013. He also served as the executive director of the Mississippi Republican Party and managed RNC Chairman Reince Priebus' re-election campaign in January.
Governor Walker's CPAC speech was very well-received by the crowd. And he finished well in the CPAC poll.

So that's a round up of where these 2016 prospects stand. Use this thread to share any insider information you might have about particular candidates' (or prospective candidates) 2016 preparations.
See you next week!

*In actuality, I wanted to do a thread devoted to "warm fuzzies" about each candidate, such as pictures of their pets or them doing fun things, but I had a hard time finding good pictures of most of them.
Exception being, Rick Perry: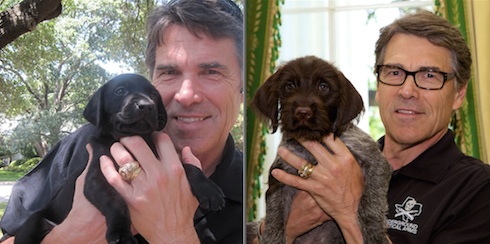 Awwww.

posted by Open Blogger at
08:30 AM
|
Access Comments