« Debbie Wasserman-Schultz Caught In Email Offering to Completely Reverse Her Opposition to Medical Marijuana If a Critic Would Just Retract His Criticism of Her
|
Main
|
Morning Thread (2-20-2015) »
February 19, 2015
Overnight Open Thread (2-19-2015)
Jim Geraghty on the Obama Administration's Inability to Name 'Extremists'
From today's Morning Jolt:
I heard a better version of Holder's argument from a D.C. mainstream media reporter who asked (I'm paraphrasing) what would change if Obama spent the next month using the term "Islamist extremism" and "radical Islam" in every speech. Would it kill a single ISIS member? Would it change the dynamics of the fight against ISIS in any significant way? Isn't the real problem the policies, strategies and tactics used against ISIS and al-Qaeda and not the terms the president is using?

It's a fair point, but the question of language and clarity is still relevant.

Why does it matter so much to some of us that the administration describe ISIS, al-Qaeda, Boko Haram, the Charlie Hebdo shooter, the Denmark synagogue shooter, the Paris Kosher grocery store shooter, and other perpetrators as "Islamists" or "Islamic radicals" instead of just "violent extremists"?

Because the generic term is less accurate, and less honest, and this administration has a serious problem when it comes to leveling with the American people.
And because words and names ultimately do matter. And when they become too far removed from reality, there must eventually come a Rectification of the Names (described here by Jonah Goldberg):
In the course of my developing this whisper-of-an-idea for a book, my AEI colleague Michael Auslin pointed me to a Confucian concept called "the rectification of names." Maybe you know all about it because you're a smarty-pants Confucian scholar, which would be an interesting twist on who I imagine you, my "Dear Reader," to be. But it was new to me and it's really an exciting idea because it connects a lot of different exciting ideas into a potentially fully functional Death Star, I mean book, idea.

Anyway, the gist is that society goes ass-over-teakettle (to borrow a phrase from the academic literature) when names no longer describe the things they are assigned to. Take it away Confucius:

A superior man, in regard to what he does not know, shows a cautious reserve. If names be not correct, language is not in accordance with the truth of things. If language be not in accordance with the truth of things, affairs cannot be carried on to success. When affairs cannot be carried on to success, proprieties and music do not flourish. When proprieties and music do not flourish, punishments will not be properly awarded. When punishments are not properly awarded, the people do not know how to move hand or foot. Therefore a superior man considers it necessary that the names he uses may be spoken appropriately, and also that what he speaks may be carried out appropriately. What the superior man requires is just that in his words there may be nothing incorrect.

Now, I'm just starting my reading on all of this and, so far, I don't much care for the way the concept was used to justify castes and classes in feudal China or any of that jazz. And, yes, I am aware that a similar concern was in fact a central point of my last book (Now out in paperback, noodle-salad-eaters). It's central to Orwell's "Politics and the English Language" - never mind to 1984 - and Ludwig Wittgenstein had much to say on the subject as well. And anyone who ate funny brownies in college has grooved on the relationship between words and reality (and the puzzle of the Skipper & Gilligan's limited wardrobe).

But I very much like the idea that societies get themselves into trouble when language becomes a tool not for describing reality but concealing it.

This is one of the many reasons I loathe the self-described pragmatists who insist they want to solve problems by getting "beyond labels." You cannot solve problems if you cannot describe the problem - and the solution - accurately. Try fixing a flat tire with a wet hamster. Now, call the hamster a "tire iron." Has it gotten any easier? Shakespeare tells us that a rose by another name will smell just as sweet, but if you can't tell sh*t from shinola, your shoes are going to smell awful.

...I think there's something very profound about the Chinese idea that revolutions are primarily an effort to bring about the rectification of names; that the demand for justice is first and foremost a demand that words and reality come back into alignment. Nothing is more infuriating than to be told not to believe your lying eyes - or your empty stomach. Take a moment to ponder various revolutions around the globe over history and ask yourself if there isn't something to that.
And More Than Anything Else Obama Believes in The Power of His Words and False Names to Control the World
Even to the point of revealing the con:
Let's not worry for a moment about whether he's right or wrong about whether the terrorists are actually holy warriors in defense of Islam or not, and just evaluate his tactic in strategic terms. It's odd for several reasons, and the first is that virtually no one buys what he's saying except the already-convinced. ISIS and al Qaeda have actually been religious leaders (although not clerical ones) to huge numbers of Muslim people. But Obama is so used to conning, often successfully, that he thinks he can pull off this con, too, and that it will matter in some way even if he does. And by this speech he's revealing the con; although he implies that he believes his own words, it's hard to believe that he does. But whether or not he does, he's still tipping listeners off to the fact that he's adopted this much-criticized method for strategic reasons.

...If you read the rest of his speech, it certainly would seem that's what he believes. But once again, Obama is in love with the power of his own words to effect the change he says he desires, and seems unaware of the much much larger forces (are there any larger forces, in Obama's eyes?) that shape human reactions to something with as powerful and as threatening a draw as ISIS and al Qaeda.
Nine Fun Ways to Buy Access to The Clintons
Well foreign governments and billionaires are doing it, so why not Americans too?
Gov. Paul LePage (R-Maine) Wants to Impose Property Taxes on Colleges, Nonprofits, Other Democratic Party Affiliates
And why exactly are these groups exempt from property taxes when working schlubs with families are not?
One of the most graphic examples of crowd passivity in recent times occurred in New York's Twin Towers after the hijacked planes hit them on 9/11. You'd have thought those who survived the initial impact would have headed for the nearest exit pretty quickly. Most did the opposite: they prevaricated. Those who eventually got out waited six minutes on average before moving to the stairs, and some hung around for half an hour, according to a study by the US National Institute of Standards and Technology (NIST). Unprepared for what was happening to them, they either carried on as normal or hung around to see what would happen, waiting for others to move first. One study found that half of those who survived delayed before trying to escape, making phone calls, tidying things into drawers, locking their office door, going to the toilet, completing emails, shutting down their computer, changing their shoes. One woman accustomed to bicycling to work even returned to her office to change into her tracksuit before trying to leave.
One takeaway from this and the Costa Concordia sinking is that the survivors of these incidents quickly decided what to do and took action. And also importantly they ignored whatever the authorities were saying and used their best judgment.
Stray Dog Joins Swedish Adventure Racing Team And Completes Grueling 6 Day Race
And the team captain pays the $6700 it will take to bring him back to Sweden with him.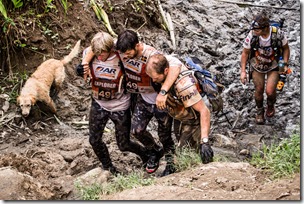 The Wonder of Spanish Language Comics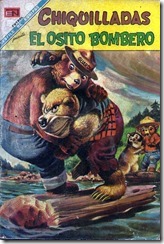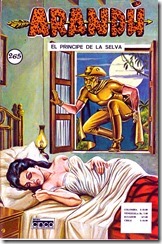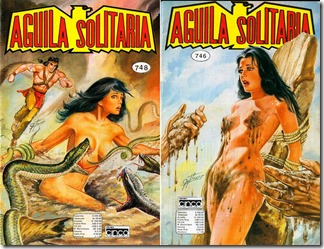 Just Because: No Sleep Till Brooklyn
Welp, I made it a year. The great adventure is over for me. I've thrown in the towel.

I have used shampoo.

I feel like I need to write a eulogy for my no-poo experiment. After all, my original post and followup post about it were pretty fabulously popular for an untested, freelance blogger. Watching the Facebook "likes" tick upward on them made me think, Yeah, I could do this writing thing on the reg. When I posted about pH level and talked about how my hair rinse of choice - baking soda - was actually as bad as or worse than shampoo, a commenter asked me to follow up, and it made me realize that, yeah, a few people have actually been following my no-poo journey.

My heart will go on, no-poo. My heart will go on and on.

Well, anyway. Why did I start shampooing again? Basically, having rye flour in your shower leads to some really, really, really nasty residue problems. It's normal for mold to grow on a shower liner over time, but the rapidity with which mold was growing on my shower liner was, like, intense. And super-disgusting.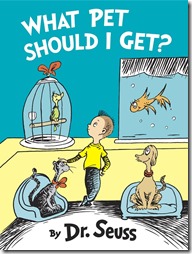 Yahoo group. That is all.
Come on be a smartie and join the yahoo group party! For the children.
And my lo-fi Twitter spew.
Tonight's post brought to you by happier families through chemistry: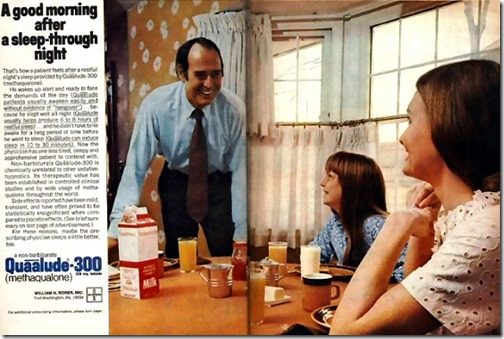 Notice: Posted by permission of AceCorp (part of the Clinton Foundation group). Please e-mail overnight open thread tips plus $1 for S&H to maetenloch at gmail. Otherwise send your scraps to you-know-who. Happy-fun ball will have his vengeance oh yes.

posted by Maetenloch at
09:48 PM
|
Access Comments