« Geraghty Handicaps the Field in Iowa
|
Main
|
Morning Thread (1-28-2015) »
January 27, 2015
Overnight Open Thread (1-27-2015)
The Ignorance of the American People
What the American public doesn't know is what makes them the American public.

-- Ray Zalinsky, car parts entrepreneur
And the American public clearly want to get rid of the Public Affairs Act because of its continuing ill effects on the country:
Many weeks back I wrote here about the polls from the 1990s in which a majority of Democrats favored repealing the Public Affairs Act of 1975 because Bill Clinton was said to recommended repeal, with the punch line being that there is no such thing as the Public Affairs Act of 1975. It was a contrivance of pollsters to check on public ignorance.
And also want government-mandated labels on all food containing DNA. For the children.
A recent survey by the Oklahoma State University Department of Agricultural Economics finds that over 80 percent of Americans support "mandatory labels on foods containing DNA," about the same number as support mandatory labeling of GMO foods "produced with genetic engineering." Oklahoma State economist Jayson Lusk has some additional details on the survey. If the government does impose mandatory labeling on foods containing DNA, perhaps the label might look something like this:

"WARNING: This product contains deoxyribonucleic acid (DNA). The Surgeon General has determined that DNA is linked to a variety of diseases in both animals and humans. In some configurations, it is a risk factor for cancer and heart disease. Pregnant women are at very high risk of passing on DNA to their children."
Oh and approximately half of all Americans approve of the job that President Obama is doing.
Well the public in general knows so little about so much - but it turns out that that doesn't necessarily make them irrational or incapable of making decent public policy choices.
One recent headline summed it up: "British Public wrong about nearly everything, and I'd bet good money that it isn't just the British who are exceptionally misinformed.

This looks like a problem for democracy, which supposes a rational and informed public opinion. But perhaps it isn't, at least according to a body of political science research neatly summarised by Will Jennings in his chapter of a new book "Sex, lies & the ballot box: 50 things you need to know about British elections".
But they're ignorant - not stupid - and can still tell which way the trends are blowing even if they're off on the absolute state of things. Which is one reason pollsters focus so much on the right track/wrong track results.
Will's chapter discusses the "public opinion as thermostat" theory. This, briefly, is that the public can be misinformed about absolute statistics, but we can still change our strength of feeling in an appropriate way. So, for example, we may be misled about the absolute unemployment rate, but can still discern whether unemployment is getting better or worse. There's evidence to support this view, and the chapter includes this striking graph (reproduced with permission), showing the percentage of people saying "unemployment" is the most important issue facing the country against the actual unemployment rate . As you can see public opinion tracks reality with remarkable accuracy.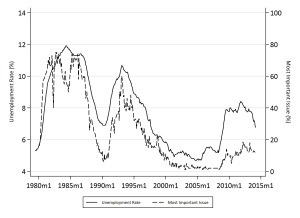 Unsafe to wear a Star of David or a kippah in the streets of Malmo, Sweden:
The result: "He received direct threats as he walked through the city," according to expressen.se.

Lindgren, walking with a hidden camera and microphone alongside, recorded every step. The report showed the reporter enduring verbal abuse by a man who called him a "Jewish s***" and told him to "leave." Another person hit him and shouted "Satan Jew," at him.
As they approached the the city's neighborhoods with higher Muslim populations, the threats only increased. Some 20 percent of the 300,000 residents of Sweden's third-largest city are Muslim, according to statistics.
A Marine Sharpshooter Explains Why American Snipers Are Not Cowards
And by the same Michael Moore logic wouldn't that make every single pilot or artillery crew also cowards? If you give the enemy a fair shot in wartime, you're not doing it right.
Giving College Admissions the Alinsky Treatment
A group of Stanford students have discovered a way to access their own confidential admissions files - including comments by admissions officers, criticisms of their applications, and information about how their status as minorities, athletes, or legacies affected their applications.
The staff of an anonymous Stanford publication called The Fountain Hopper is encouraging thousands of students at Stanford and other universities nationwide to request their own files, potentially cracking open the secretive and controversial world of elite colleges admissions.

...If you go to HarvardNotFair.org, you'll find yourself on a page that says this: Were You Denied Admission to Harvard? It may be because you're the wrong race.
Why Some Teams Are Smarter Than Others
Need moar chicks?
Now the NYT reports on recent research on why some groups, like some people, are reliably smarter than others. In one study, researchers grouped 697 volunteer participants into teams of two to five members. Each team worked together to complete a series of short tasks, which were selected to represent the varied kinds of problems that groups are called upon to solve in the real world. One task involved logical analysis, another brainstorming; others emphasized coordination, planning and moral reasoning. Teams with higher average I.Q.s didn't score much higher on collective intelligence tasks than did teams with lower average I.Q.s. Nor did teams with more extroverted people, or teams whose members reported feeling more motivated to contribute to their group's success. Instead, the smartest teams were distinguished by three characteristics (PDF). First, their members contributed more equally to the team's discussions, rather than letting one or two people dominate the group. Second, their members scored higher on a test called Reading the Mind in the Eyes, which measures how well people can read complex emotional states from images of faces with only the eyes visible. Finally, teams with more women outperformed teams with more men. It appeared that it was not "diversity" (having equal numbers of men and women) that mattered for a team's intelligence, but simply having more women. This last effect, however, was partly explained by the fact that women, on average, were better at "mindreading" than men. Interestingly enough, a second study has now replicated the these findings for teams that worked together online communicating purely by typing messages into a browser .
Also: People Who Are Good at Cocktail Parties Are Also Better on the Internet
If you're interested in the Reading the Mind in the Eyes test, you can take it here. You might also be interested in Paul Ekman's microexpressions and tests based on them.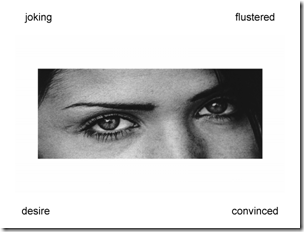 I'll have to show this to Mrs. Maetenloch as further justification for my recent drone purchase.
A Look Back at Gun Magazines From 50 Years Ago
Weapons man takes a look back at gun magazines from 1964 and finds that their cover stories mainly covered single-shot and bolt-action rifles and the occasional revolver. Semi-auto guns weren't covered at all.
What didn't show up, of course, is a modern military or military-style weapon, or even a semi-auto. Most of the guns shown on the cover of Guns 50 years ago were single-shots. It wasn't just the covers that were missing these rifles; there are very few stories inside the magazines about military weapon development. Don't take our word for it; download the magazines and check them out yourself. Guns has made them freely available for us.
But in the very last issue of 1964 something appeared that was nothing at all like anything else seen in any of the magazines and would go on to dominate the firearms market five decades later.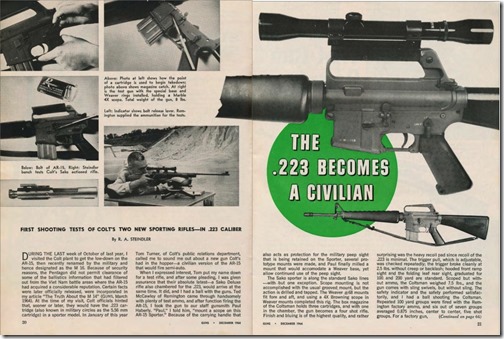 Models' Pubic Hair Triggers Instagram Brouhaha
Teh Tweet!
Tonight's post brought to you by Kilimanjaro: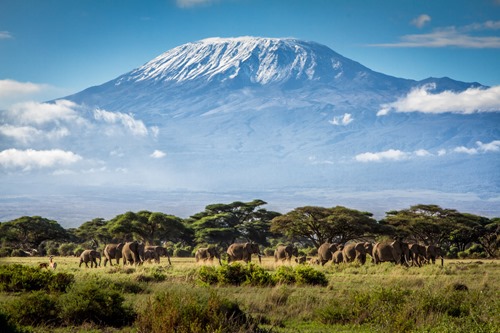 Notice: Posted by permission of AceCorp LLC. Please e-mail overnight open thread tips to maetenloch at gmail. Otherwise send tips to Ace.

posted by Maetenloch at
10:19 PM
|
Access Comments